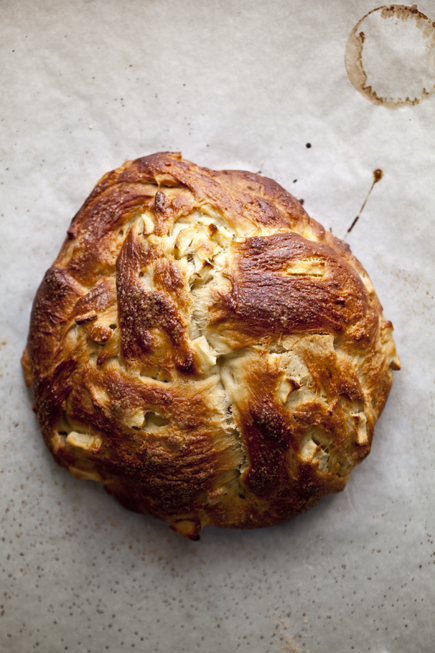 Tomorrow I will celebrate Rosh Hashanah, the Jewish New Year, with family and friends. It is traditional to eat lots of honey and apples during this high holy day to usher in the new year with sweetness. The challah dough from The New Artisan Bread in Five Minutes a Day is made with honey, then I fold chopped apples into the dough and braid it into a circle. You can do any shape you like, but the circle is meant to symbolize the full cycle of the coming year. This bread may be ubiquitous at the high holy days, but it is wonderful anytime, especially during apple picking season here in the Midwest. 
I used a local Jonagold apple, but any of your favorite apples will work.
Apple and Honey Challah:
1 1/2 pounds challah dough (you can use the recipe from The New Artisan Bread in Five Minutes a Day or Healthy Bread in Five Minutes a Day)
1 large (or two small) apples, peeled, cored and diced
Egg wash (1 egg mixed with 1 tablespoon water)
Sugar for sprinkling over the top of loaf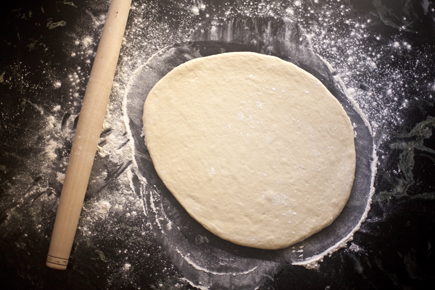 Pull out a piece of refrigerated challah dough and roll it out to 1/2-inch thick.
Spread the apples over the dough.
Fold the dough in half.
Then fold it over again.
Form the dough into a ball. Don't be concerned when the apples poke through the dough.
Divide the dough into 4 equal pieces with a Dough Scraper. If you prefer other shapes, here are some posts on regular challah braids, 6 strand braid and unbraided round challah.
Shape the pieces into ropes. Be careful when shaping, the apples want to fall out.
To braid the 4 pieces, start by overlapping them like this.
cross the pieces at the top and then do the same around the loaf…
until all the pieces are crossed and then tuck the ends under the loaf. Place the loaf on a sheet of parchment paper on a Baking Sheet. Cover loosely with plastic and allow to rest for 60 minutes.
Preheat oven to 375°F. When ready to bake, Pastry Brush with egg wash and sprinkle with sugar.
Bake for about 35 minutes or until deep caramel brown.
Remove from baking sheet to cool before serving.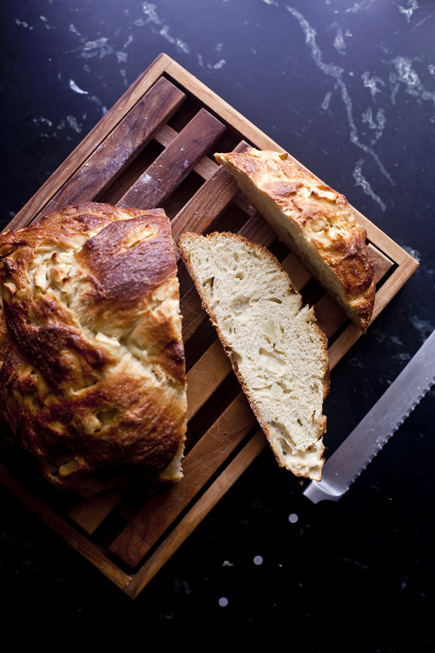 Shanah Tovah! (have a good new year!)
---
---