Well, we've made our Master recipe in a crock pot, our brioche in a crock pot, dinner rolls, and even our gluten-free dough in the slow cooker. It seemed a good time to add to the list, and so we took on crock pot cinnamon rolls. I'm happy to report that they work just as well; it's as easy as rolling out dough, brushing some butter and sprinkling sugar, shaping rolls, and then letting them bake for an hour. My family couldn't tell they weren't baked in the oven, and my kids had the best after school snack of the year.
Follow the instructions for our favorite cinnamon rolls to fill and shape the rolls. I used a slow cooker that was 5 quarts, and I used one pound of no-knead brioche and cut it into 7 rolls. If your slow cooker is larger, you could use more dough and double the filling, cutting the dough into more pieces. If your slow cooker fits a cake pan, you could also place the cut buns into a greased cake pan and cook them in that.
Now it's time to "bake" the buns in your slow cooker. Line the bottom with parchment and spray it with pan spray, or brush with oil or butter.
Place the cinnamon rolls into the prepared crock-pot. Set the slow cooker to high and bake for about 1 hour. (THEY MAY TAKE MORE OR LESS TIME DEPENDING ON YOUR MACHINE.)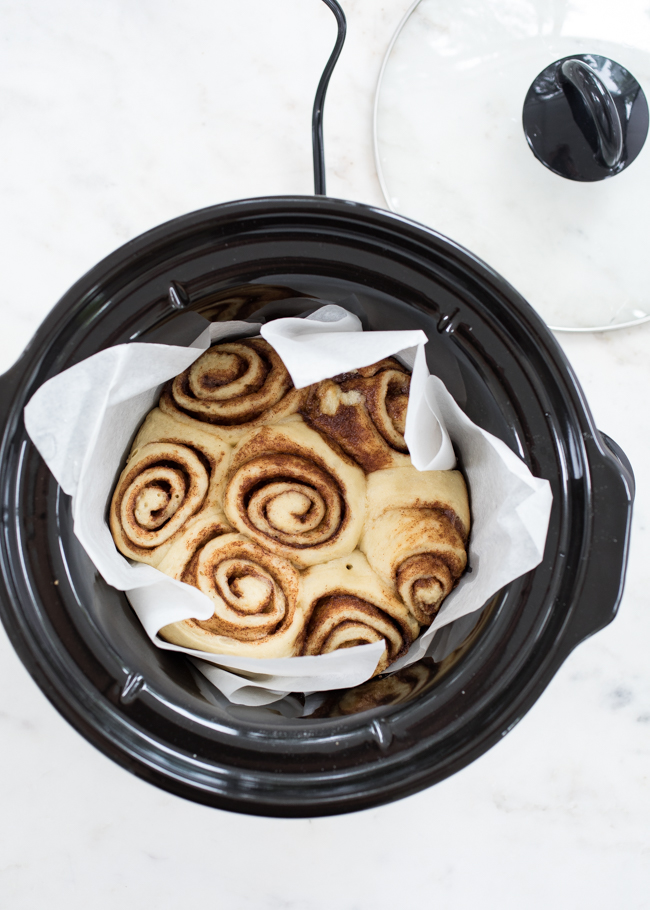 Once the crock pot cinnamon rolls have set, check by gently poking the top, they should no longer feel like wet dough, but will not be crusty. Lift the parchment paper out of the crock pot, and then frost the tops with our favorite icing. Then, eat and enjoy.
If you want to make things extra fancy, you could also make a braid. Use the same amount of dough and filling called for above, and roll the dough like you are making a cinnamon roll.
Cut the log in half, lengthwise.
Twist the pieces together, with the cut side facing up.
Twist the log into a circle and place in the prepared pan.
Cook, following the directions above for cinnamon roll times. Cover with icing if desired, and enjoy!
Common question: Can I make this in an Instant Pot? We have found that cinnamon rolls made in the Instant pot don't turn out as well. Buns that will be pressure cooked still need a rise time, and turn out dense vs. fluffy. We found the oven to be a better choice over pressure cooking. Our slow cooker function on our Instant Pot also didn't work as well as a basic crock pot – the buns took over 2 hours to cook, and and didn't rise as much as they did in the slow cooker.
---
---