Apple Cider Gluten-Free Brioche and Doughnuts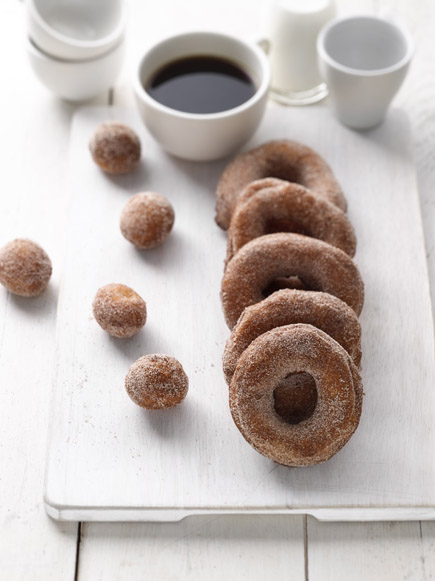 (photo by Stephen Scott Gross, styled by Sarah Kieffer)
"…Of apple-picking: I am overtired
Of the great harvest I myself desired.
There were ten thousand thousand fruit to touch,
Cherish in hand, lift down, and not let fall.
For all
That struck the earth,
No matter if not bruised or spiked with stubble,
Went surely to the cider-apple heap
As of no worth…"
Robert Frost After Apple-Picking
This time of year nearly everything worth eating has apples in it. This gluten-free brioche from
Gluten-Free Artisan Bread in Five Minutes a Day
is made with the rich, slightly cloudy apple cider, which has a wonderful tang to it and isn't overly sweet. You can use the clear apple juice, but it doesn't have the same depth of flavor. This gluten-free brioche dough is wonderful baked in a loaf pan, made into a coffee cake or fried and dusted with cinnamon sugar like these doughnuts.
Apple Cider Gluten-Free Brioche
For the Apple Cider Brioche:
2 cups (11 ounces / 300 grams) Gluten-Free AP Flour Mix #1
4 1/2 cups (1 pound, 6 1/2 ounces / 640 grams) Cornstarch (we've found the recipe doesn't come out as well when other starches are substituted)
2 teaspoons xanthan (or ground psyllium husk)
1 tablespoons yeast (we use Active Dry or Quick Rise from Red Star, both are gluten-free)
1 tablespoons Kosher salt
2 1/4 cups Apple cider, warmed slightly
3 large eggs
1 cup honey
1 cup unsalted butter, melted
1 tablespoon vanilla extract
Mixing and storing the dough: Whisk together the flour, cornstarch, xanthan gum, yeast, and salt in the bowl of a Stand Mixer. You can also do this in any 5-quart bowl, or a lidded (not airtight) food container, but we find we got the best results in a stand mixer.
Combine the apple cider, eggs, honey, butter, and vanilla, and gradually mix them into the dry ingredients, preferably using a heavy-duty stand mixer with paddle. Cover (not airtight), and allow it to rest at room temperature until the dough rises, approximately 2 hours.
The dough can be used as soon as it's thoroughly chilled. Refrigerate it in a lidded (not airtight) container and use over the next 5 days.
Use the brioche to make any of our sweets, including these doughnuts:
Makes 1/2 dozen doughnuts
You can find photos of the process of making the doughnuts here.
1 pound (grapefruit-size portion) Apple Cider Dough (above) or Challah or Brioche dough
Vegetable oil, for deep-frying
Cinnamon sugar, for dusting
Equipment
Deep saucepan for deep-frying, or an electric deep-fryer
Slotted spoon
Paper towels
Fill the saucepan (or electric deep-fryer) with at least 3 inches of oil. Bring the oil to 360° to 370°F as determined by a candy thermometer.
As the oil is heating, dust the surface of the refrigerated dough with rice flour and pull out a 1-pound (grapefruit-size) piece. Dust the piece with more flour and roll the dough into a ½ -inch-thick rectangle on a floured surface. Using a doughnut cutter, cut the dough into 3-inch rounds.
Carefully drop the doughnuts in the hot oil, two or three at a time, so they have plenty of room to float to the surface. Do not overcrowd, or they will not rise nicely.
After 2 minutes, gently flip them over with a slotted spoon and deep-fry for another minute or until golden brown on both sides.
Using the slotted spoon, remove them from the oil and transfer to paper towels to drain.
Repeat with the remaining dough until all the doughnuts are fried.
 Dust generously with cinnamon sugar.
---
---