Weighing The Ingredients: Whole Grain Baguette Buns With Extra Sourdough Kick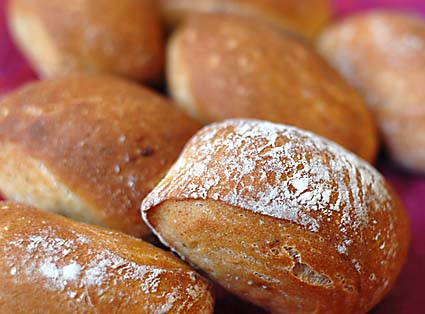 In this post, I'll go through the method for using a kitchen scale to measure in flour and other ingredients, which some readers, especially outside the U.S., have said they prefer. In this recipe for whole grain baguette buns, I used these weight equivalents for scoop-and-swept cup measures:
1 cup white all-purpose flour:  5 ounces / 140 grams (or 141.7, to be more precise)
1 cup whole wheat flour:  4.5 ounces / 130 grams (127.6)
1 cup water:  8 ounces / 225 grams (226.8)
Most home scales aren't accurate enough to weigh small quantities of yeast and salt for single recipes.
These whole grain baguette buns are from The New Artisan Bread in Five Minutes a Day, being cut from a baguette-shaped cylinder, which gives the buns crusty little edges that will impress your guests. They're incredibly easy to make from any of the lean stored doughs that you already have in your fridge, mixed up from our book.
I was in a great restaurant recently, and they served baguette buns, which were delicious but the slightest bit stale. Breads this small go stale fast, and really, the best way to enjoy them is at home, an hour or two after they come out of the oven—and you can even eat these a touch warm and the center won't seem unready. So here's how to do it.
First, let's use some old dough to kick up the sourdough flavor. In the book, we say "never wash the dough bucket," because that old dough gives sourdough flavor a head start in the next stored batch. You can take that further, by using up to a pound of old dough in the next batch. The problem is getting that sticky dough to incorporate in the water before adding flour. An immersion blender is the best tool I've found for that job. I have the Braun MR430HC, but the Cuisinart looks good too. Same for the Kitchen-Aid Immersion Blender. Or just let it sit in the water, and then break it up with a fork.
First measure in some dough. Since I'm going to show you how to use the new-fangled easy-zeroing digital scales to weigh out ingredients, we may as well measure out exactly one pound of dough (I use a Salter Scale, but the Escali is also good). Put your dough bucket on the scale, press the "zero" button, and add dough until it reads 1 pound: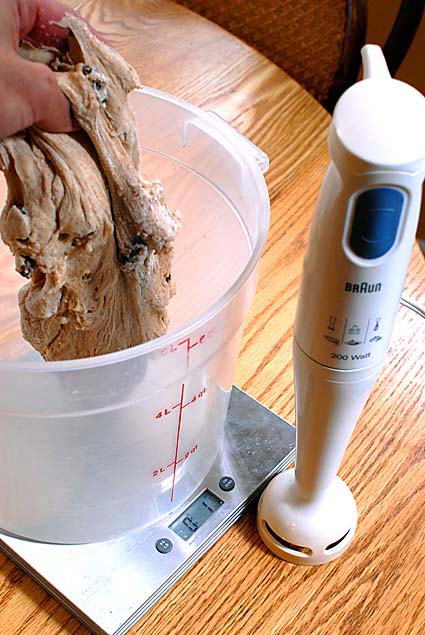 Now, press the zero button again and add water by weighing it. Instead of spooning 3 cups of water (this will be our light whole wheat recipe on page 131 of New Artisan), just weigh the equivalent amount—it's 24 ounces U.S. (1 pound 8 ounces). Now that the water's in there, you can use the immersion blender to create a uniform slurry of the old dough, but first, throw in 1 tablespoon of yeast. We test with Red Star Active Dry, Quick-Rise, or Platinum…
… and 1 to 1.5 tablespoons of coarse salt (like kosher salt), based on your taste. Be very careful with the blade end of the immersion blender. Unlike a food processor, there's no safety interlock to prevent you from touching the blades while they're running. Don't let children use an immersion blender:
When the coast is clear, let it rip, keeping the head of the immersion blender submerged (or you will get splashed!):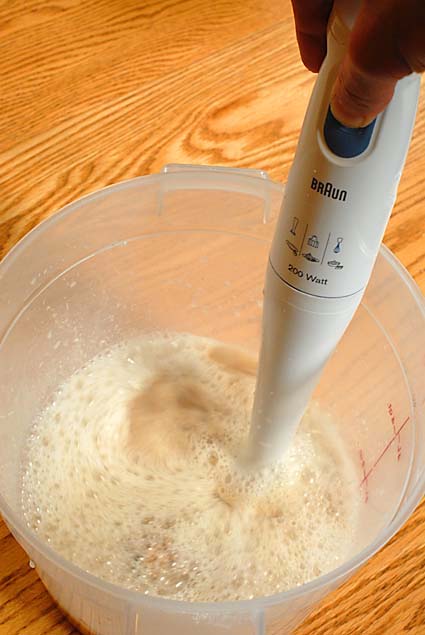 Now put the bucket back on the scale, hit the "zero" button again, and weigh in 2 pounds (32 U.S. ounces) of flour (I used a mixture of all-purpose and whole wheat in a ratio of about 5:1 all-purpose:whole wheat to give the result in the Light Whole Wheat recipe on page 74). If you're using cup-measures, it's 5 1/2 cups of white flour and 1 cup of whole wheat. White all-purpose flour weight about 5 ounces per cup, and whole wheat weigh about 4.5 ounces per cup, but at this ratio, it's very close to 2 pounds total flour (32 ounces). Learn more about mixing our doughs.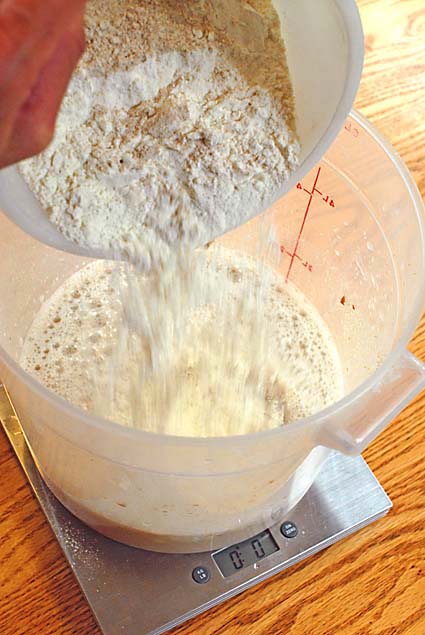 Mix it in with a spoon: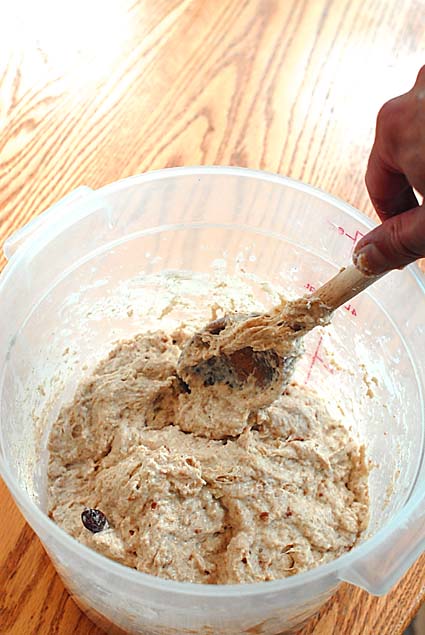 …and the dough is ready after about two hours at room temperature: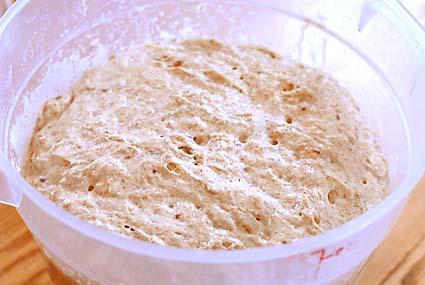 Store the bucket in the fridge for up to two weeks and tear off chunks as you need it (vent the bucket in the first few days by keeping it open a crack).  For the whole grain baguette rolls, form a beautiful baguette using the letter-fold technique (see Zoe's earlier post on this). Then, using a dough scraper or a knife, make angled parallel cuts about 2 inches apart along the length of the baguette:
The buns will flatten from being cut, and they won't appear to rise much before baking, but they get great oven "spring" (like all of our no-knead stored-dough recipes). Let the buns rest on parchment paper or a silicone pad for 20 to 40 minutes:
Preheat a baking stone to 450 degrees Fahrenheit (230 degrees Celsius) near the middle of the oven for 20 to 30 minutes, with a broiler tray to catch water on any other shelf that won't interfere with the buns. Place the parchment or the silicone pad with the buns onto the stone, throw a cup of water into the broiler tray, and bake for about 20 to 25 minutes. You'll get a gorgeous result, crusty and fragrant:
Wait at least an hour before breaking into them! Any sooner and the texture can be overly moist. Two hours is about perfect.
Note: Red Star Yeast (Lesaffre Corp) sponsored this post, and supplied yeast for recipe testing.
Note: BreadIn5.com is reader supported. When you buy through links on the site, BreadIn5 LLC earns commissions.
---
---