Fresh Bread made with Older Dough
As I am testing recipes, I can find myself with several buckets going at once. I have a family of four and we just can't always use up all that dough in a timely fashion. I just opened a bucket of dough that had been untouched for several days, well more than several and it was gray, leathery and had some liquid on it (pictures below). It had a strong "sourdough" smell to it, since it had been fermenting for a very long time. For those of us who like that kind of character in our bread, it was very exciting. BUT, there wasn't that much dough left and if I were to peel back the leathery bits to get to the creamy dough beneath, I wouldn't even have enough dough for a full loaf. The best thing to do with this older dough is to incorporate it into a new batch. It jump starts the flavor in your new dough, without having to wait days for the fermentation. It is like having a sourdough starter, that you never had to feed. Although in the dough I will show you, I am using the full amount of Red Star Platinum yeast.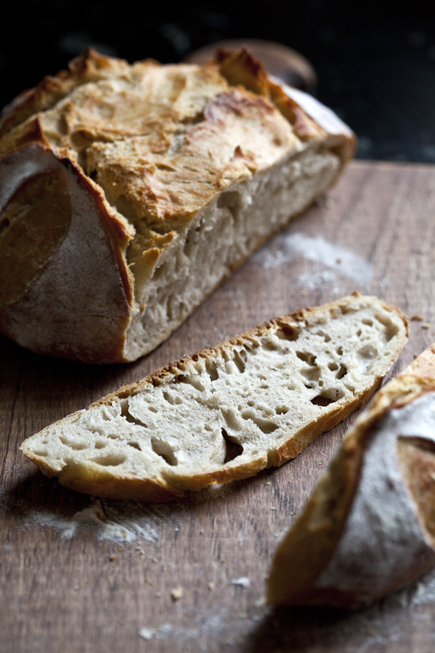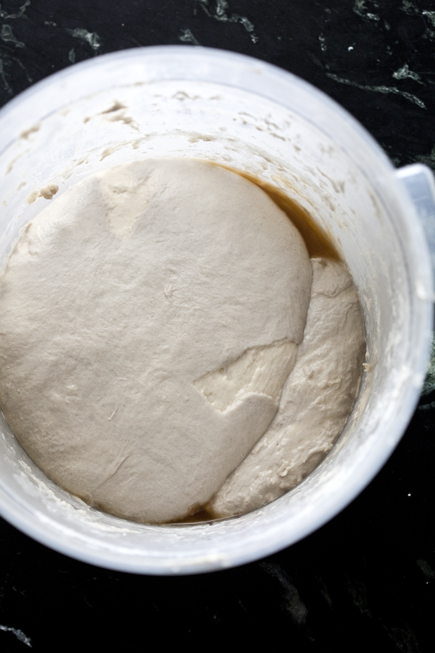 If your dough is gray and has liquid on it, don't fret, it isn't bad, in fact, it has more character and flavor that should be enjoyed.
If you ever see patches of mold, which is very, very unusual for dough being stored in the refrigerator, you have to throw it out and wash the bucket. In all my years of making this dough I've never seen or heard of it happening.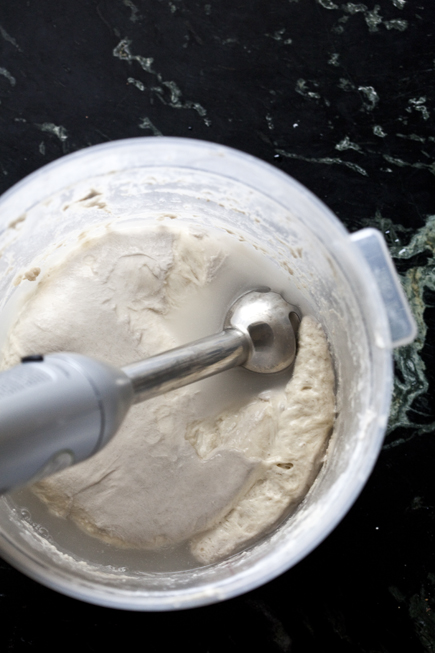 Having an Immersion Hand Blender makes this job much easier, since you want to break up the old dough to mix it smoothly into the new. If you have more than 8 ounces of old dough, you should take some out or you can use this method instead.
Just add the water required for mixing the new dough (here is the recipe for our Master Dough or you can use our Whole Grain Master Recipe)* into the bucket with the old dough. Blend until smooth with the blender.
*you can NOT use this method with any dough that has dairy, eggs or other ingredients that may spoil or go rancid. Only use recipes that use flour, water, yeast and salt.
Stir in the yeast and salt.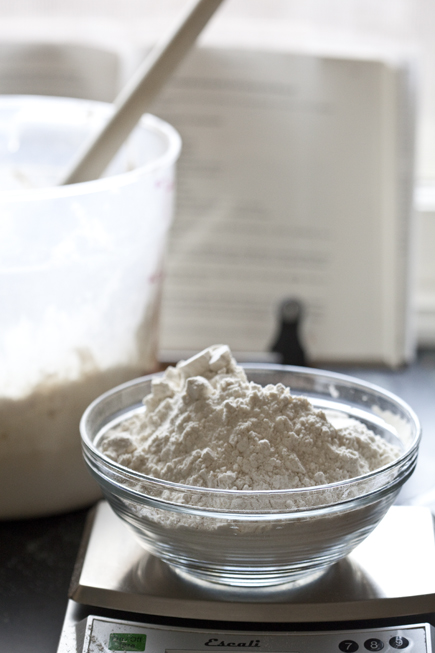 Add all the flour.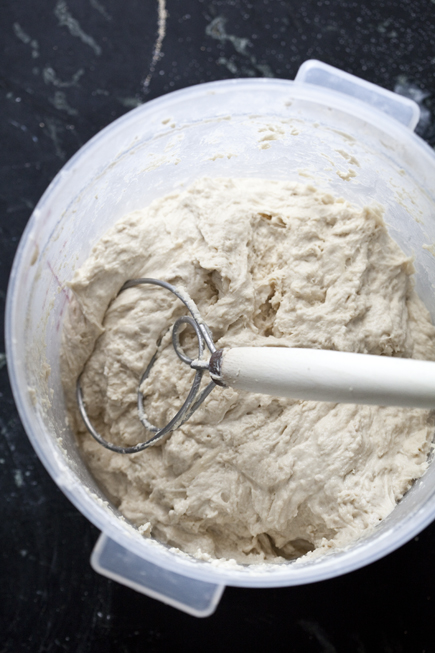 Stir with a Danish Dough Whisk or wooden spoon.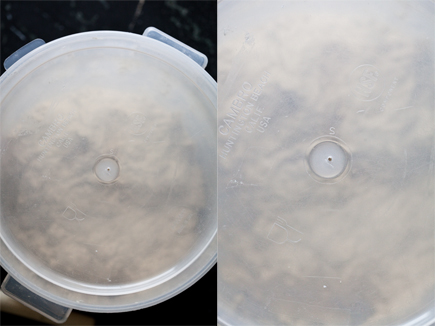 Cover your Storage Container with Lid, preferably one that you've poked a tiny hole in. If your lid doesn't have a hole, then don't snap it shut. Allow to rise for 2 hours and then you can use the dough or refrigerate it for up to 2 weeks.
To make the bread:
Shape the dough just as you always would.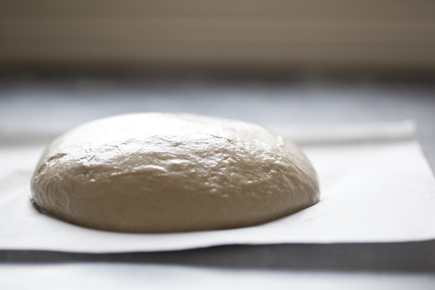 It is totally normal for our dough to spread out, instead of getting taller. This may be even more profound if you are using older dough.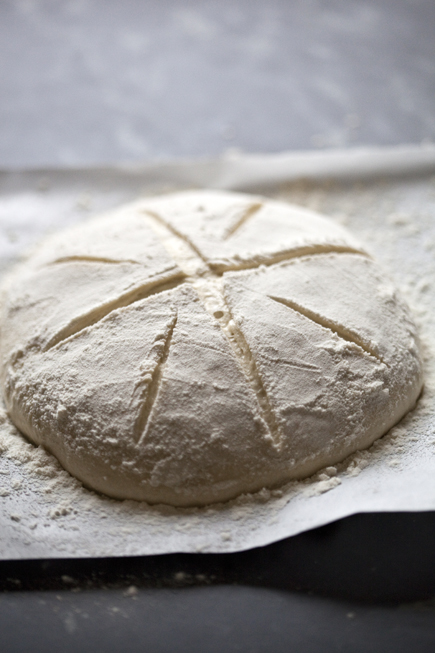 Dust with flour and slash in any pattern you want.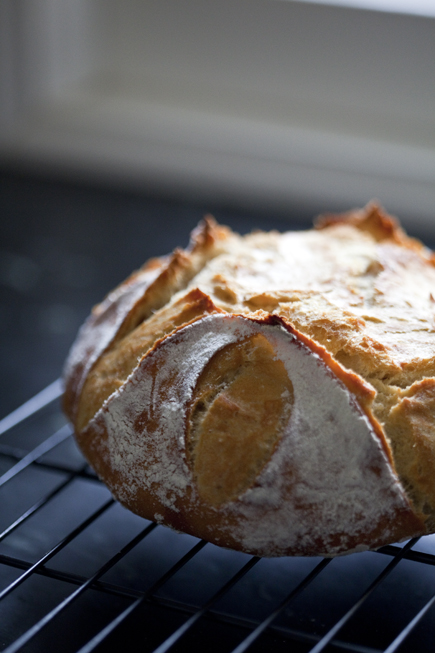 Bake as directed in the recipe.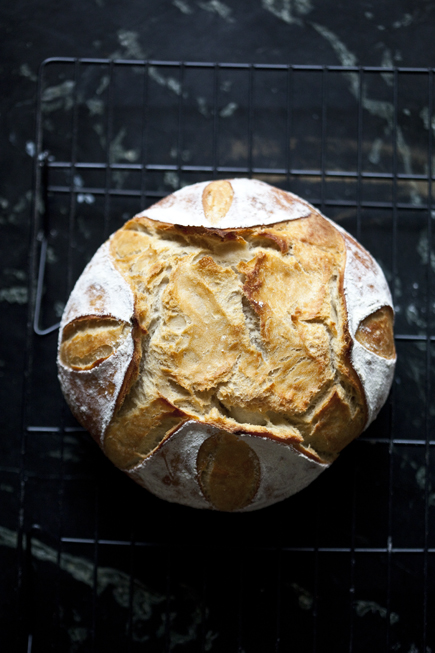 Allow to cool completely.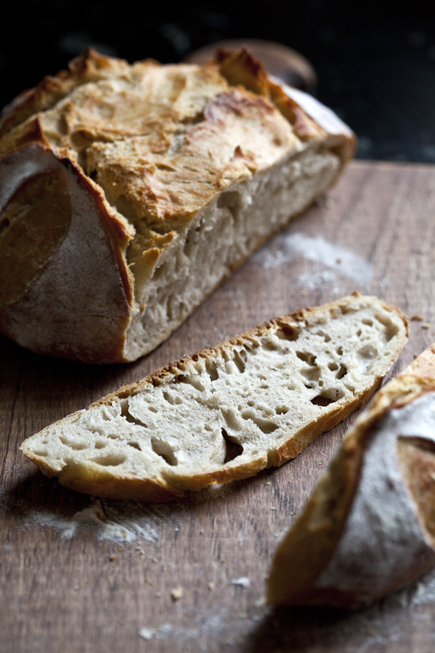 You may also find this post helpful: Gray, Leathery Dough with Liquid on the bottom
---
---