S'mores Brioche Doughnuts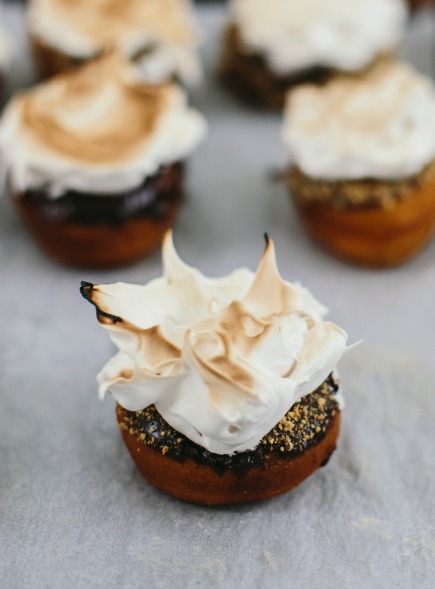 Today is National Doughnut Day! Well, actually it appears there are several 'National Doughnut Days' in our country. But, it's completely understandable that many people want to celebrate doughnuts as often as they can. I've decided to go all out today, and bring you an amazingly delicious yet slightly ridiculous doughnut: a s'mores doughnut. This beauty is made from brioche dough, glazed in chocolate, coated in graham cracker crumbs, and then smothered in toasted meringue. Each bite will leave you with a marshmallow mustache and sticky hands, but I promise it's worth it.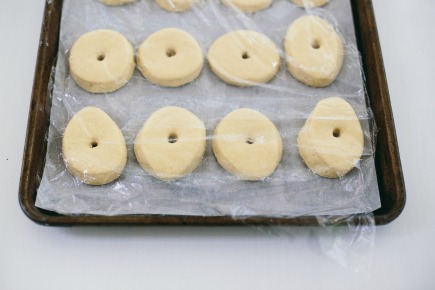 To begin: You can use either our brioche dough (page 300 of The New Artisan Bread in Five Minutes a Day), or our whole wheat brioche dough. To make the doughnuts, follow the instructions in Healthy Bread in Five Minutes a Day, or look at this post as a guide for shaping. A large biscuit cutter works well to cut circles, and the spout of a funnel was a good tool for poking small center holes (or a small biscuit cutter could work, too).
The next step is adding a rich chocolate glaze. After the doughnut is glazed in chocolate, dunk the top half into graham cracker crumbs (I used about 3/4 cup for 12 doughnuts). Let the doughnuts sit on a wire rack while you make the meringue.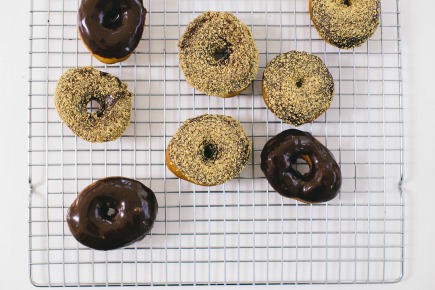 To make the meringue:
2 egg whites, at room temperature
1/2 cup sugar
good pinch of salt
1/2 teaspoon vanilla extract
In the bowl of a stand mixer, combine the egg whites, sugar, and salt. Put the bowl over a double boiler and stir with a rubber spatula until the sugar is completely melted (this will take several minutes). Brush the sides down with the spatula occasionally to make sure all the sugar is melted and no grains are clinging to the sides. Feel the egg mixture between your fingers to check for graininess. Once the mixture is completely smooth (you can check by putting it between your fingers and checking for graininess), put it on your stand mixer and beat with the whip attachment on medium high speed. Beat it until it is light, fluffy, glossy, and the bowl feels just about room temperature. Add the vanilla  until combined.
Place about 1/4-1/3 cup meringue on top of each doughnut, swirling each top with a spoon. Use a kitchen torch or a broiler to gently brown the meringue (if using a broiler keep a very close eye on things!)
Best if eaten the same day they are made.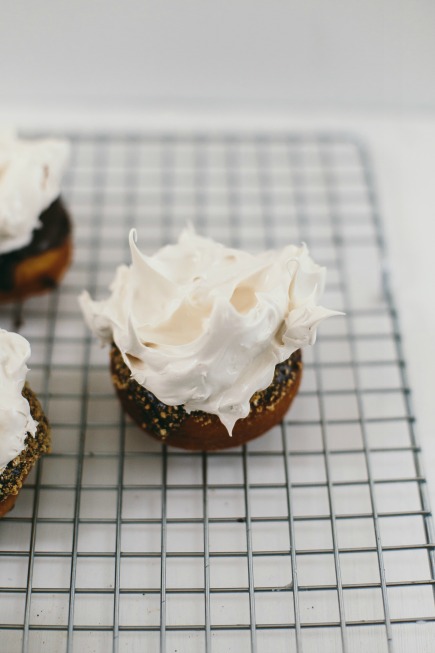 More doughnuts:
Apple Cider Gluten-Free Doughnuts
Chocolate Espresso Mini Doughnuts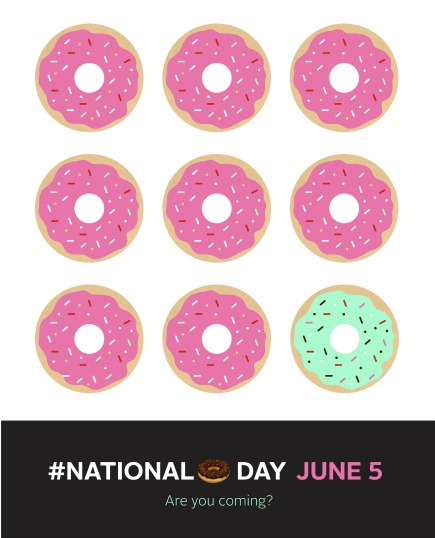 ---
---