Braided Savory Spinach, Feta, and Pine Nut Dinner Pastry
This started out as a dessert post, but then I looked out the window, and it's October in Minnesota, and fresh berries from the U-pick farm are long over with.  My family needs something warming tonight, so I dropped my almond cream and raspberry idea, and jogged to the store for spinach and feta to go with the pine nuts I already had in the house.  Not only is this thing delicious, but I stashed gobs of spinach into it and it was super kid-friendly anyway. 
First, start preheating the oven to 350 degrees F for about a half-hour.  Saute a pound of fresh spinach in a tablespoon of olive oil, until it's well-wilted and has given up a good amount of liquid, which you need to discard or the pastry will be soggy.  I peppered but didn't salt the spinach, because my feta cheese is very salty–taste it first; if it's bland go ahead and salt the spinach to taste.  Set aside the sauteed spinach while you prepare the dough.
Roll out your favorite enriched dough from the book, like challah, or for a really decadent treat, the brioche— the goal is 1/8 of an inch thick.  It took a little less than a pound to get a rectangle about 8 by 18 inches (a small grapefruit-sized piece of dough).   I bought some really nice imported feta and crumbled a little less than a half pound in a line down the center of the rectangle: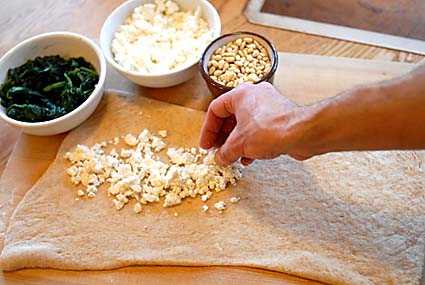 Then, layer the drained spinach over that:
Now sprinkle a generous handful of pine nuts (or chopped walnuts, pistachios, almonds, or pecans) as the last layer before you start the braid (you won't actually have to braid…):
Using a pizza wheel, make 1/2-inch wide strips down each side. 
Now, fold the strips, one side after the other over the filling, creating the illusion of a real braid: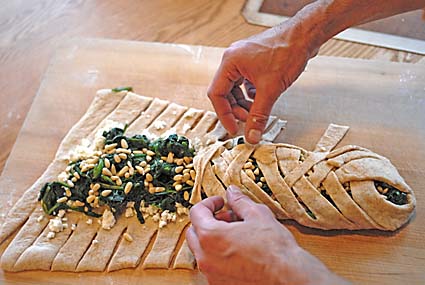 I'm not quite as artful about this as Zoe is, I'll admit.  But it basically got the job done and through the magic of gauzy photography, who's going to be able to tell?  Allow the braid to rest for 40 minutes at room temperature.  Egg wash and black sesame seeds completed the effect, which is something like a Turkish spinach pie  This goes into your pre-heated oven for 35 to 40 minutes and a complete meal is done.  If you can sell this filling, the kids won't need any other vegetable tonight.
---
---