Stovetop Pizza with Spelt Dough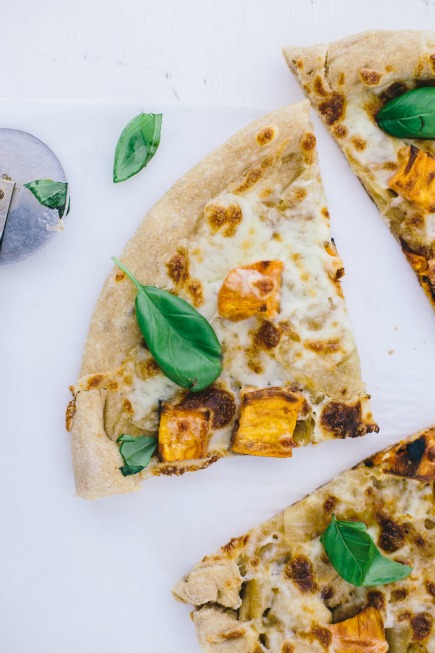 With the holidays tucked safely behind, I've found myself trying to incorporate healthier foods into my family's New Year diet. There were some subtle groans about the 100% whole wheat flour bagels and bread that showed up in our kitchen January 1st, foreshadowing things to come. After a few weeks of slowly letting go of the white flour, however, no one seems to mind quite as much anymore. Along with the whole wheat flour, I have also been adding spelt flour to many of our baked goods and breads. I've always loved the flavor of spelt, and find it easy to work with in most applications. I had forgotten about the Whole Grain Spelt Dough recipe in Artisan Pizza and Flatbreads, and it has been a welcome addition to dinner. My kids didn't even notice the crust on their beloved stovetop pizza was slightly heartier, and gobbled down their slices without batting an eye.
100% Whole Grain Spelt Dough Recipe for Stovetop Pizza
from Artisan Pizza and Flatbread in Five Minutes a Day, page 84
3 1/4 cups lukewarm water
1 tablespoon Red Star Platinum yeast
1 tablespoon kosher salt
2 tablespoons sugar or honey
1/8 cup olive oil
8 cups whole grain spelt flour (I used the half-spelt variation, with 4 cups spelt flour and 4 cups all-purpose flour)
Mix the yeast, salt, sugar, and olive oil with the water in a 5-quart bowl or lidded (not airtight) food container.
Mix the remaining dry ingredients using a spoon, a dough whisk, or a stand mixer fitted with a paddle attachment.
Cover, and allow to rest at room temperature until the dough rises and collapses, about 2 hours.
The dough can be used immediately after its initial rise, though it is easier to handle when cold. Refrigerate it in a lidded container and use over the next 7 days.
On pizza day, start by heating an 8-inch cast iron skillet over medium heat on the stovetop (for a slightly large pizza, I used my braising pan here, which also worked well). Cut off a quarter-pound piece of dough and shape into a ball. Flatten the dough with your hands or a rolling pin, and roll into a 1/8 inch thick round.

Carefully transfer the dough to the preheat pan, and quickly spread olive oil or sauce over the dough, then the cheese and whatever other toppings you are using (I've used olive oil, roasted sweet potatoes, caramelized onions, and mozzarella cheese here). Cover the skillet and cook for about 4 minutes without lifting the lid (unless, of course, you smell scorching).
When your bottom crust is browned to your liking (check the bottom of the crust by peeking at a corner of it with a spatula), remove the lid, turn on the broiler, and toast the pizza for 1-2  minutes to get a crisp top crust. Remove the skillet from the oven, then take the pizza out of the pan with a spatula. Allow the pizza to cool slightly on a wire cooling rack. Cut into wedges and serve.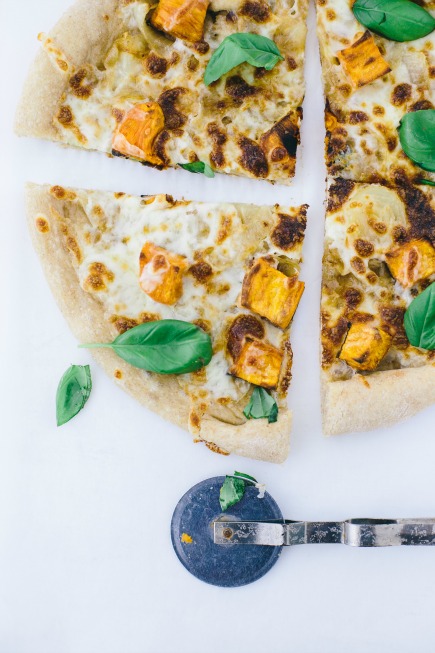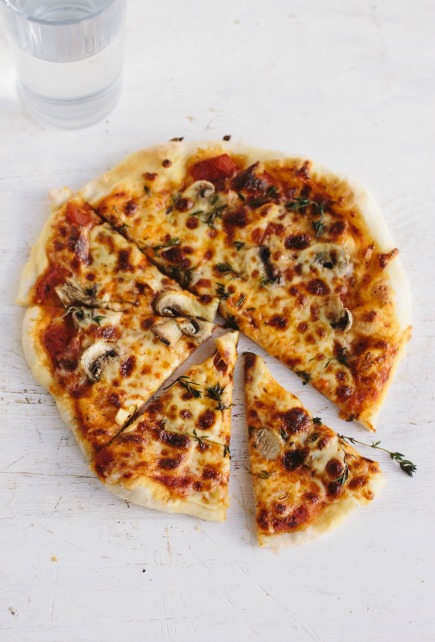 You might also be interested in our Mushroom Garlic Thyme Stovetop Pizza.
And don't forget to check out our Craftsy Artisan Bread in Five Minutes class! Learn the secrets to making fresh, artisan-style breads in no time, from classic baguettes to braided loaves and even hearty sandwich breads.
———————————–
Lesaffre Yeast Corp. (Red Star) provided yeast samples for recipe testing, and sponsors BreadIn5's website and other promotional activities.
---
---