Spelt Donuts with Blood Orange Glaze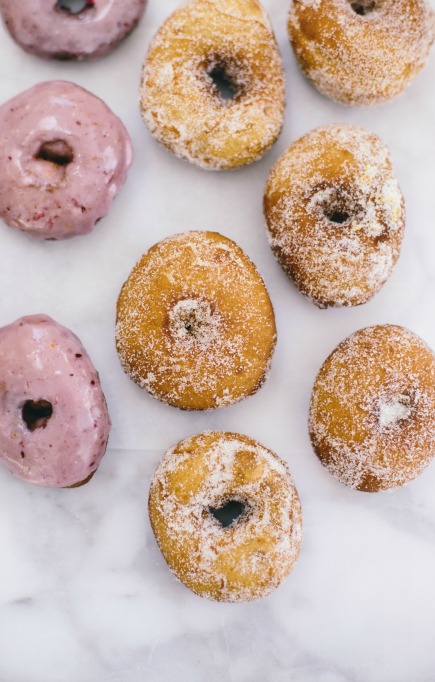 If you've been around this site long enough, you'll know that we are big fans here of using our no-knead brioche dough to make donuts. We've made jelly-filled donuts, mini-donuts, espresso-chocolate donuts, powdered sugar donuts, and even s'mores donuts. But I firmly believe that there can't be too many ways to enjoy one of our favorite treats, and so I bring you yet another recipe for warm, delicious circles of goodness. After reviving our spelt pizza dough a few weeks ago, I decided to try and come up with an enriched version of it; I like the flavor it lends to sweet confections, and it makes whatever I am baking a little more healthy, which is always a good thing. These spelt donuts are made with both spelt and all-purpose flour, and fry up light and tasty.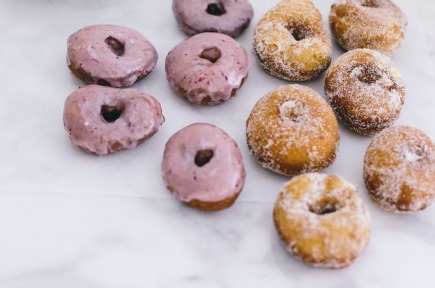 Enriched Spelt Dough for Spelt Donuts
2 1/4 cups lukewarm water (about 100 degrees)
1 tablespoon Red Star Platinum Yeast
1 tablespoon kosher salt
4 large eggs, lightly beaten
1/2 cup honey
1/2 cup unsalted butter, melted
4 cups spelt flour
3 cups all-purpose flour
Mix the water, yeast, salt, eggs, honey, and melted butter in a 6-quart lidded container. Add the flour and combine with a Danish Dough Whisk or 5-Quart Stand Mixer (with paddle) until a smooth dough forms. Cover, but not airtight, and allow to rest on the counter for 2 hours. It will be quite wet and can't be used until thoroughly chilled. Refrigerate and use over the next 5 days.
To fry the spelt donuts:
Vegetable Oil – 3 to 4 inches deep, use a pot that is large enough that your oil is not sitting too high in the pot.
Blood Orange Glaze (1 cup powdered sugar, whisked with the juice of 1 blood orange, 1 tablespoon milk, 1/2 teaspoon vanilla, and pinch of salt. If the glaze is too thin, add a little more powered sugar. If it is too thick, add a little more milk.)
or
Blood Orange sugar (one cup sugar + 2 tablespoons blood orange zest)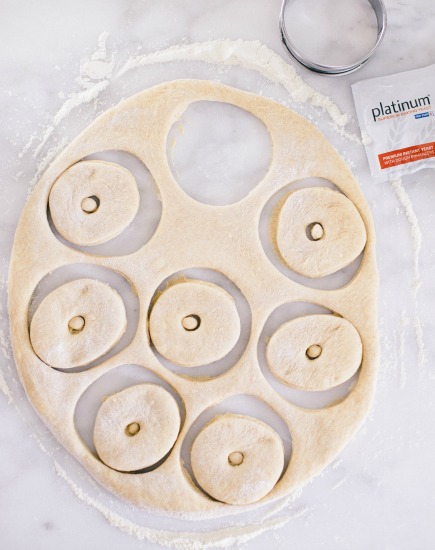 Pull out a 1-pound piece of dough and roll it out to a 1/2-inch thick. Use a Doughnut Cutter or round cookie or biscuit cutters. Allow the dough to sit for at least 20 minutes while the oil heats up. (If you have time to let them sit out for an hour, please do so. The donuts will be light and airy. It isn't necessary, but if you have the time and patience to let the dough sit longer, give it a try.)
Once your oil reads 360-370°F on a Candy Thermometer you are ready to fry. The amount you can fry at one time will depend on the size of your donuts and pots, but be sure not to over crowd them.
Use a slotted spoon or Basket Strainer to flip the donuts over after about 2 minutes and then to take them out of the oil once they are golden brown on both sides. Lay them out on paper towel to allow some of the oil to drain off.
Dip the spelt donuts in the blood orange glaze or the blood orange sugar mixture. Best eaten within the hour.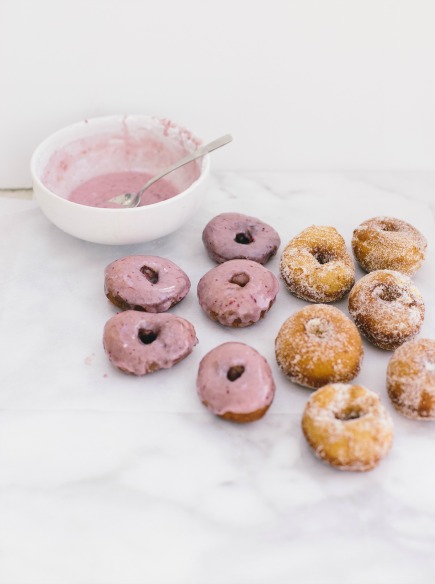 Other Donut posts you may enjoy:
And don't forget to check out our Craftsy Artisan Bread in Five Minutes class! Learn the secrets to making fresh, artisan-style breads in no time, from classic baguettes to braided loaves and even hearty sandwich breads.
———————————–
Lesaffre Yeast Corp. (Red Star) provided yeast samples for recipe testing, and sponsors BreadIn5's website and other promotional activities.
---
---