Homemade Matzoh in 18 Minutes Flat – mixed, rolled and baked!
This week is the start of Passover and there will be a lot of matzoh consumed. Does anyone really love the taste of matzoh? I would guess not, unless you have a penchant for eating cardboard. I have very fond memories of eating matzoh with my grandparents at Passover, however it wasn't the taste as much as the tradition. But, that doesn't have to be the case if you make homemade matzoh. It is one of the easiest and fastest flatbreads there is. In fact, it is dictated by Jewish tradition that matzoh be made in 18 minutes. The Jews had 18 minutes to flee Egypt and therefore didn't have time to let their bread leaven. They mixed the dough and baked it right away. This recipe makes 6 good-sized matzoh, which is just the right amount for a small gathering and you'll be able to mix, roll and bake in 18 minutes flat. If you need more than that, I recommend getting your friends or family to help with the rolling and have a couple of baking stones on the ready. Obviously this won't be Kosher for Passover, but if you are okay with that, it is the BEST matzoh you will ever eat. Even if you can't partake during Passover, I recommend you try homemade matzoh another day.
And, I suggest everyone, of any faith, or none at all, try this bread, just because it is fantastic!
Homemade Matzoh
2 cups all-purpose flour
1 teaspoon kosher salt
1 tablespoon olive oil
3/4 cup water
Preheat oven to 500°F with Baking Steel or Pizza Stone on the middle rack.
Set your timer for 18 minutes. For some this will be a crucial part of the recipe and for others it will just be fun to see if you can complete the project in that amount of time. It is important to have everything ready to go, so you don't waste any time gathering equipment or ingredients.
In a large bowl, mix the flour, salt, oil and water together until a ball comes together.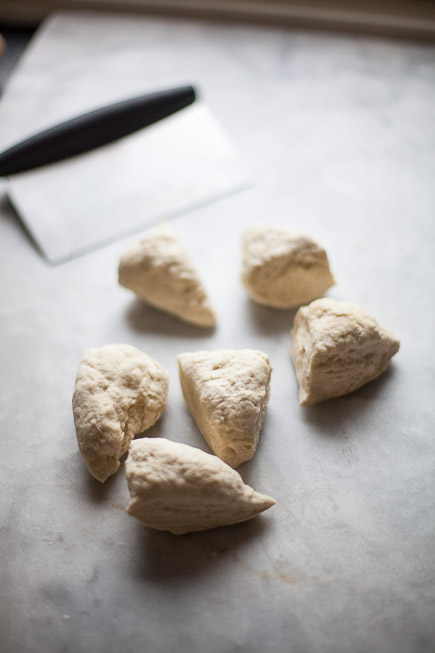 Divide the ball into 6 pieces with a bench scraper.
Roll each piece very, very thin. I find a heavy Marble Rolling Pin works well for this, since you need to get the job done fast and you want it so thin. Way back in the day, matzoh wasn't square, so just let the dough dictate the shape, we're just concerned about getting it as thin as possible.
Use a fork to dock the dough, so it won't puff too much in the oven.
Slide the dough on to the preheated baking stone using a Pizza Peel and bake for about 2 minutes and then flip the dough to bake the other side. You will want to bake more than one at a time to get them all done within 18 minutes. I used two baking stones in the oven at one time. If you have a double wall oven, then you are in great shape to get this done in time.
The matzoh will be golden and crisp when it is done. Let it cool on a rack.
They are thin and absolutely delicious.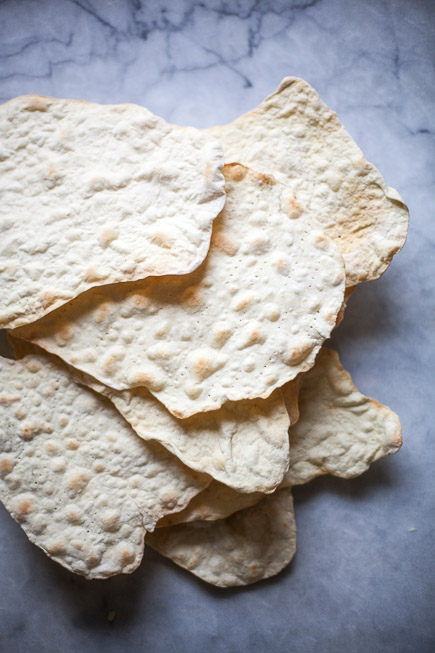 Store them in a dry spot in the kitchen or in the cool oven.
Happy Passover – Pesach Sameach
---
---