Fresh-Picked Strawberry Danish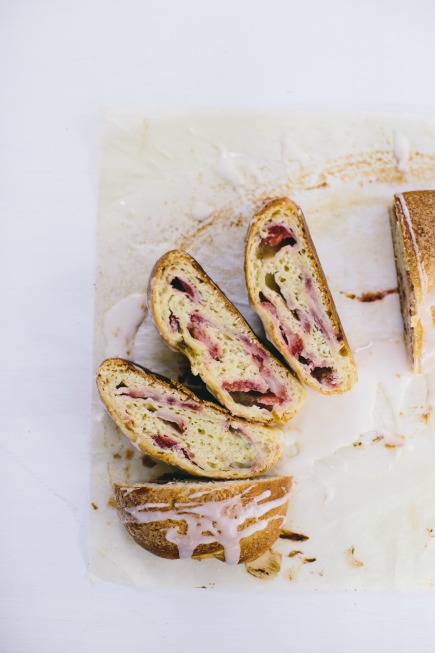 The secret of great fruit tarts and danishes? Great fruit, of course. If you have great stuff, it's not all that complicated. Take out some stored dough, and just a little more effort gets you a great dessert. My family and some friends visited Sam Kedem Nursery Garden, near Hastings, Minnesota, where we heard they had perfect strawberries ready for picking (they're on to raspberries now). So we are well stocked with great strawberries.
Strawberry Danish
1 1/2 pound piece of Brioche or Challah from New Artisan
Cream Cheese Filling
6 ounces cream cheese, room temperature
1/3 cup granulated sugar
pinch salt
1 teaspoon grated lemon zest
1/2 teaspoon vanilla
1 large egg
1 pound strawberries, sliced thin
Powdered Sugar Icing
1 cup powdered sugar
2-3 tablespoons water
For the filling
In the bowl of stand mixer fitted with a paddle, beat the cream cheese on medium until completely smooth. Add the sugar, salt, zest, and vanilla, and mix on medium until combined. Add the egg, and mix again on medium until combined.
For the icing
Put the powdered sugar into a medium bowl. Add 2 tablespoons water, and mix until combined. If the icing is too thick, add more water, 1 tablespoon at a time, until the desired consistency is reached.
Roll out the dough into a rectangle about 1/8-inch thick. Spread with a thin layer of the cream cheese filling, leaving a 1/2-inch border. Add sliced strawberries in a single layer.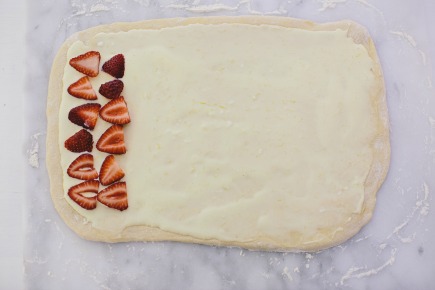 Roll it up from the long end…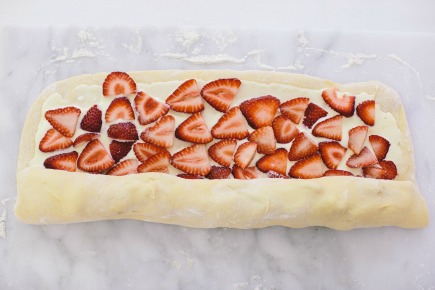 … and place it on a Silpat, greased cookie sheet, or parchment paper, and allow to rest for 40 minutes. Brush with egg wash (one egg mixed with 1 tablespoon of water), then sprinkle with a little sugar. Make snips in the top with a kitchen shears.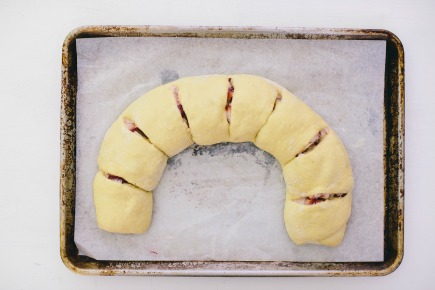 Bake at 350 degrees F for about 25 to 30 minutes. You can bake on an outdoor gas grill as well (click here for posts on rustic fruit tart, or brioche, both done outside.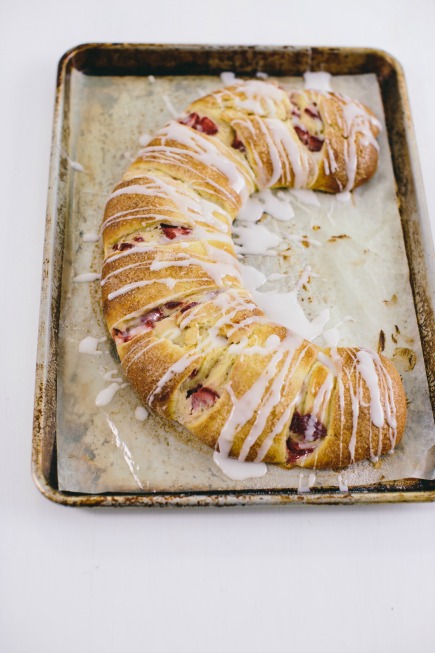 Let the Strawberry Danish cool slightly, then add the icing to the top. Cut into pieces and serve.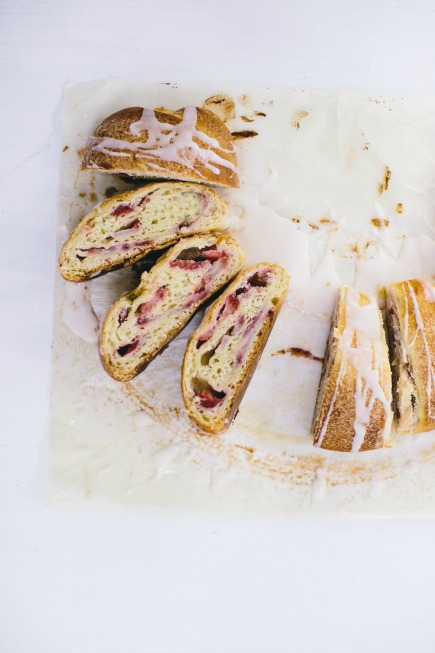 ---
---