The New Healthy Bread in Five Minutes a Day is Available for Pre-Order!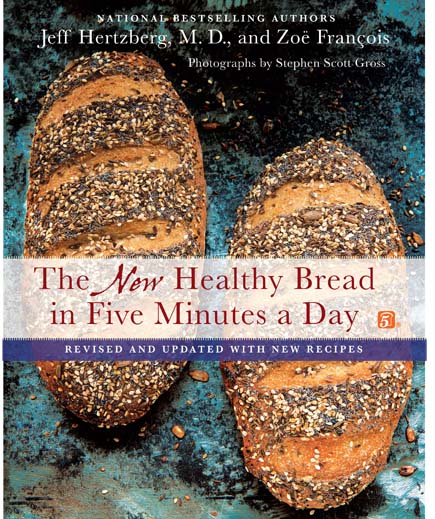 We are so pleased to announce that our newest book, The New Healthy Bread in Five Minutes a Day, is available for pre-order (click to order)! The book will ship out on November 1 and it will be available in your local stores as well. This project has been a long time in the making. As soon as we got the chance to rework New Artisan Bread, we knew we'd  want to update our healthy book. We kept all the things we loved about the original book (many of the recipes, including our GF chapter) and added more 100% whole grain breads….
we converted all the recipes to weights (but kept the measuring cups for those who prefer them),
probably the thing we're most excited about is our method for making a super fast, super easy sourdough starter. 
After your starter comes alive we'll show you how to use it in our recipes.
We have even more tips and techniques so you'll come out with great loaves, even if you're a novice baker. As always we'll be here on the website to answer your questions.
You can bake in your slow cooker on those hot summer nights or when the oven is jam packed with holiday goodies.
There are over 30 new recipes, so this book is our biggest yet and
once again we've teamed up with Stephen Gross and Sarah Kieffer to bring you more gorgeous photos of all the breads you'll be baking. Happy Baking from The New Healthy Bread in Five Minutes a Day: Revised and Updated with New Recipes!
---
---