Master Recipe from "New Healthy Bread in Five Minutes a Day" using Vital Wheat Gluten!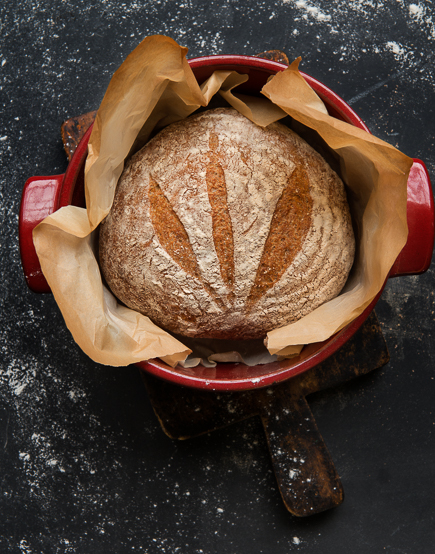 (The pictures in this post are by Stephen Scott Gross, who did the photography For New Healthy Bread in Five).
After writing the first edition of Artisan Bread in Five Minutes a Day in 2007 I was immediately asked how to convert the recipes to whole grains, and maybe even gluten-free equivalents. Through quite a lot of other adventures, the updated version has come out: The New Healthy Bread in Five Minutes a Day: Revised and Updated with New Recipes.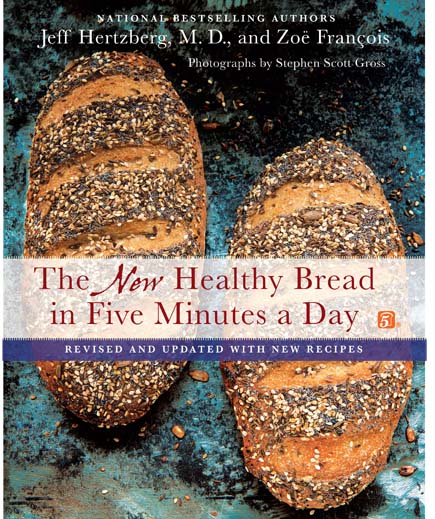 There are more photos to inspire you and make baking easier, all the recipes are in cup measures and weights, since we love baking with a scale and we've added charts for different kinds of flour, since there are so many on the market to choose from. And there's a vast chapter of tips and techniques. Here's a summary of what's new in the new edition:
Using sourdough starter as a leavening agent: for the first time in any of the books, instructions on creating your own starter and then using it as the leavening agent for homemade bread. Yeast bakers still have our original instructions as well.
Weight equivalents for every dough recipe. Weighing's more accurate and it's catching on in the U.S. We've really made leaps and strides as a baking country since 2007 (when the first book was launched), because inexpensive digital scales have become available everywhere.
Versions and options for omitting vital wheat gluten: Some of our readers asked how they could omit this from the recipes in the original Healthy Bread in Five Minutes a Day—which all called for added gluten. I've done that for the Master Recipe, and given some rules of thumb for doing it for the rest of the book as well (it's a water adjustment).
Using offbeat or ancient grains like spelt, Kamut (khorasan), and sprouted wheat: New rules of thumb for water adjustment when you use alternatives to standard supermarket whole grain flours.
Other new ingredients that have started appearing in American pantries: Coconut and flaxseed oils work great in the recipes calling for oil.
A gluten-free chapter: It has all the favorites from the book's first edition, based on positive feedback from readers.
Now let's dive into our Master Recipe, which didn't change much, because it works so well and it is a great place to start for people who aren't used to baking with whole grains.  With whole grain baking you need more water, and one extra ingredient called Vital Wheat Gluten (sometimes labeled "vital wheat gluten flour"), which is available in most supermarkets, or mail-order/on-line from anywhere…
Whole grains can make for a drier results; all that bran soaks up water.  So we increased the water for all the new recipes.  But that was only part of it.  I found that boosting the gluten content with vital wheat gluten increased the amount of time we can store the dough. Storing the dough is why these recipes are different from all others and makes baking so fast. Vital wheat gluten makes whole grain dough springy enough to be stored in the refrigerator as a large batch. There's also a version without vital wheat gluten in the book for those who prefer not to use it or can't find it.
What is vital wheat gluten?  It's the protein-rich part of wheat that creates the strands that trap gas bubbles and allow yeasted bread to rise (and stay risen).  It doesn't take much vital wheat gluten to make a difference in a 4 to 5 pound batch of whole grain dough.  Just 2 to 4 tablespoons are all you need, so while the whole bag or box may seem expensive, it doesn't add much to the cost of baking.
So where do you get vital wheat gluten? Most supermarkets in larger towns and cities carry it.  The two brands in U.S. supermarkets are Bob's Red Mill and Hodgson Mill, and we tested those extensively.  If your local store doesn't carry vital wheat gluten, you can mail-order it from Amazon; click for either the Bob's Red Mill product, or the Hodgson Mill product (you can also order directly from those company's websites).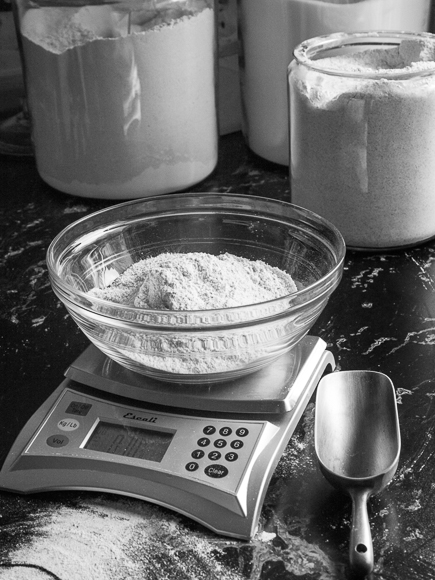 Master recipe from The New Healthy Bread in Five Minutes a Day:
There are many, many more details are in the book, along with plenty of recipes that are 100% whole grain; this recipe is about 73% whole grain:
Ingredients:
5 3/4 cups (750g) whole wheat flour – This is based on typical supermarket whole wheat, but we have a chart in the book so you can easily bake with King Arthur, Bob's Red Mill, Sprouted Wheat, Kamut, Einkorn, Spelt or Hodgson Mill.
2 cups (300g) unbleached all-purpose flour
1 tablespoon (10g) granulated yeast – can decrease. You can use any kind of yeast including: instant, "quick," rapid rise, bread machine, or active dry. You can also decrease the amount of yeast in the recipe by following the directions here. Or you can bake with a sour dough starter, see instructions here.)
1 tablespoon (15g) Kosher salt – can adjust to taste or health concerns
1/4 cup (40g) vital wheat gluten (or vital wheat gluten flour) – Here is a version without vital wheat gluten
4 cups (910g) lukewarm water (about 100°F)
1 to 2 tablespoons of whole seed mixture for sprinkling on top crust:  sesame, flaxseed, caraway, raw sunflower, poppy, and or anise
To make the dough: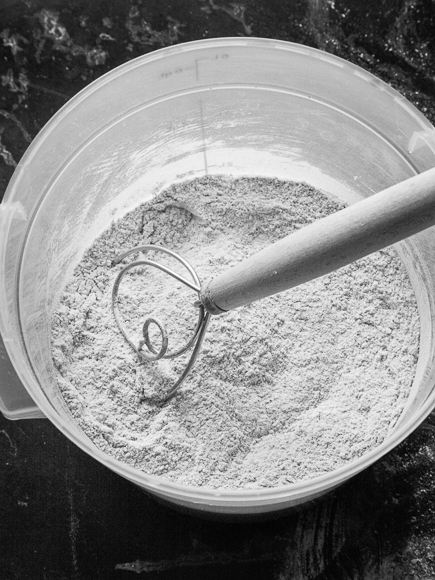 First, measure the dry ingredients into a 6-Quart Round Container or bowl, and whisk them together (you can also use a fork, or if it's lidded, just shake them well).  Mixing the dry ingredients first prevents the vital wheat gluten from forming clumps once liquids are added.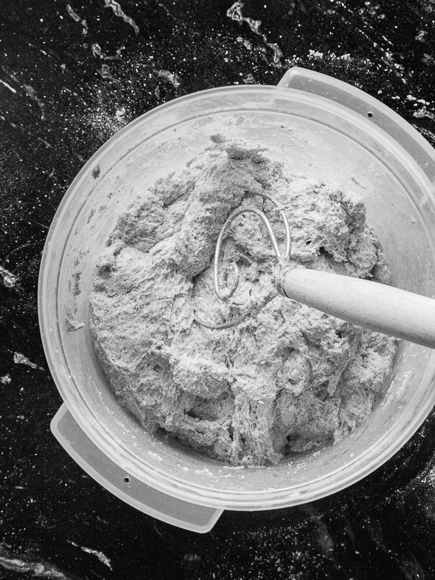 Add the water to form a wet dough and mix with a Danish Dough Whisk or wooden spoon.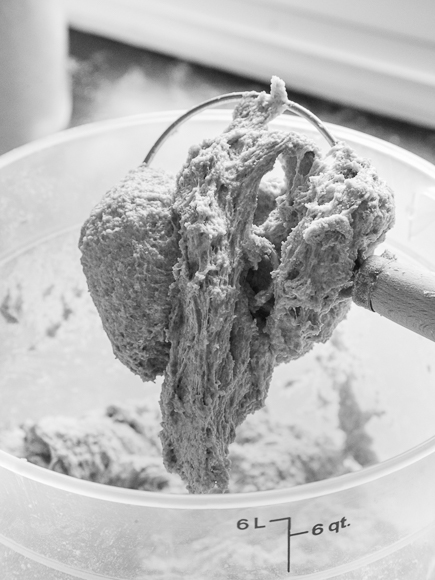 Don't add additional flour to dry this out. It should be wet and shaggy.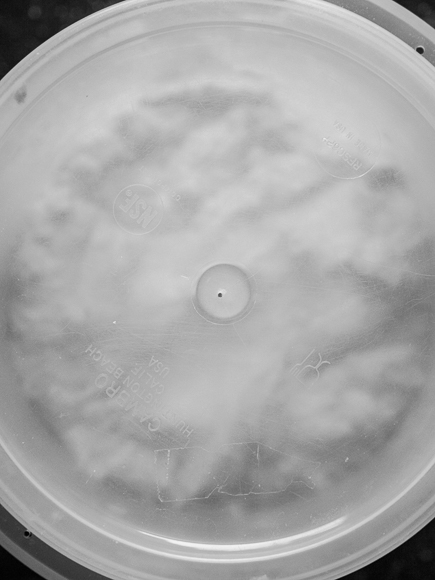 Cover loosely (leave lid open a crack) or you can piece a small hole in the lid, as you see above. Allow to rise for two hours at room temperature (if you decreased the yeast, you'll need more time).  NEVER PUNCH DOWN.  The dough will rise and then begin to collapse.  Refrigerate and use over the next 14 days, tearing off one-pound loaves as you need them.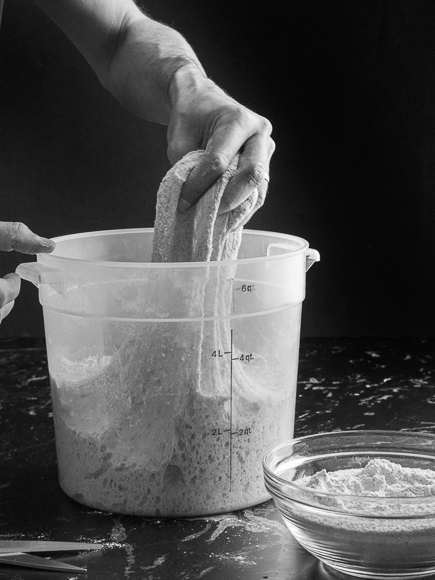 On baking day, cut off a grapefruit-sized piece of dough (about a pound), using a serrated knife or a Kitchen Shears.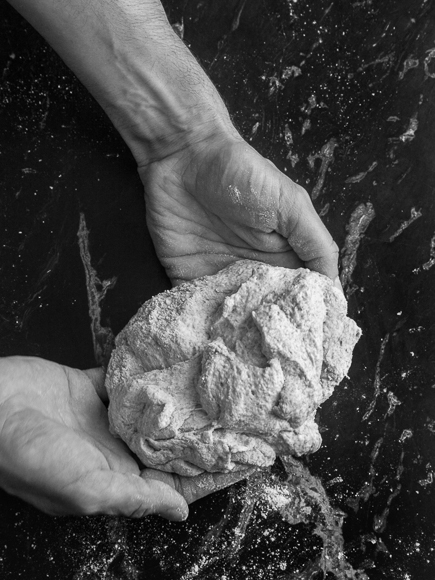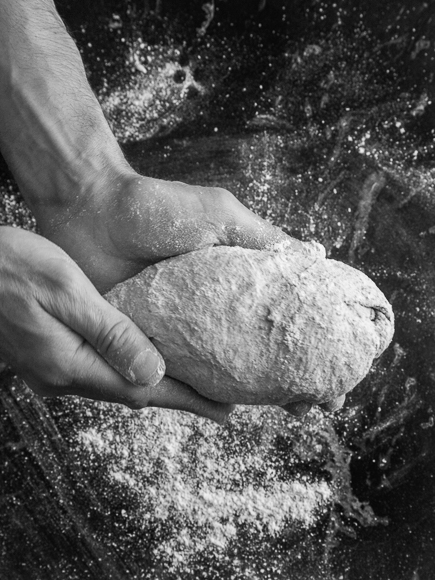 Quickly shape a loaf as you've seen in our videos on this website.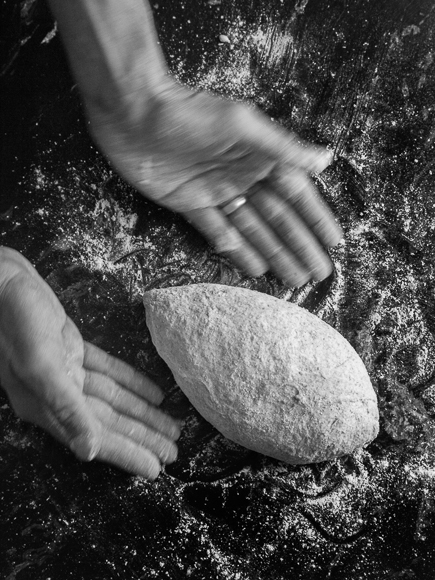 It should take less than a minute— you pull the top around to the bottom, rotating quarter-turns as you go.  DON'T KNEAD or otherwise knock all the gas out of the loaf.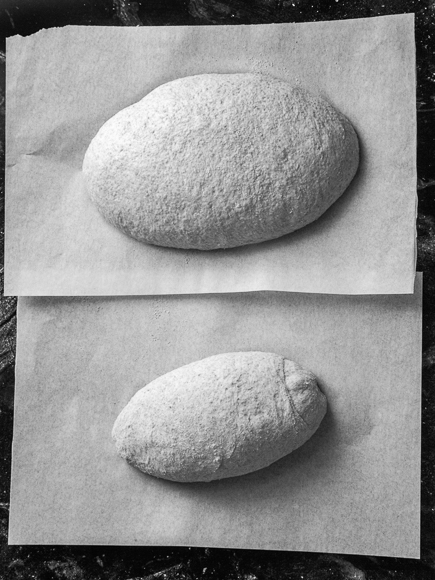 Cover the loaf loosely with plastic wrap and let it rest on a pizza peel covered with cornmeal or parchment for 90 minutes (40 minutes if you're using fresh, unrefrigerated dough.)   Depending on the age of the dough, you may not see much rise and it may spread out. The bottom loaf in the photo is just after shaping and then the one above it has rested and is ready for baking. Our loaves depend more on "oven spring" for rising.
Preheat the oven to 450°F (230 degrees C), with a baking stone placed on a middle rack.  Place an empty broiler tray for holding water on any other rack that won't interfere with rising bread.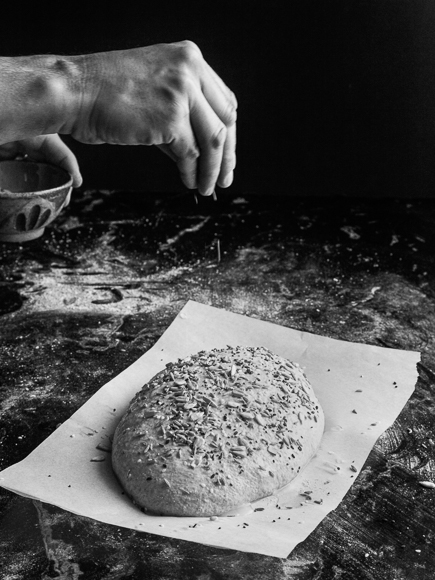 Just before baking, use a pastry brush to paint the top with water (we've dropped the cornstarch wash) and sprinkle with seed mixture.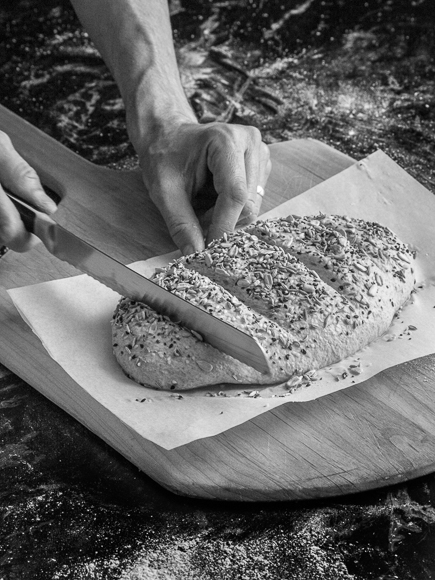 Slash the loaf with 1/2-inch deep parallel cuts across the top (or a singe lengthwise cut as in the first picture).  Use a serrated bread knife held perpendicularly to the loaf:
Slide onto the hot stone…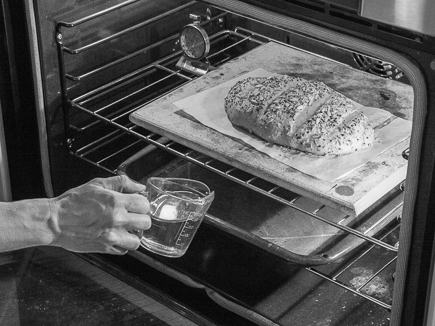 …and carefully pour 1 cup of hot tap water into the broiler tray (in the book, we give alternatives for creating that steam environment, which is essential for creating a great crust):
After a 30-minute bake, cool on a cooling rack.
Here are more shapes and ways to bake our Master recipe: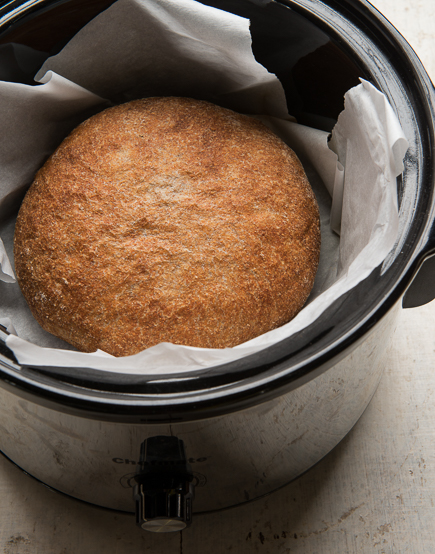 Slow Cooker bread from our Master recipe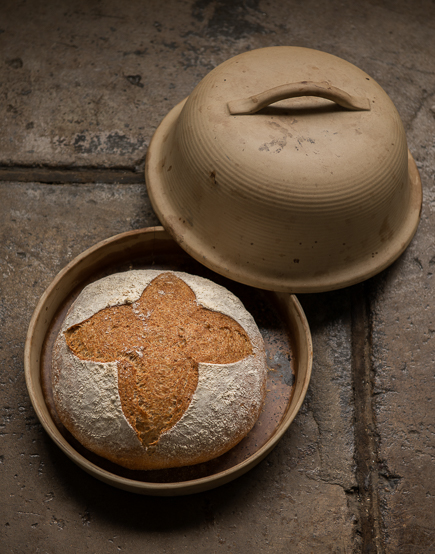 Master recipe baked in a Cloche
Epi and wreath from Master recipe
Moon and stars made from Master recipe. And there are many more in the book, plus 100 other recipes.
Note: BreadIn5.com is reader supported. When you buy through links on the site, BreadIn5 LLC earns commissions.
---
---