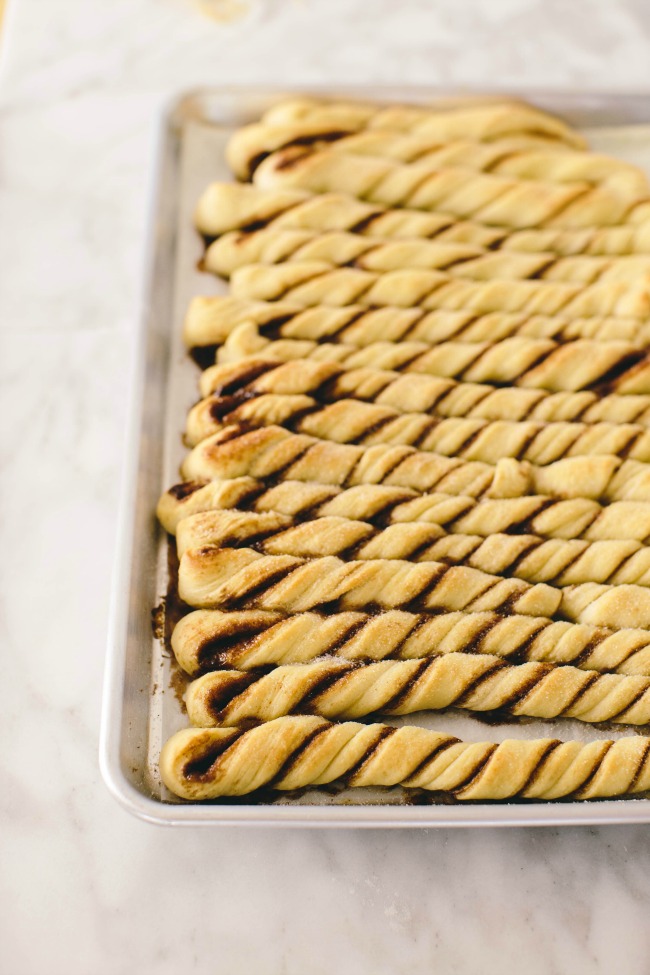 We've been on a breadstick kick. My children are obsessed with them, and love them even more than pizza. They've started begging for breadsticks at every meal, and while I don't always heed their cries, I do find I am making them more than usual. Why? Well, they are so easy to put together, and work with almost any kind of meal. Pizza and breadsticks. Spaghetti and breadsticks. Chicken and breadsticks. Lasagna and breadsticks. (Don't worry, there are plenty of vegetables served alongside, too). One weekend morning, when breadsticks were brought up for breakfast, I decided to surprise them with cinnamon twists instead. They were an instant hit, and while these are not a weekly affair, they are a fun, simple way to sweeten up a breakfast, brunch, or even dinner table.
Cinnamon Twists
1 pound dough Master Recipe or Brioche, or any leftover scraps of dough you have. (A richer dough like the brioche will make for a more indulgent twist.)
4 tablespoons unsalted butter, melted and cooled
1/2 cup brown sugar (granulated will work, too)
1 tablespoon cinnamon
Pinch salt
Adjust an oven rack to the middle position, and preheat the oven to 375F. Line a half sheet pan with parchment paper.
Lightly flour your work surface. Gently knead the dough, and form into a ball. If your dough is chilled, let it rest, covered with a kitchen towel,  for 20 minutes.
Once the dough is ready, roll it to a 1/4-inch thick rectangle. With a pastry brush, brush the entire surface with 2 tablespoons of the melted butter. In a small bowl mix together the cinnamon, sugar, and salt. Spread the mixture over the butter topped dough, and use your hands to make sure you have an even coat of the sugar.
Fold one half of the dough over the other, so the cinnamon filling is tucked inside and you have a long rectangle. Using a pizza wheel, cut the dough into 16 strips.
Twist each strip, pulling them gently as you twist, so you have long strips.
Place all the strips on the baking sheet (it's okay if some are touching). Cover with a kitchen towel and let rise for 25-30 minutes.
Remove the towel, brush the strips with 1 tablespoon more butter. Bake for 15-22 minutes, until golden brown. Remove from the oven, brush with the remaining butter, and let cool slightly before serving.
---
---