Hot Cross Buns for Easter!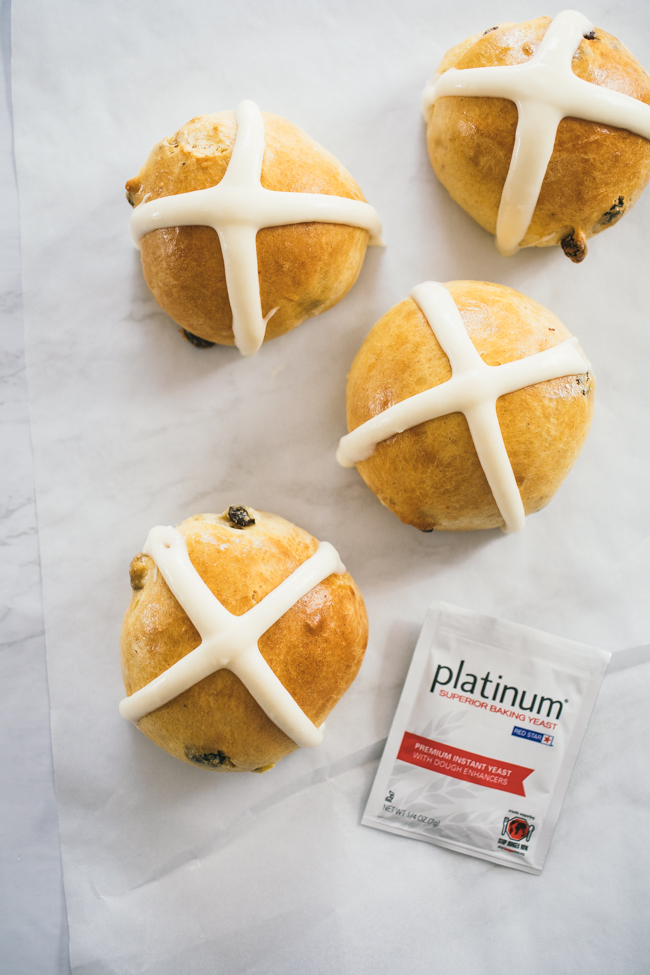 Hot cross buns, hot cross buns, everybody loves hot cross buns! are the words to the children's song, and they hold true even now. These little buns are traditionally served at Easter time: A sweet dough that is spiced, studded with dried (sometimes candied) fruit and decorated with a cross made of icing. I made them after many requests and my kids devoured them within minutes; they were nervous about the raisins, but the cream cheese crosses and scent of cinnamon and nutmeg drew them in.
As I researched these delicious buns I realized that there are just as many ways to make them as there are families who bake them. Some people slash the dough to make the cross, others use a flour and water paste to create the symbol and others use the sweet icing. Tell me how you make your buns, and if you don't have a family tradition yet, you can start with these!
If you follow along on Breadin5's Instagram, you can watch the bun-making in an Instagram story. The recipe comes from the latest book, Holiday and Celebration Bread in Five Minutes a Day, which also has a whole chapter on Easter bread recipes.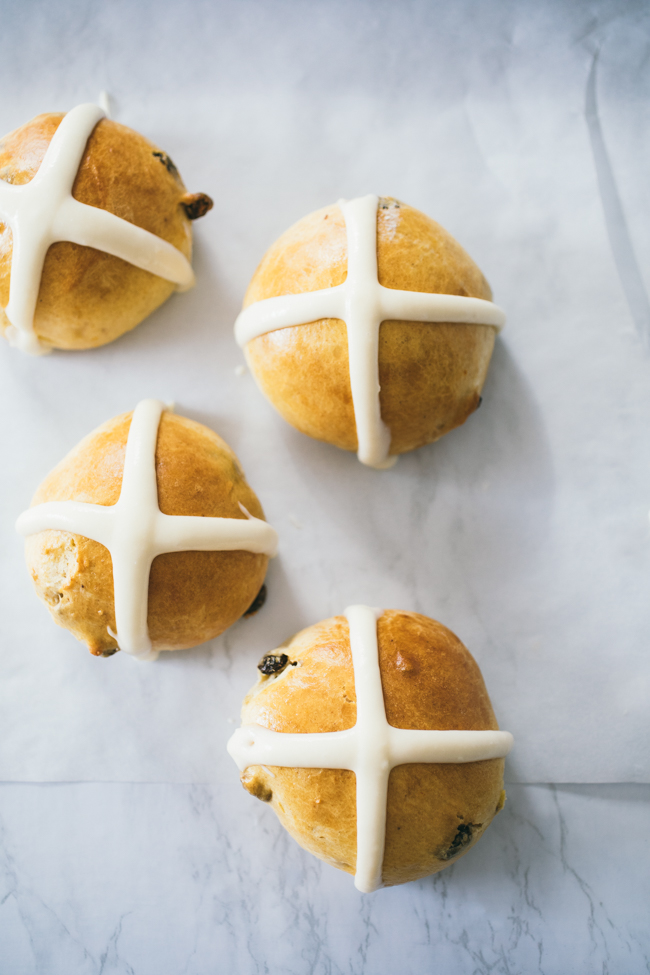 Hot Cross Buns
From Holiday and Celebration Bread in Five Minutes a Day
Follow along in our Instagram stories to see how we make the buns!
Dough (yields 5.7 pounds, about 25 buns)
1 ½ cups (340g) lukewarm water (100F or below)
1 tablespoon (10g) Granulated Yeast
1 tablespoon (17g) kosher salt
8 large eggs (455g), lightly beaten
½ cup (170g) honey
1 ½ cup (3 sticks | 340g) unsalted butter, melted
7 ½ cups (1065g) all-purpose flour
2 teaspoon ground cinnamon
1 teaspoon freshly grated nutmeg
1 teaspoon ground allspice
2 teaspoons orange zest, grated
2 teaspoons pure vanilla extract
1 ½ cups (200g) currants or raisins
Egg wash (1 yolk with 1 tablespoon water), for brushing buns
Icing
4 ounces (113g) cream cheese, room temperature
4 tablespoons (57g) unsalted butter, room temperature
½ cup (57g) confectioners' sugar
¼ cup (85g) maple syrup
Mixing and storing the dough: Mix the water, yeast, salt, eggs, honey, and melted butter in a 6-quart bowl, lidded (not airtight) food container, or the bowl of a stand mixer.
Mix in the flour, spices, zest, vanilla, and raisins without kneading, using a spoon or heavy-duty stand mixer (with paddle). If you're not using a machine, you may need to use wet hands to incorporate the last bit of flour. The dough will be loose but will firm up when chilled; don't try to work with it before chilling.
Cover (not airtight), and allow to rest at room temperature for 2 hours, then refrigerate.
The dough can be used as soon as it's thoroughly chilled, at least 3 hours. Refrigerate the container and use over the next 5 days.
On baking day: dust the surface of the refrigerated dough with flour and cut off a 2-pound (cantaloupe-sized) piece. Divide the dough into 8 or 9 equal pieces and quickly shape into balls.
Place 2 inches apart on a baking sheet lined with parchment paper or silicone mat, cover loosely with plastic wrap and allow to rest at room temperature for about 45 minutes.
Preheat the oven to 350F, with a rack placed in the center of the oven.
Brush the tops with the egg wash and place the baking sheet in the oven. Bake for about 25 minutes, or until richly browned.
Allow to cool completely. Pipe the icing in a cross over the top of each bun. There will be some extra icing for spreading on the buns.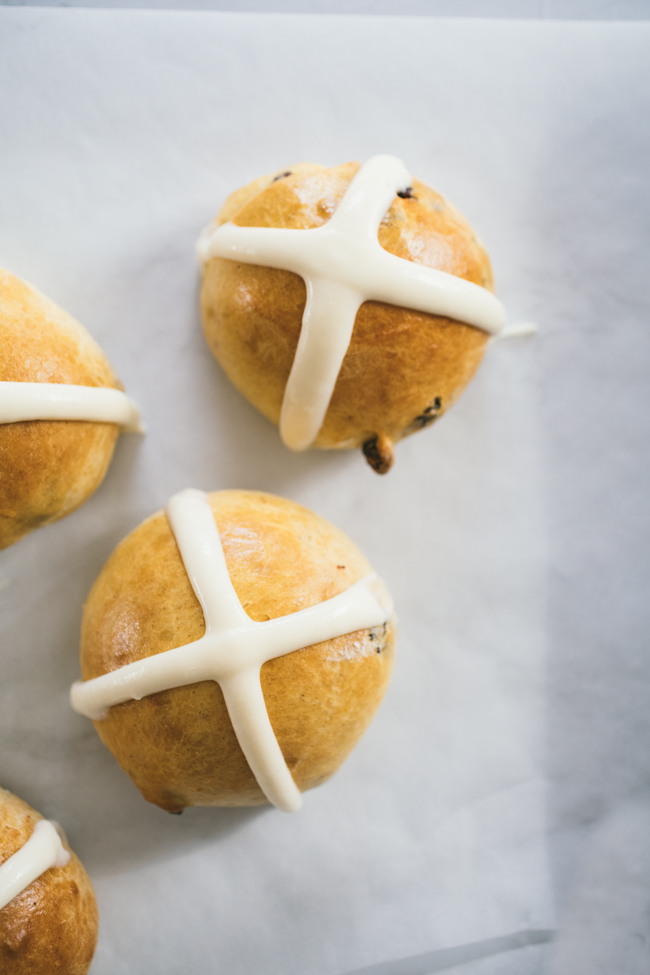 Note:  Red Star Yeast sponsored this post, and provided free samples of Red Star and Platinum yeast for testing. BreadIn5.com is reader supported–when you buy through links on the site, BreadIn5 LLC earns commissions.
---
---