4th of July Berry Pizza on the Grill!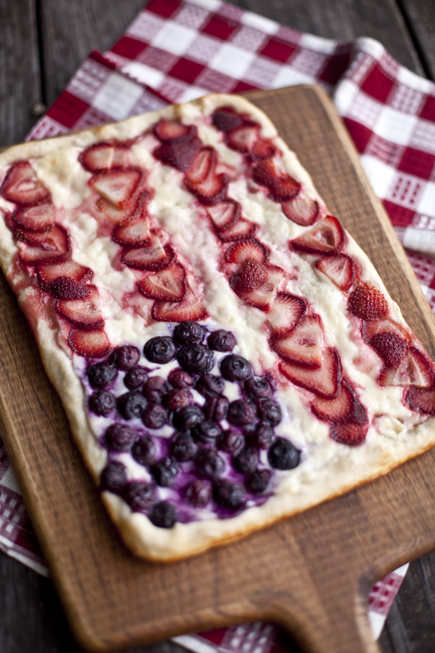 There is nothing more American than grilling on the 4th of July, well, maybe a star spangled pizza is the most patriotic of all. This is a super fast pizza that is ideal for breakfast, which I just served my family this morning, or can be throw together at your holiday BBQ as dessert. I made the pizza in a small baking sheet, but you can make a larger one if you have a crowd to feed.
Happy 4th of July!
1/2 pound dough (many choices, our Master Recipe, the challah, brioche, or even whole grain) – If you want a larger pizza, use 1 pound of dough and double the toppings. Bake the larger pizza in a 1/2 sheet pan.
Oil for the pan
Topping:
4 ounces cream cheese, softened
3 tablespoons sugar
1 teaspoon vanilla extract
2 teaspoons fresh lemon juice
1 1/2 cup sliced fresh strawberries or raspberries
1/2 cup fresh blueberries
To make the pizza on the grill:
Roll out your dough to fit your Quarter Baking Sheet. If your dough is resisting your efforts to stretch it out, then let it sit on the counter for about 15 minutes and it will roll more easily. You can use a bench scraper to detach the dough from the work-surface if your dough is sticking to the counter. Lift it and add more flour while rolling. A little sticking can help achieve the right size, but too much sticking may cause tearing.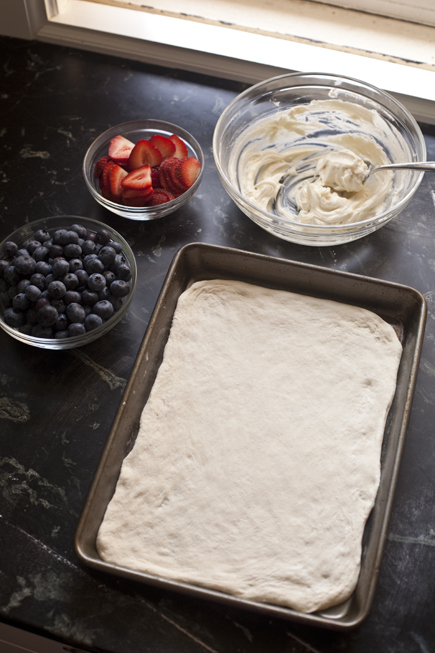 Preheat your grill to medium heat. I have a grill that has 3 burners and I turned them all on to medium, which means about 400°F if you have a thermometer.
Mix together the cream cheese, 2 tablespoons sugar, vanilla, and lemon juice.
Spread the cream cheese topping over the rolled out dough.
Arrange the berries over the topping in a flag pattern. Sprinkle the remaining sugar over the top of the berries.
I turned off the middle burner when I put the pizza on the grill. I left the front and back burners on medium heat. If you are using brioche dough, you may want to turn the heat down slightly, or keep a close eye on the crust.
Shut the lid and bake for about 15 minutes.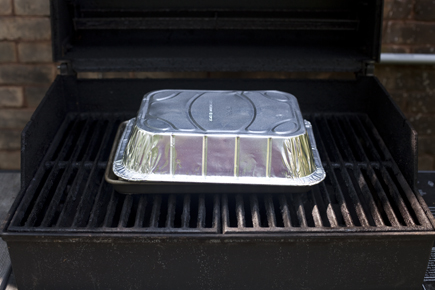 If the crust is not coloring, or the toppings are not cooking, cover the pan with an aluminum lasagna pan. Make sure the steam from the berries can escape or the crust will get soggy.
Bake covered for about 10 minutes.
Once the bottom crust is nicely golden brown your pizza is done.
Remove and allow to cool for a few minutes to let the cheese set up slightly.
The pizza is wonderful warm or room temperature.
The crust made with the Master recipe will be a bit crisp. If you make it with brioche the crust will be more tender and rich. Both ways are wonderful.
Enjoy!
---
---