The real secret to making bagels every Sunday morning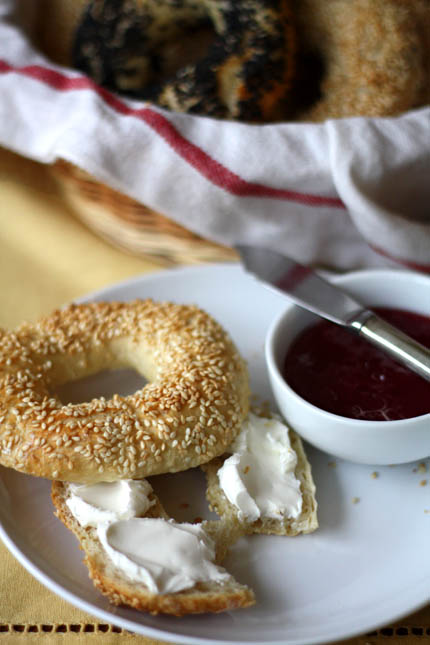 In all of my books, you'll find a bagel recipe made the traditional way, by forming the ring and then submerging it into a brief boiling-water bath before baking–but I don't do that anymore. I did this every Sunday morning for years, and had lovely family brunches, reading the paper, drinking coffee, and munching on bagels. Growing up, this was an outer-borough New York City ritual (with store-bought bagels). The traditional bagel-making method was captured in this short film, which is archived at the Brooklyn Public Library (and really captures the 1970s vibe!). Just below the video, click on (…more) for instructions on how to skip the boil if you're feeling lazy like me…:
If you really want authentic boiled/baked bagels, read on below. But because so much of the flavor and texture of bagels comes from the toppings, you can get away without the pre-boil. I'm partial to a mixture of dried onion flakes and poppy seeds, which supplies a lot of crunch plus terrific strong flavors, especially when they caramelize a bit. Basically, here are the changes you need to make in the recipe below to create baked-only bagels (read through the whole recipe below before starting):
If you're using dried onion flakes, preheat the oven to 400F (not 450F), otherwise the onions scorch before the bagel browns. Place a metal pan or broiler tray on the bottom shelf of the oven, which you'll use to catch water to create steam.
Form the bagels from your refrigerated dough (plain or whole grain or gluten-free). I like 2.5 or 3.0 ounce bagels, but you can make them bigger (New York bagels have become super-sized). If you're struggling with the thumb-punching method below, just form a skinny rope and press the ends together. Lay the bagels out on a baking sheet prepared with parchment paper or a silicone mat, then rest for 20 minutes. Cover loosely with plastic wrap or another upturned baking sheet.
Just before baking, use a pastry brush to paint water onto the surface of the bagels, then sprinkle with toppings–sesame seeds, poppy seeds, pretzel salt, or my favorite, the mixture of poppy seeds and dried onion flakes. You won't be able to do double-sided topping with this method.
If your oven glass isn't tempered, cover it with a towel to prevent cracking. Place baking sheet onto a rack near the middle of the oven, and pour a cup of water into the hot broiler tray. Remove the towel and quickly close the oven door to trap steam.
Bake for 20 to 25 minutes, and cool slightly before eating.
But if you're feeling very traditional…
The Traditional Boiled-Bagel Approach
Preheat the oven to 450° with a pizza stone near the middle of the oven.
Also have ready a baking sheet lined with a clean kitchen towel that is dusted with flour.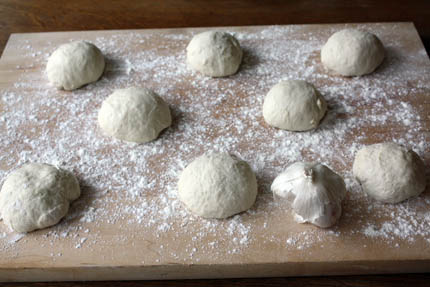 Form several 3 ounce balls of dough, as you can see they are about the size of a head of garlic. Pictured is the Master recipe, but you can also use the Bagel recipe, Montreal Bagel dough, Whole Wheat or any other non-enriched dough from the book for this. Cover the balls loosely with plastic wrap and allow to rest for about 20 minutes or until they no longer feel chilled.
While they are resting bring to a boil:
8 quarts of water
1/4 cup sugar
1 teaspoon baking soda
Have ready: Sesame seeds, poppy seeds or any other toppings you may want for your bagels.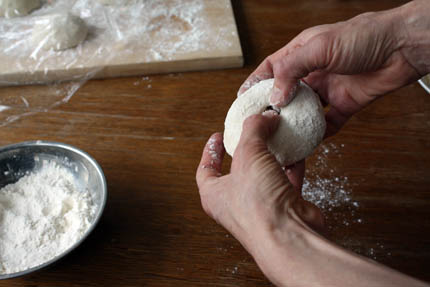 Once they have rested, dust the ball in flour and poke a hole in the center using your thumbs.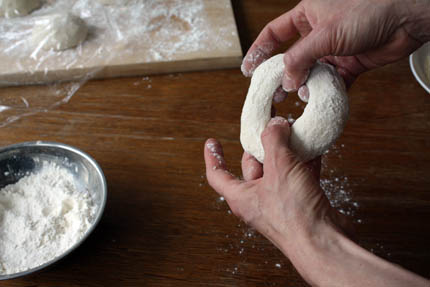 Continue to stretch the hole and add more flour if the cut part of the dough gets sticky.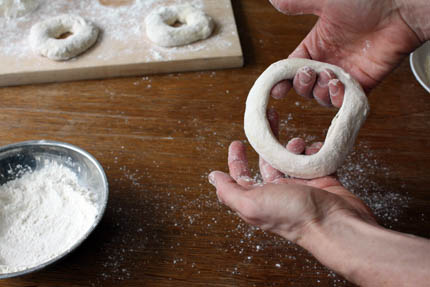 You want to stretch the hole quite a bit…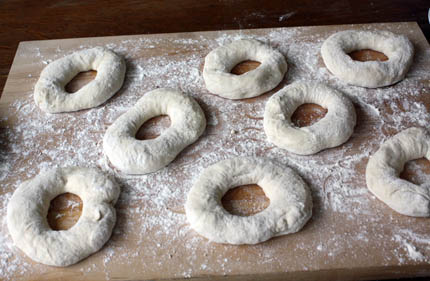 …because it will shrink back like you see above.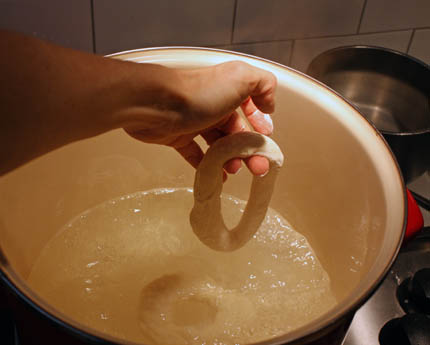 Place the bagels in the water, as many as will fit without crowding. Boil for 1 minute, then flip over and boil for another 30 seconds.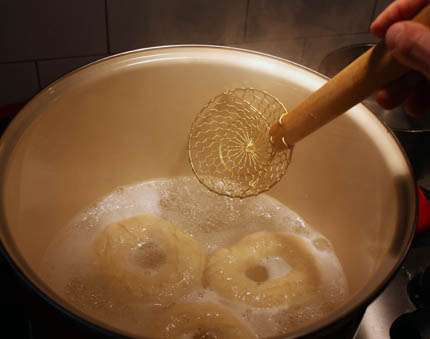 Scoop out the bagels with a slotted spoon and allow the water to drain off.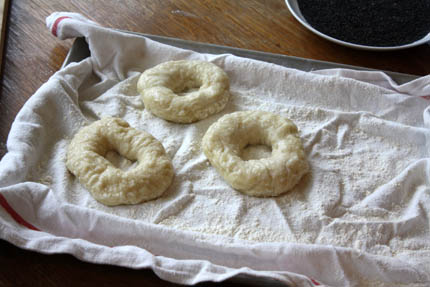 Place on the towel covered cookie sheet. Continue the last 3 steps with the rest of the bagels. If you are doing more than 2 boiling batches, you will need to get those first two batches in the oven and then continue with the rest.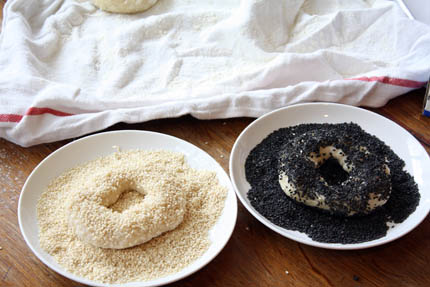 Carefully lift the boiled bagels and dip them on both sides with your topping. If you are using something that may burn easily like onions or garlic then only coat the top of the bagel and dust the peel with flour. If you are using seeds then you don't need the additional flour on your peel.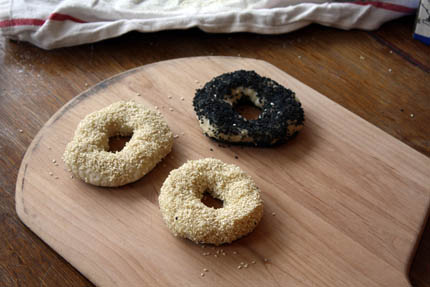 If you are using seeds then you don't need the additional flour on your peel.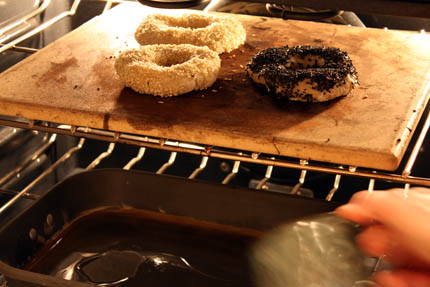 Slide the bagels into the preheated oven, add the water to a broiler tray to create steam. bake for about 25-30 minutes, until golden brown and crisp.
Serve them slightly warm with anything you like! A bagel cutter can be a helpful and safer tool for cutting bagels than using a knife. If you do use a knife, stabilize it against a cutting board, and never cut toward your hand.
Note: BreadIn5.com is reader supported. When you buy through links on the site, BreadIn5 LLC earns commissions.
---
---