Four-Leaf Clover Broccoli & Cheddar Buns for St. Patrick's Day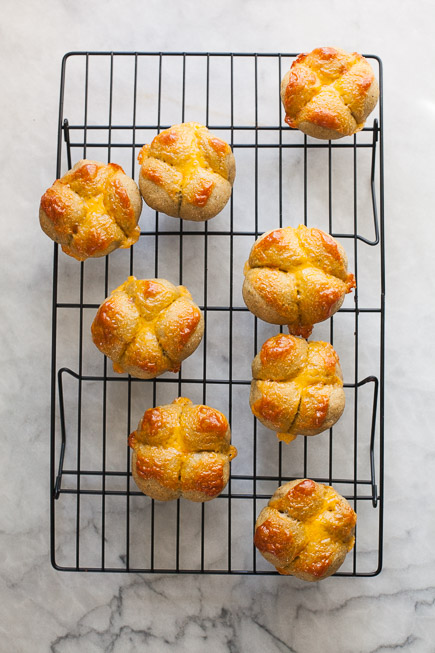 They say that everyone's Irish on St. Patrick's Day, and I hope that's true, because I loved my trip to Ireland—the music, the literature, the Guinness Stout, and yes, the food. It's been many years since I was in Ireland, but I remember swooning over the fresh, wild salmon, buttered potatoes (of course), and the moist and flavorful brown bread. But brown bread's not particularly festive (or green!), and I don't have a recipe for classic Irish soda bread, which is made without yeast (for that, I rely on James Beard's recipe in Beard on Bread—the first bread I ever made). But there is a broccoli & cheddar bun recipe in Healthy Bread in Five Minutes a Day. Turns out four-leaf clovers aren't especially Irish, but they're very lucky! Sprinkled with cheese, these cheddar buns make a lovely and healthy accompaniment to corned beef and cabbage. One little disclosure—the broccoli doesn't make it all that deeply green, as you can see. Some would have used green food coloring, I suppose. Bain taitneamh as do bhéil! Hearty appetite (I think).
Here's what you'll need for three batches of eight buns:
15 ounces (about 5 cups) raw broccoli florets
1 1/2 cups water for cooking the broccoli
3 cups whole wheat flour
4 cups unbleached all-purpose flour
1 tablespoon granulated yeast (active dry, instant; doesn't really matter)
1 tablespoons kosher or other coarse salt (can increase to 1 1 /2 to taste)
1/4 cup vital wheat gluten
1 3/4 cups lukewarm water
Oil or butter for greasing the muffin tin
1 cup  shredded cheddar cheese for sprinkling on the buns, per batch 
Bring 1 1/2 cups water to a boil and add the broccoli, cooking on medium-high heat for 3 to 4 minutes.  Do not overcook or broccoli will lose its bright green color and turn bitter.
Puree the broccoli and cooking water in a blender or food processor (won't become completely smooth).  Set aside to cool slightly.
Whisk together the flours, yeast, salt, and vital wheat gluten in a 5-quart bowl, or in a lidded (non-airtight) food container. 
Add the 1 3/4 cups water and broccoli puree and mix w/o kneading, using a spoon, Danish dough whisk, 14-cup food processor, or heavy-duty stand mixer (with paddle).  You might need to use wet hands to get the last bit of flour to incorporate if you're not using a machine.  For more details on mixing and using our whole grain doughs, see the post about the basic method from Healthy Bread in Five.
Cover (not airtight) and allow to rest at room temp until it rises and collapses (or flattens on top), about 2 hours.  Dough can then be used immediately, although it's easier to handle when cold.  Refrigerate in a non-airtight lidded container and use over the next 7 days.
On baking day, grease a muffin pan.  Dust surface of refrigerated dough with flour and cut off a 1 1/2 pound piece (cantaloupe-sized) piece.  Dust the piece with more flour and quickly shape a loose ball.  Form the buns by dividing the ball into 8 roughly equal portions, each about the size of a plum…
Keep going…
Again, into eighths…
… so that you have eight plum-sized pieces.  Cut each of these into 4 smaller pieces.  Dust and shape each one into a ball and put the 4 balls together and fit them into the cups of the muffin tin.
Allow to rest, loosely covered with plastic wrap, for 40 minutes (or 20 minutes if you're using fresh unrefrigerated dough).  Refrigerated dough doesn't rise much in this resting phase.
If you're using a baking stone, preheat the oven to 450 degrees F, 30 minutes before baking time.  If you're not using one, a 5 to 10 minute preheat is enough.  Place an empty broiler tray on any other rack that won't interfere with the rising buns.
Just before baking, sprinkle the buns with the grated cheese, being careful not to get it on the pan.  Depending on the shape and depth of your muffin cups, you may need less than called for in the Ingredients list.  In practice, for these buns and this tin, it was less than a tablespoon of cheese per bun:
Place the muffin tin directly on the hot stone (or a middle shelf of the oven).  Pour 1 cup of hot tap water into the broiler tray, and quickly close the oven door.  Bake for about 20 to 25 minutes until the cheese is nicely browned.
Remove buns from the pan and allow to cool slightly before eating.  Unlike large loaf breads, these can be eaten warm without any risk of them being gummy or appearing to be under-baked.
Happy St. Patrick's Day!
Note: BreadIn5.com is reader supported. When you buy through links on the site, BreadIn5 LLC earns commissions.
---
---