Stovetop bread, on induction, electric, or gas — with a video!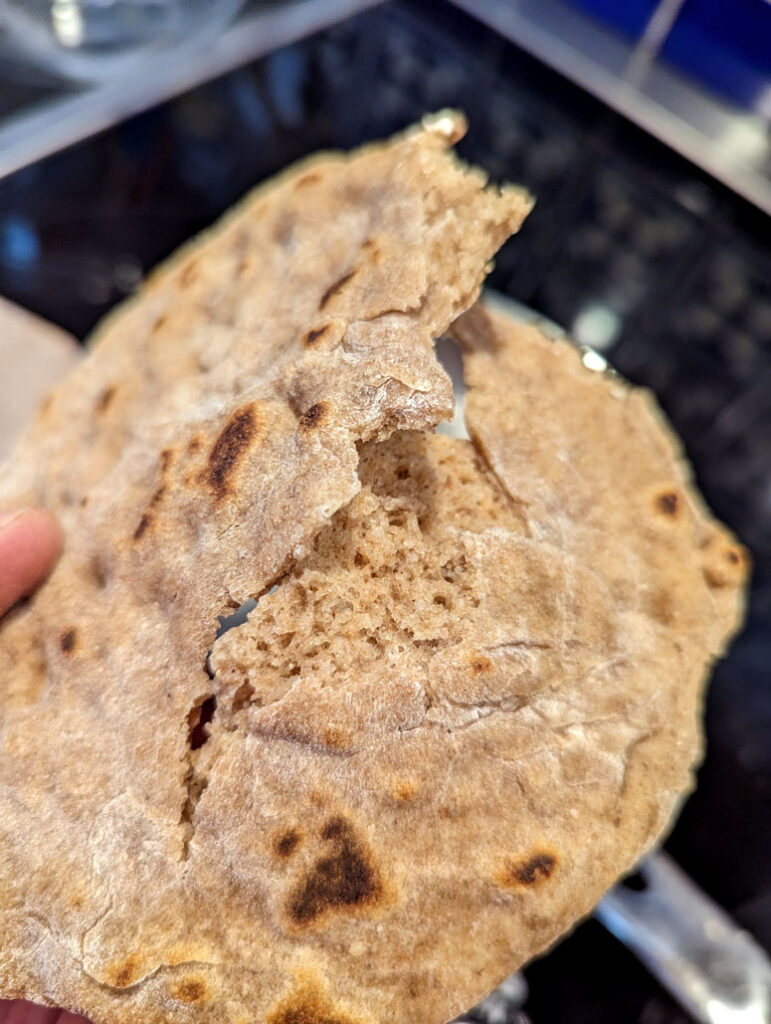 Ingredients
1/4 pound dough (peach-size portion); click for white dough or whole wheat (as pictured below). You can also use gluten-free dough, but you'll need to handle it differently
1 tablespoon oil, butter, or ghee
This amount of dough works well in a 10- to 12-inch skillet (what's pictured below is in a smaller skillet that used about half as much dough). A heavy cast-iron skillet is traditional for this sort of thing, but good-quality stainless steel works nicely as well (if you're using an induction stovetop, be sure to get compatible cookware, made from ferrous (iron-containing) metal. Some older stainless steel products won't work with induction (almost all modern versions do). My Tramontina and All-Clad skillets both work great on this Miele stovetop (actually part of a range).
Dusting with flour, roll out the dough on a board or stretch with your fingers to create a 1/4-inch (6 mm) thick disc. Set aside while you preheat a 10- to 12-inch skillet with the oil, butter, or ghee on high heat (keep your eye on it and don't let it smoke, but droplets of water should skitter when it's ready to go).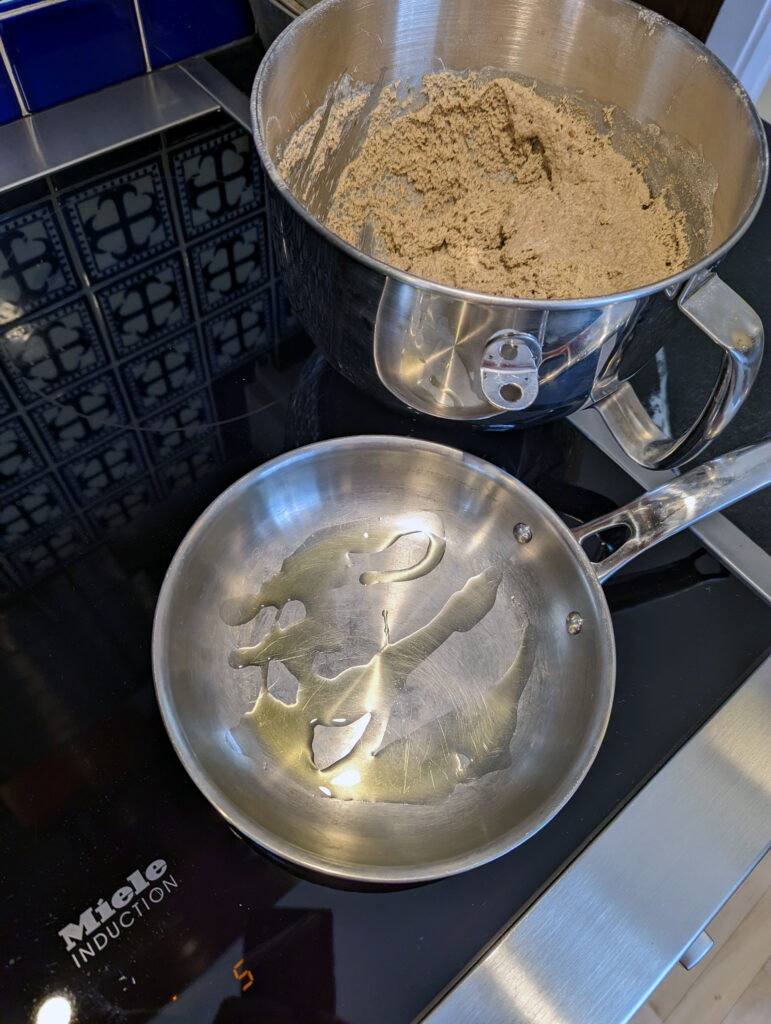 For a richer, more "fried" effect, leave the oil in place as it heats up; for a leaner effect, wipe out most of the oil with a paper towel, as I did. Lower the heat to medium, drop in the disk of dough …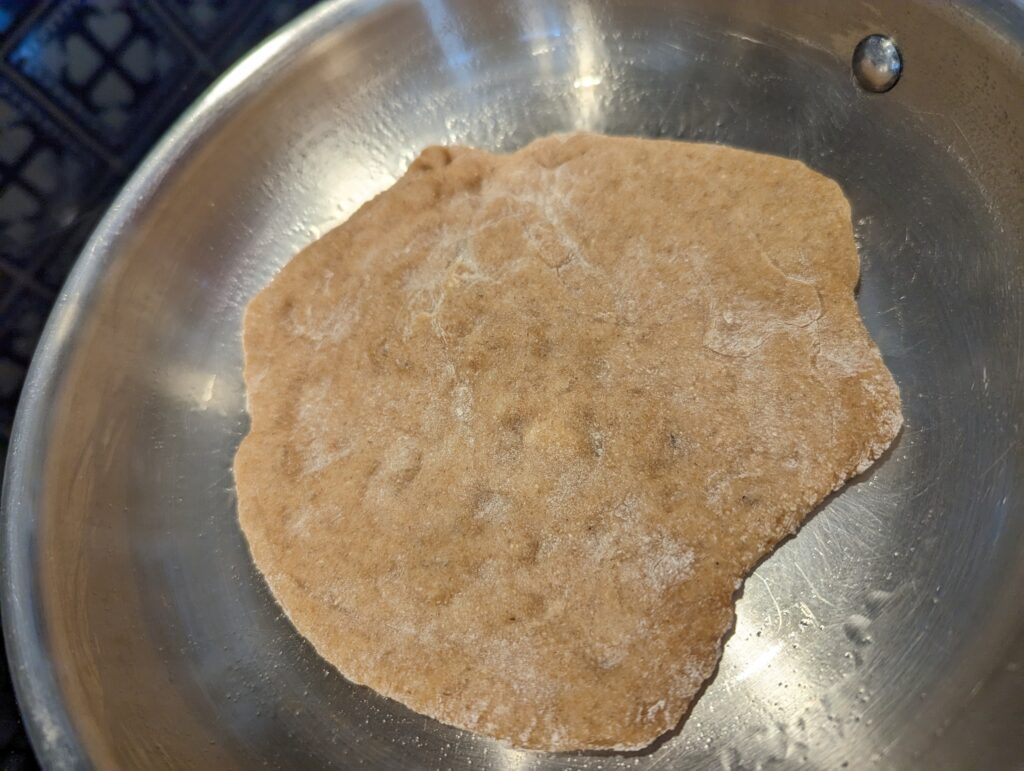 … and cover the skillet to trap steam and heat (no picture of the covered skillet!). Check for doneness at about 3 minutes, or sooner if you're smelling scorched dough. Adjust the heat as needed, and flip the disk with a spatula when the underside is richly browned:
Continue for another 2 to 6 minutes, or until the bread feels firm, even at the edges, and the second side is browned. Adjust the heat if it's browning too fast. If you're going for a naan effect, brush with melted ghee when finished. These can be eaten slightly warm. Keep scrolling for a video of flatbread on a camping stove…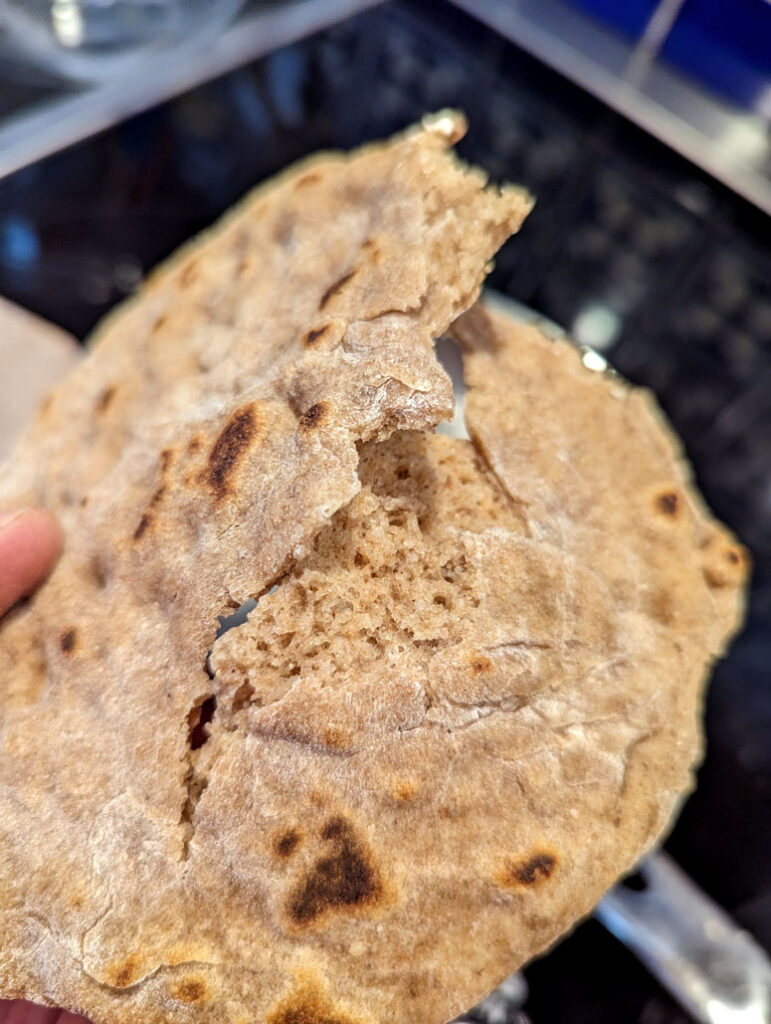 The method is very forgiving, and it works on any heat source, including a camping stove, with a bigger piece of dough for a thicker flatbread — see the video here:
Note: BreadIn5.com is reader supported. When you buy through links on the site, BreadIn5 LLC earns commissions.
---
---