A popular recipe on our site is the Raspberry Brioche Braid, a pastry Zoe came up with to mimic a Danish braid without quite as much work. Since berries are now behind on us and we look forward to cold days and even colder nights, I decided to try my hand at an Apple version of Zoe's creation. Since my children devoured the braid in moments I can assure you that is it in fact, quite delicious, and a perfect way to start a day, or end one.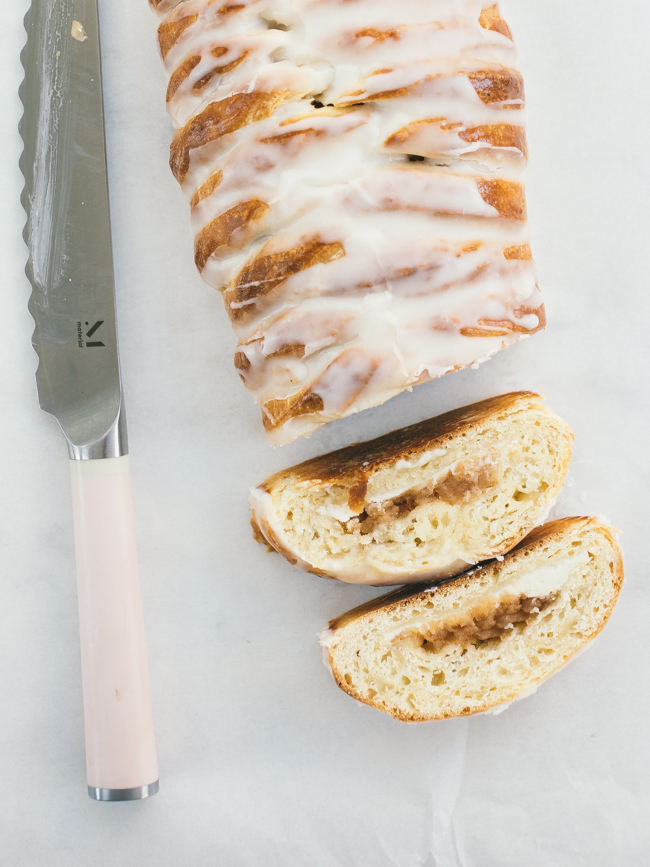 Apple Brioche Braid
(For step-by-step instructions, check out our Instagram highlights!)
1 pound brioche dough made with Red Star Platinum Yeast (I've used the brioche dough from The New Artisan Bread in Five Minutes a Day, and the Amish Milk Dough from Holiday and Celebration Bread in Five Minutes a Day, but you could also use Challah dough or one of the enriched doughs from our The New Healthy Bread in Five Minutes a Day book or even Gluten-Free Artisan Bread in Five Minutes a Day)
Quick Apple Filling
2 cups grated Gala apple
1/4 cup apple cider
2 tablespoons granulated sugar
Pinch salt
Cream Cheese Filling
4 ounces cream cheese
1/2 teaspoon lemon zest
1/4 cup granulated sugar
Egg wash (1 egg mixed with 1 tablespoon water) for topping braid
Icing
1 cup powdered sugar
1 tablespoon unsalted butter, melted
1 tablespoons water
1 tablespoon brandy (optional)
Pinch salt
To make the jam: Place the grated apple, apple cider, sugar and salt into a pan and stir together. Simmer over a medium/low heat for about 20 minutes, stirring often, until most the juice has cooked into the apples. Set aside and let cool to room temperature. (The mixture will still look very 'grated', but the apples will continue cooking as the bread bakes.)
To make the cream cheese filling: mix the cream cheese, zest and sugar in a bowl until smooth.
Take a one pound piece of dough from the dough bucket (weighing on a scale is the easiest way, but if you don't have one, a grapefruit-sized piece will do) and roll the dough into a 9 x 12-inch rectangle. Make sure to use enough flour that the dough doesn't stick to the surface or the rolling pin. TRANSFER THE ROLLED OUT DOUGH TO A SHEET OF PARCHMENT. Spread the cream cheese filling down the center of the dough, about 1 inch wide.
Top the cream cheese with about 1/2 cup of the apple filling. You can add more, but some may leak out of the braid as it is baking. There may be a little jam left over to serve with the baked braid.
Cut 1/2-inch thick strips of dough with a pastry or pizza cutter. (Try to get an even amount on both sides, but it's okay if it doesn't happen.)
Lightly twist the top two strips of dough, then cross them over the top of the filling. Do not pull the dough too thin or it may break as it rises and bakes. Continue that same routine of twisting the pieces and crossing them over each other on top of the filling, until you are at the bottom. If you find an odd piece of the dough, that doesn't have a mate, just twist it and place it over the filling. When you get to the end, tuck the loose pieces under the loaf, so they are secure and won't pop out when baking.
Place the braid and parchment onto a baking sheet, cover loosely with plastic and allow to rest for about 1 1/2 hours.
Adjust an oven rack to the middle position, and preheat the oven to 350°F.
Just before baking, brush the loaf gently with the egg wash.
Bake the loaf for about 30 minutes or until golden brown (I like to bake this braid on two layers of baking sheets, to keep the bottom from browning too quickly). Allow to cool before topping with the icing.
To make the icing: place the powdered sugar in a medium bowl. Combine the melted butter, water, brandy, and salt together, and pour it over the powdered sugar, whisking until smooth. It should come off a spoon in a thin drizzle.
Red Star Yeast sponsored this post, and provided yeast samples for recipe testing.