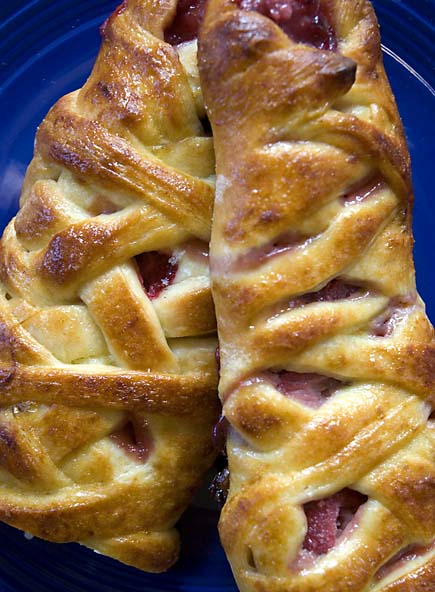 It's not really braided.  Here's another, with savory fillings from an earlier post; same idea but with Spinach, Feta, and Pine Nuts.
The trick is not difficult, check out the video of how it's done (recipe is below)…
The Recipe:
1 1/2 pounds (cantaloupe-sized portion) Brioche dough (can swap Challah dough from our first book for a lighter effect)
1/2 cup softened cream cheese or substitute almond cream (blend 1/2 cup almond paste with 1/4 cup softened butter, 1/4 cup flour, 1 egg, and 1/4 teaspoon almond extract in a food processor; freeze excess)
1/2 cup raspberry or strawberry jam or preserves
1 cup fresh raspberries or sliced strawberries
Egg wash (1 egg beaten with 1 tablespoon of water)
Sugar for dusting the top
Line a baking sheet with parchment paper or a silicone mat.
Roll out the dough into a narrow rectangle 1/8-inch thick.
Place the dough onto the lined cookie sheet.  Cover the center third of the dough with the cream, jam, and berries as in the video.
Use a pizza wheel to cut about 12 strips down each side; each strip should be about 1/2-inch wide.  Fold the strips, left over right, crisscrossing the filling.  Allow to rest for 40 minutes (20 in a pinch).
Preheat the oven to 375F.  Brush with egg wash and sprinkle generously with sugar.
Place cookie sheet in center of the oven and bake for about 35 minutes or until golden brown and bubbling.  Can serve slightly warm.
And we have a savory version, with spinach, feta, and pine nuts…