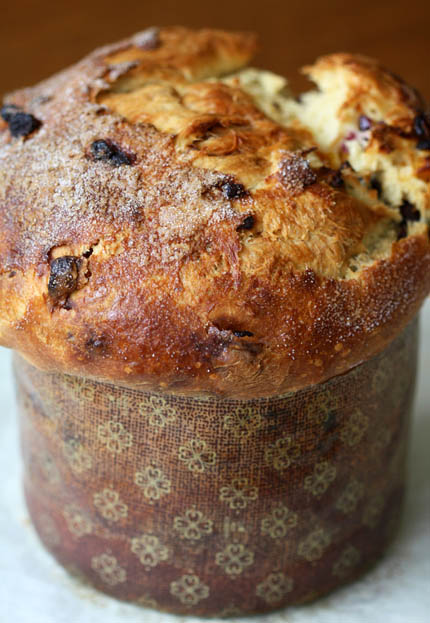 This post may look familiar to some of you, but will be exciting and new to others. As you may know Jeff and I just sent in the manuscript for our next book, Artisan Pizza and Flatbreads in Five Minutes a Day. We are now either celebrating or sleeping, not necessarily in that order. We are taking this week off from providing new content to the website, but wanted to give you a taste of the holidays.
Panettone was traditionally a Christmas bread sold all over Italy during the holidays. It finds its origins in Milan around the 15th century, and has been the subject of much romantic lore. The most often told story of how this bejeweled bread came to be goes something like this… A young nobleman by the name of Ughetto Atellani fell in love with the daughter of a poor baker named Toni.  In order to impress her, Ughetto disguised himself as a pastry chef's apprentice in her father's bakery. He creates a tall fruit studded bread to present to her father, calling it "Pan de Toni."  The bread, rich with eggs and butter, sweet with honey, scented with vanilla and lemon zest, with the finishing touch of dried and candied fruits was a success in the bakery and wins the admiration of the lady and the father's respect. The baker blesses the marriage and Ughetto marries the daughter.
The story is rich and fanciful, just like the bread.  Today this sweet loaf is no longer saved just for Christmas, it is eaten at other holidays throughout the year and served sliced and toasted for brunch and as a dessert with a selection of cheeses and sweet wines. The bread, despite its rather lighthearted lore is quite sophisticated. The traditional method for making panettone is done over the course of several days. It included long sessions of kneading and allowed for up to 20 hours of rise time in order to create a flavor that is both sweet, but also has a complexity caused by the fermentation of the dough. Today, we want the same balance of flavor, without having to labor over the process or wait several days to enjoy our bread. Although you can bake the bread after only a few hours of refrigeration we recommend letting it sit for about 24 hours to develop its full flavor and it will be easier to work with.
The winners from last week's contest for the Red Star Yeast package are announced below.