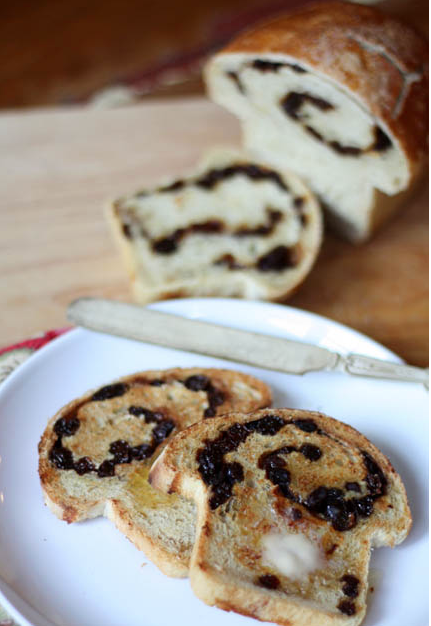 People think of artisan-style loaves as being free-form, but our method also works beautifully in loaf pans, as you can see above (read on for instructions on how to make the cinnamon-raisin bread in Zoe's picture).  We love crusty free-form artisan loaves, but nothing says "comfort food" and kicks off the fall baking season like a luscious traditional loaf like this one.
Our friends at Red Star Yeast have offered to provide some great prize packages for a giveaway— perfect for creating loaf-pan breads.
We first met the Red Star people in Milwaukee, while on book tour for Healthy Bread in Five Minutes a Day— that's where the company has its headquarters. Red Star had found out through the bread grapevine (!) that we use their product. Both of us have used it for years– it gives consistent, excellent results, and it's the best value in the grocery store. This fall, you'll find bottles of Red Star yeast in the supermarket, with our pictures tied to them, in addition to a 75 cents-off coupon, and recipe links:
Read on to hear more about getting great results with traditional un-coated loaf pans like this one:
In our books, we've tended to be on the careful side about loaf pans. Since our dough is so wet, we recommended non-stick pans and even so, to grease them well. Yet a very heavyweight aluminum pan works beautifully too– all you have to do is grease it well (I like olive oil even for American-style breads but you can use any liquid or solid shortening you like):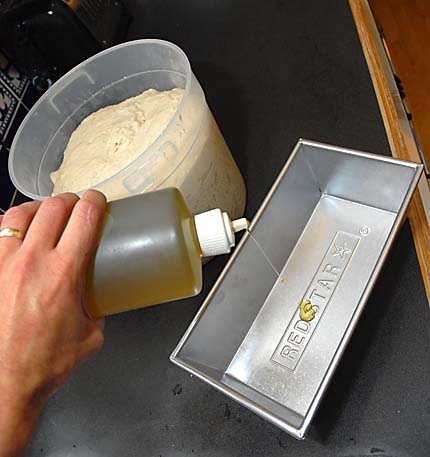 … and be sure the formed dough is well dusted with flour before putting it into the pan— it shouldn't feel all sticky as it goes in. If it does stick a bit, just let it sit for 10 minutes after taking it out of the oven and it will "steam" itself out. I love this pan, and when I say it's heavyweight, I mean it. The pan weighs a full pound…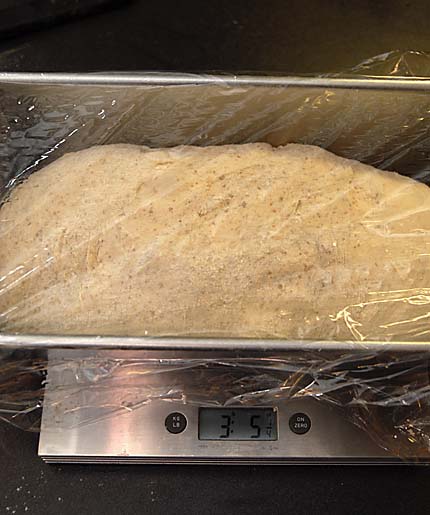 This was a big loaf 2 pounds, 5 ounces of dough. Loaves this large need to rest for 90 minutes after shaping, and they tend to need extra time in the oven. For this size, a lean dough needs 45 to 60 minutes at 450 degrees F, and enriched doughs will need about an hour at 350. Or more. Go by the loaf color and the firmness of the crust: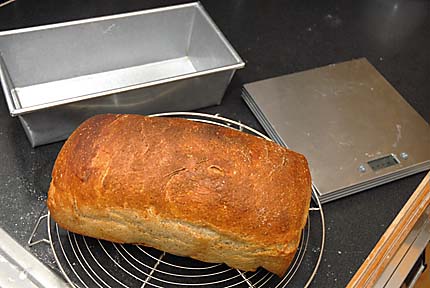 Have a great fall, and follow us on Twitter, and on Facebook too… In case you don't win, the products are on Amazon: Red Star Yeast bulk package, the Chicago Metallic Loaf pans: one-pounder or the one-and-one-half pounder, or the Danish dough whisk.