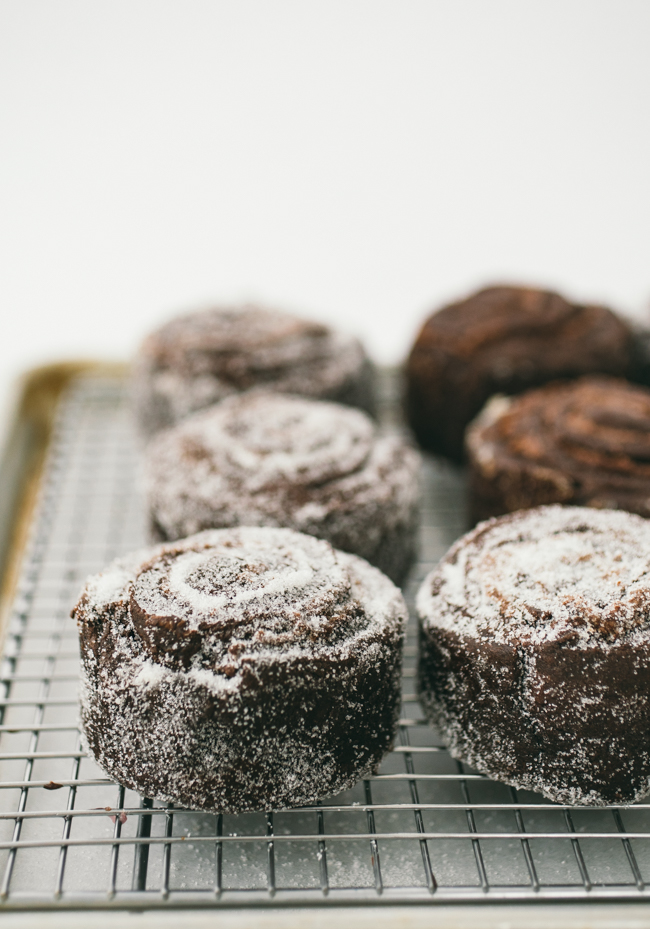 We had such a good response to our Chocolate Bread that we decided to make some Nutella swirl buns to go along with it. The no-knead chocolate dough is not overly sweet, and it balances the Nutella and sugar coating quite well. We made them in individual molds, but you can also bake them free form in a 9 x 13 pan if you don't have them.
You can also try our Crockpot Nutella Swirl Bread (another Bread in 5 favorite!) or our straight up Nutella Swirl Bread (otherwise known as our Babka cheat) if you are in the mood for Chocolate and Hazelnut flavored treats.
Chocolate Nutella Swirl Buns
2 pounds No-knead Chocolate Dough, chilled
1/2 cup (or more) Nutella
Granulated Sugar
Butter ten 3 x 2-inch soufflé molds, ramekins, or other straight-sided molds (note: you can use regular muffins tins, but you will need to cut the buns smaller; into more pieces. You can also bake them free form in a 9 x 13 pan like traditional cinnamon rolls). Line the bottom of each mold with parchment paper, and then generously coat with granulated sugar, tapping out any excess. Place the molds on a baking sheet.
Using a rolling pin, the dough out to an 1/8-inch-thick rectangle, and then spread the Nutella over the dough (you can use more than 1/2 cup, but I found that less is more here, both for taste and ease of cutting the dough into slices). If your dough is really soft and hard to work with, you can place it (filled and rolled) on a parchment-lined baking sheet and chill for 20-30 minutes before slicing.
Use a kitchen scissors or a sharp knife to cut the dough into 10 equal pieces. Transfer the pieces to the prepared molds and place them cut side up. Cover the pans loosely with plastic wrap and let the dough rise until doubled, 1 to 1 1/2 hours.
Adjust the oven rack to the middle lower position. Preheat the oven to 350F.
Remove the plastic and bake 18 to 26 minutes, rotating the pan halfway through, until the rolls are set (You can test for doneness by tapping the top, if it feels firm in the center, then it is done).
Transfer the pan to a wire rack and let the rolls cool for a few minutes. Use a kitchen towel or oven mitts to pick up each soufflé mold, then run a knife carefully around the edges of the pan, and flip the roll onto a wire rack. Carefully put the roll right side up, and repeat with the remaining rolls. Let cool for a few minutes, then toss each roll into sugar and cover.