Our Holiday Star Bread was quite popular last year, so we decided to come up with yet another version: this one with pumpkin filling and sprinkled with sanding sugar. Our original version is filled with sugar and holiday spices, but we've also tried it with jam and Nutella, so if you are interested in playing around with recipe, there is also room for your own interpretation! This beautiful bread made it into our newest book, Holiday and Celebration Bread in Five Minutes a Day, and it is one of the prettiest, easiest and most sensational breads to make for a family gathering or work party.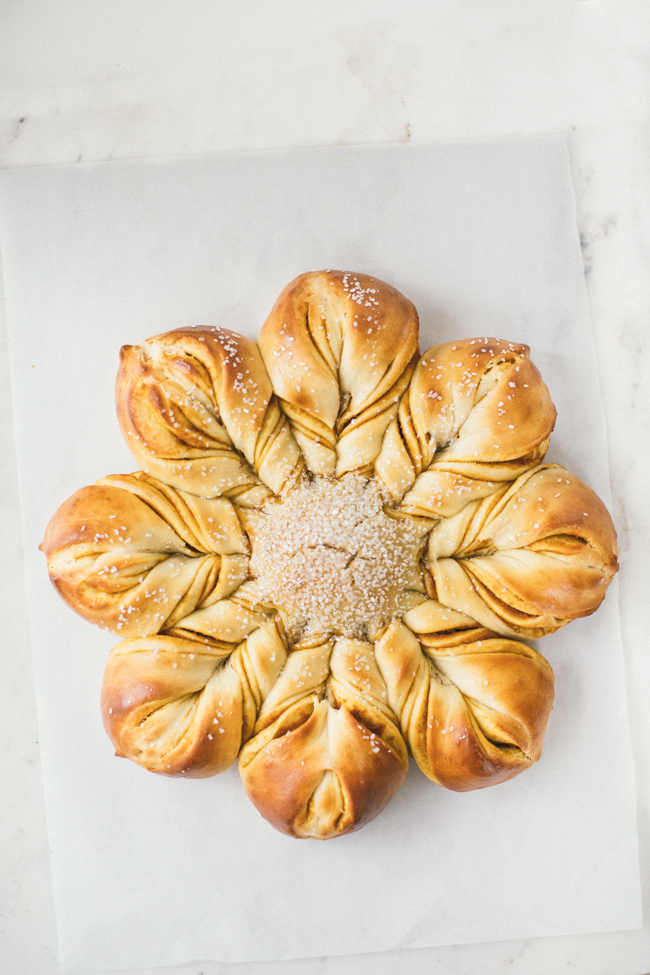 Pumpkin Star Bread
(For step-by-step instructions, check out our Instagram highlights!)
2 pounds Brioche dough, Challah, Amish Milk Dough or our White Bread Master dough (from Holiday and Celebration Bread in Five Minutes a Day) (note that the enriched doughs will produce a richer, thicker bread)
Pumpkin Filling
1/2 cup unsweetened pumpkin puree
1/4 cup light brown sugar
1 tablespoons unsalted butter
1/2 teaspoon ground ginger
1/2 teaspoon ground cinnamon
Pinch salt
Egg wash (1 egg mixed with 1 tablespoon water and a pinch of salt)
For the pumpkin filling: Combine the pumpkin puree, sugar, butter, ginger, cinnamon, and salt in a small saucepan and heat over low heat, stirring continuously until the butter has melted and the sugar has dissolved. Turn up the heat to medium and continue to heat the mixture, stirring constantly, until the mixture comes to a boil (the mixture is quite thick, so you need to look for slow bubbles). Once the puree is bubbling, turn the heat down to medium-low and cook the mixture for about 5 minutes, still stirring. Remove the puree from the heat. Cool to room temperature, then chill in the refrigerator for at least 30 minutes before using.
For the star bread: Divide the dough into four equal pieces. Roll the pieces into balls, and let rest for 20 minutes, covering with plastic wrap.
With a rolling pin, roll out all the dough balls into 10-inch circles. Place one of the circles on a piece of parchment paper. Put a couple tablespoons of the pumpkin mixture on the round and spread evenly.
Place another circle on top of the first circle, and spread a couple more tablespoons of pumpkin. Repeat with one more circle, then place the final circle on top. (I like to chill the star for 20 minutes at this point; it helps make cutting and twisting a little easier.)
Place a 2 1/2-inch biscuit cutter (or other round object) in the center of the circle, and then use a bench scraper to cut the circle into 16 equal strips (starting at the circle and out to the end), cutting through all the layers.
Take two pieces of dough, and twist them away from each other twice. Repeat around the whole circle.
Pinch the ends of the pairs of strips firmly together to create the star (you should end up with 8 points).
Remove the biscuit cutter. Transfer the star on the parchment to baking sheet. Cover the star gently with plastic wrap and let rise for 45 minutes to 1 hour, until a bit puffy. During this time, preheat the oven to 400F. Before putting into the oven, brush the star with egg wash and sprinkle the center with sanding sugar, if desired. Bake for 20 to 30 minutes, until golden brown.
Remove from the oven and let cool on a wire rack for 15 to 20 minutes. Best eaten the day it's made.
Lesaffre Yeast Corporation (Red Star) provided yeast samples for recipe testing, and sponsors BreadIn5's website and other promotional activities.