Throughout college, many weekends were spent eating pizza. This was for several reasons: pizza was delicious, and affordable, but most importantly, my boyfriend delivered pizza. This made pizza often free, which was better than affordable and even better than delicious. One particular pizza his pizza-chain made was "taco" pizza: a very American take on the taco, with tomato sauce and cheddar cheese, and then topped with shredded lettuce and fresh tomatoes. It was my favorite; somehow the fresh lettuce and tomato on top complimented the crust and melty cheese underneath perfectly.
I decided to recreate this pizza in sheet pan form, just in time for Super Bowl Sunday. I was feeling nostalgic for taco pizza, and this pizza also reminded me of the famous taco dip my mom would make for any and all events – layers of sour cream, cheese, lettuce, and black olives. This pizza has some of that, plus a delicious, thick crust and melted cheese. Our version here is very American and also pretty Midwestern (my family always opted for no spices and beans in both pizza and dip form), but I have listed in the recipe ways you can bring more flavor to your pizza if desired.
Taco Sheet Pan Pizza
from Artisan Pizza and Flatbreads in Five Minutes A Day
A few notes: The second layer of tomato sauce can be replaced with salsa, if you would like your pizza with a little more kick. Refried beans can also be added to the pizza along with the ground beef (or in place of it). You can replace the mozzarella and cheddar with Monterey Jack and/or Colby (just make sure you replace them with a cheese that melts well).
3 cups lukewarm water
1/8 cup olive oil
1 tablespoon yeast
1 tablespoon sugar or honey
1 tablespoon kosher salt
7 cups bread flour
Ingredients for finishing
5 tablespoons olive oil
1 1/4 cup tomato sauce
1 pound ground beef, cooked with your favorite taco seasoning (drain the grease from the meat before topping pizza)
2 cups grated mozzarella
1/2 cup grated cheddar cheese
2 cups shredded lettuce
chopped fresh tomatoes, black olives, sour cream, jalapeños, guacamole, etc

For the dough
Combine the warm water, olive oil, yeast, sugar, and salt in a 5-quart bowl; preferably, in a lidded (not airtight) plastic container or food-grade bucket. Mix until all of the flour is incorporated using a stand mixer or dough whisk. Cover, and allow to rise at room temperature for 2 hours. You can use the dough right away, or refrigerate it for up to 14 days.
Remove 2 pounds of dough from your dough bucket, and place it on a generously floured surface (for a thinner crust, use 1 1/2 pounds). Knead the dough a few times, and shape into a ball. Cover with a tea towel and let rest on the counter for 15-20 minutes.
Put your stone or pizza steel on the middle rack in your oven, and preheat the oven to 500, letting the oven preheat for a good 45 minutes. Spread 4 tablespoons of olive oil on a half sheet pan, making sure to oil the inside rim. Gently stretch the dough into a rectangular shape, and lay the dough onto the pan. Drizzle 1 tablespoon of olive oil on top of the dough, and use your fingers to work the dough evenly so it covers the pan (if the dough begins to resist, let it rest for 10 minutes and try again).
After the dough has rested, work it again as best you can so it evenly covers the pan. Let it rest for 30 minutes while the oven is preheating.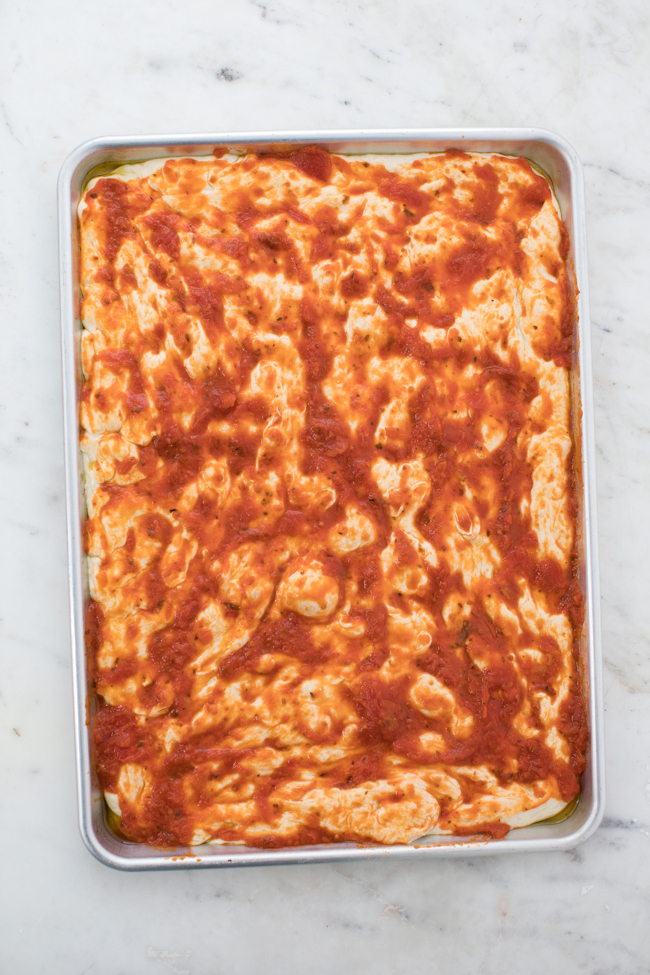 Spread 3/4 cup of tomato sauce evenly over the pizza. Bake for 8 to 12 minutes, until the edges of the crust are light golden, and the sauce starts to caramelize around the edges. The bottom of the crust should also be light golden brown and crisp.
Remove the pan from the oven. Carefully spread another 1/2 cup of tomato sauce (or salsa!) over the pizza, then top with the ground beef.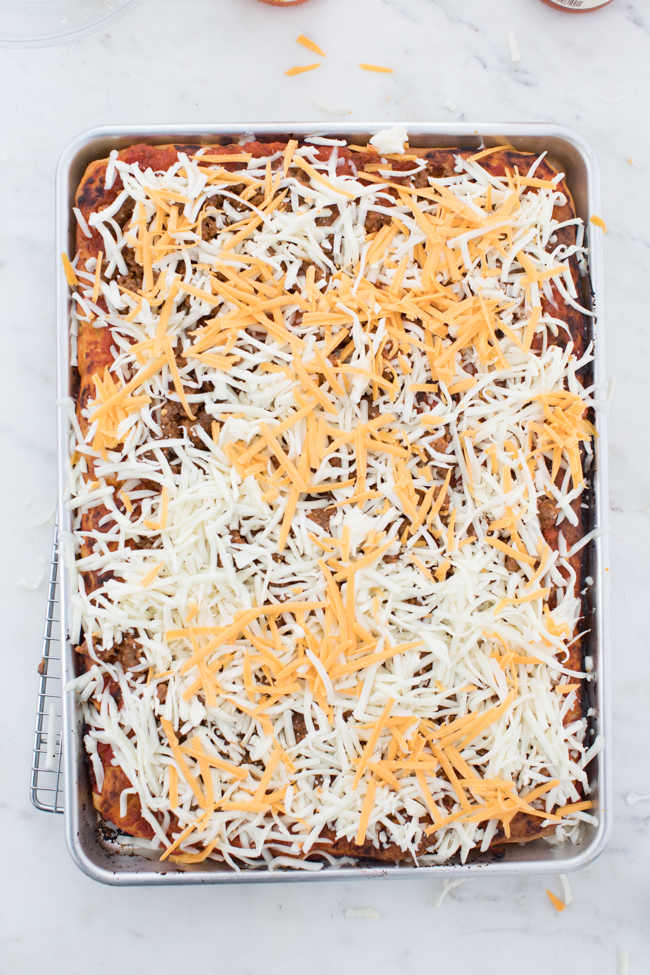 Cover with the grated cheeses, and carefully put the hot sheet pan back on the stone. Bake again for 10 to 15 minutes, until the cheese is melted and the crust is golden brown underneath.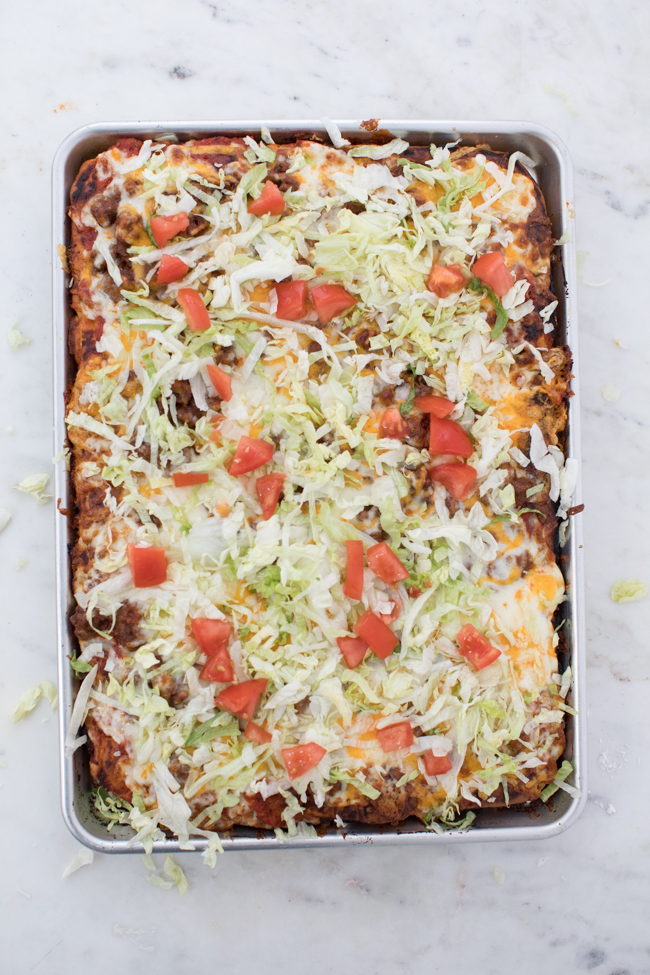 Cover the pizza with shredded lettuce, fresh tomatoes, olives, and whatever other ingredients your heart desires. Serving guacamole and sour cream on the side is a nice idea.
Enjoy! We hope your team wins!
Note: BreadIn5.com is reader supported–when you buy through links on the site, BreadIn5 LLC earns commissions.