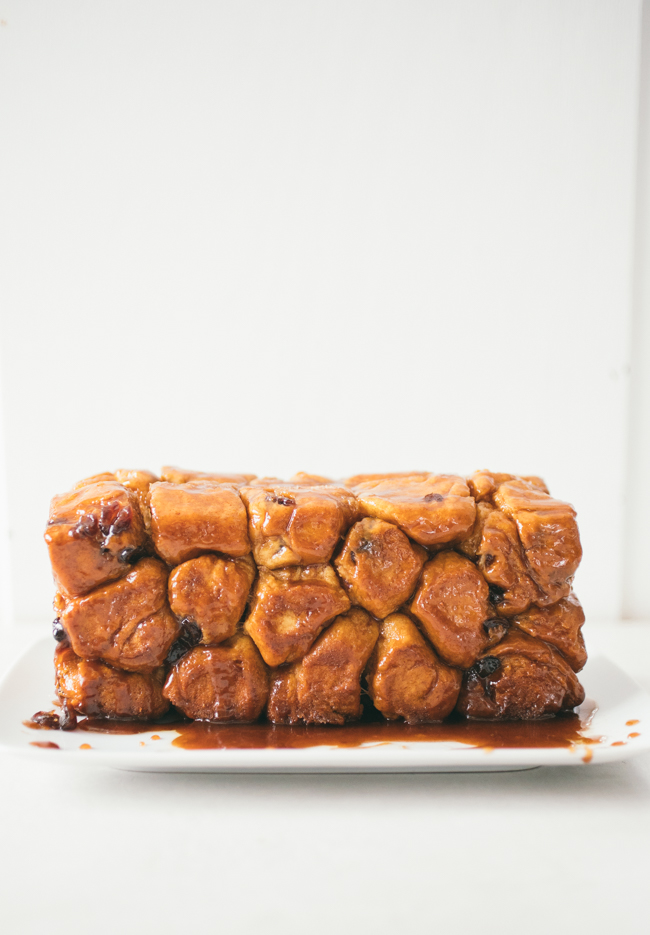 We are big fans of sweet dough (especially around the most wonderful time of the year), and while we often choose gigantic cinnamon rolls, we will never say no to monkey bread. Over the years we've made Classic Monkey Bread, Pumpkin Spice Monkey Bread, and even Crock Pot Monkey Bread, and now we are adding Panettone Monkey Bread to the list. The Panettone dough comes from our Holiday and Celebration Bread in Five book (a fabulous Holiday gift, wink wink), and works well in this adaption; it's studded with orange, lemon, and dried fruit, coated in sugar and butter and then more sugar and butter. It's the perfect way to start out Christmas break (or even just Monday morning).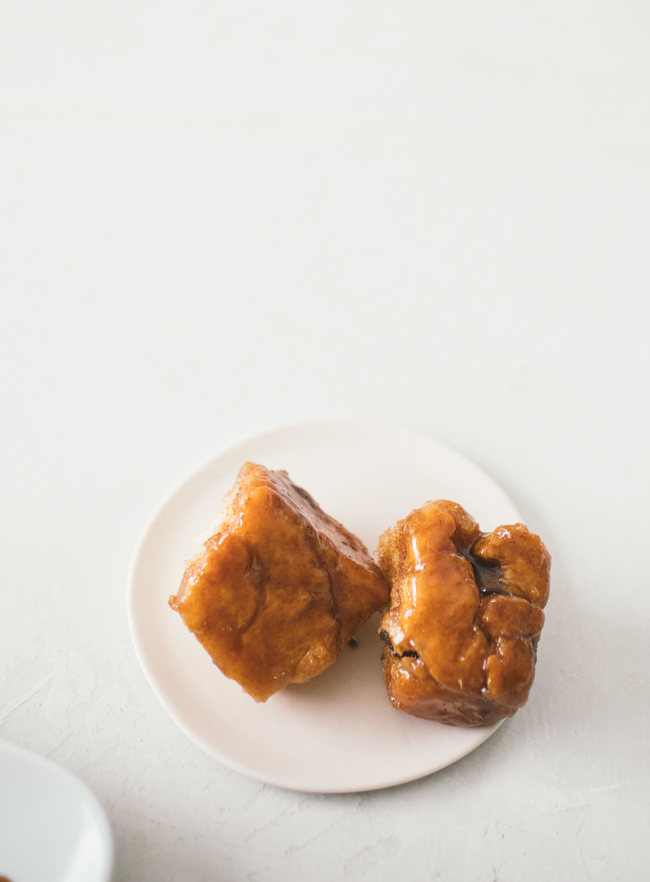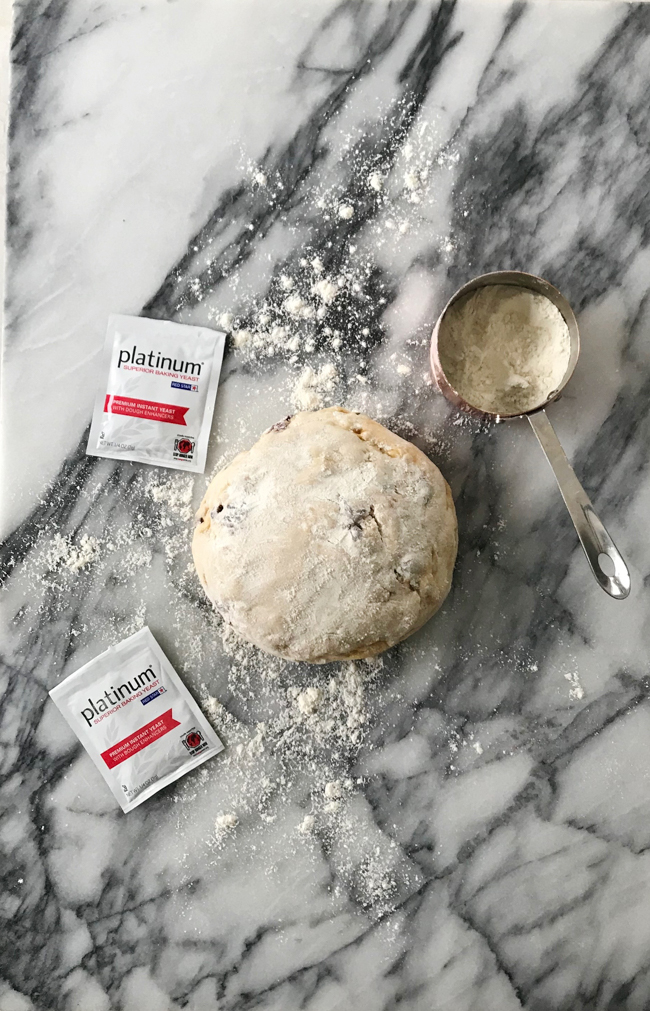 Panettone Monkey Bread
(For step-by-step instructions, check out our Instagram highlights!)
Panettone Dough (from Holiday and Celebration Bread in Five)
1 1/2 cups (340g) lukewarm water (100F or below)
1 tablespoon (10g) Red Star Platinum Yeast
1 tablespoon (17g) kosher salt
1/2 cup (170g) honey
8 large eggs, room temperature
1 cup (2 sticks | 225g) unsalted butter, melted and slightly cooled
1 teaspoon lemon extract
2 teaspoons pure vanilla extract
2 teaspoons lemon zest, grated
2 cups (340g) mixed dried and/or candied fruit (I used a mixture of dried cranberries and candied orange peel, but golden raisins, dried pineapple, dried apricots, and dried cherries are all good options.)
7 1/2 cups (1065g) all-purpose flour
Filling
9 tablespoons unsalted butter, plus more for greasing the pan
1 cup (200g) granulated sugar
1 tablespoons plus 1 teaspoon ground cinnamon
1/4 cup brown sugar
1/4 teaspoon salt
1 to 2 tablespoons Triple Sec (optional)
Generously butter a 9 x 4 x 4-inch Pullman Pan or 10-cup Bundt pan.
Dust the surface of the refrigerated dough with flour and cut off a 1 1/2 pound (cantaloupe-size) piece. Divide the dough into about 30 equal pieces. Roll the dough into small balls. If the dough is sticking to your hands, coat your palms with a small amount of soft butter. Melt 5 tablespoons butter in a bowl. Combine the granulated sugar and cinnamon in a second bowl. Drop the dough balls into the butter and then coat them with the cinnamon sugar.
Place the balls in the prepared pan.
Allow the dough to rise for about 1 hour.
Preheat the oven to 350F, with a rack placed int he center of the oven.
Just before putting the pan in the oven, melt the remaining 4 tablespoons butter, and then add any remaining cinnamon sugar, the brown sugar, and the salt. Add the triple sec and stir to combine.
Set the pan on a baking sheet, just in case the caramel bubbles over the top. Bake for about 40 minutes, or until caramelized and set.
Allow the bread to cool for 5 minutes.
Invert the loaf onto a serving tray.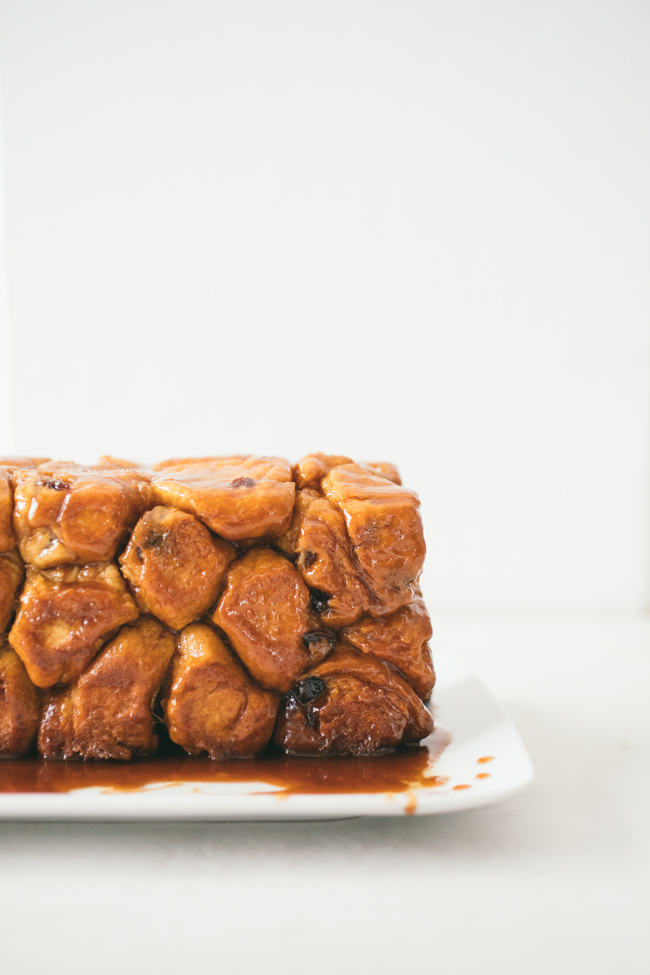 Lesaffre Yeast Corporation (Red Star) provided yeast samples for recipe testing, and sponsors BreadIn5's website and other promotional activities.