Praise for Artisan Bread in Five Minutes a Day (2007) and its updated, expanded edition, The New Artisan Bread in Five Minutes a Day (2013):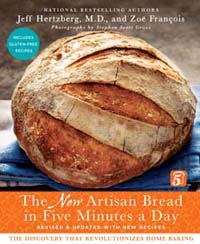 "Soon the bread will be making itself… The crusty, full-flavored loaf that results may be the world's easiest yeast bread."
"… even people who've spent their lives avoiding the kitchen can whip up a loaf of bread in five minutes…"
The Today Show

"… this (new edition)… [is] their most exciting yet, because they've incorporated years of readers' questions, problems, and discoveries into every chapter…truly the all-you've-ever-wanted-to-know edition. And there are plenty of photographs… at last!"
Dorie Greenspan (2013), James Beard Award-winning author of Around my French Table

"What I love about this technique is that you mix up a batch of dough, then keep it refrigerated, even for a week or two, cutting off a piece whenever you want bread… a couple days later, having not touched the remaining dough, I did it again, and the results were excellent."
Michael Ruhlman, author of Ratio, and Soul of a Chef

"… a book that has eliminated that marathon of prep and angst… the aroma's wonderful, and there's a slightly sour tang… ooh, that's dynamite! This is fabulous…"
Lynne Rossetto Kasper, on The Splendid Table radio show, 12/15/2007
Of the "20 best recipes in the history of The Splendid Table… Number 1: Five Minute Artisan Bread, Jeff Hertzberg and Zoe Francois."
"We were surpised that more baking books weren't nominated… all the baking frontrunners are bread books. The panel's favorites were Artisan Bread in Five Minutes a Day… and The Bread Baker's Apprentice, by Peter Reinhart."
Epicurious.com, in "The Hunt for the Greatest Cookbooks of All Time"
"We're excited to announce our 2016 Recipe of the Year… this particular recipe… deserves its championship status."
"Famous–and famously reliable."
"In this new edition, they really, really make life so easy and so simple… baking your own bread virtually daily… the simple idea of making dough in advance and storing it… very, very clever."
"Artisan bread couldn't be easier… mix together flour, water, yeast and salt and what do you get? A really good loaf of bread, if you follow the rest of the directions from the co-authors of a wildly successful book that has changed the way we think about making the staff of life."
Minneapolis Star-Tribune, 2013
"If man cannot live by bread alone, it may be because Jeff Hertzberg and Zoe Francois didn't publish their book sooner… [They've] developed a method that makes any home into a mini artisan bake shop… Hertzberg and Francois' practical, common-sense method… is, quite simply, genius.
"Is it possible for an inexperienced baker to make some of the best bread imaginable in just five minutes of active time in the kitchen? We didn't think it was possible … all our preconceived notions of what it takes to make fantastic bread became instantly outdated."
"… the next step after no-knead bread… The authors figured out how to make the convenient process work not just for crusty boules, but for sandwich loaves and rich brioches as well… [The authors are] unusually available to readers [online] …
"It's easy. Really…Want to impress party or houseguests? …They don't have to know your secret unless you want to share it (but you should).
"Bread baking at home saves hundreds every year. With this incredible easy method, each loaf will only cost you about 50 cents and 5 minutes a day… The Mother Earth News editors give a big, fat stamp of approval to this incredible cookbook, which proves that there is enough time in life for baking, and that it can save you big bucks…"
"So let me cut to the chase: I may have found the holy grail of bread making, folks… Hertzberg and Francois's method is a home run, making the intimidating and mythical a done (and tasty) deal."
"If one has ever wanted to learn the true art of baking bread… this is the place to begin… sure to become a staple in the kitchens of America…"
San Francisco Book Review, 2013
"This is a truly revolutionary approach to bread baking… nothing short of a miracle…"
"Everyone who decided to try the method was instantly a convert… a great upgrade to the original book… you just might start baking bread every day."
Baking Bites, 2013
A top 10 baking cookbook: "…this book makes good bread easily accessible… in just five minutes time."
"… the verdict is in. It's true. [Hertzberg and Francois] have taken the home baking world by storm… [taking] all the variables out of baking yeast breads: the time, the hassle, the waiting and the worrying… I stand before you a changed woman, and a consistent home baker of artisan bread. It's the rustic, beautiful kind of bread that is made once a day, consumed by family and then replaced the following day. Every day.
Mary Hunt, EverydayCheapskate.com
"… whenever we need bread, I just dip into the container, pull out some dough, let it rest a bit and then bake a loaf, rolls, or pizza. This method is amazingly simple—and creates authentic European-style fresh bread… The cost? about 40 cents for a one-pound loaf!"
Woman's Day Magazine
"…Homemade bread is making a comeback, and the newest motivational tome is the stupendous Artisan Breads in Five Minutes a Day… regardless of whether you've experienced homemade bread as a kid or just seen it in the movies, with help from François and Hertzberg, your kitchen can rival that of a European bakery…"
Andrew Zimmern, Bizarre Foods America
"I love it when someone challenges conventional wisdom… and wins! Zoë and Jeff will have you baking bread in less time than it takes to make toast. Bring on the Nutella!"
Stephen Durfee, CIA pastry & baking instructor, James Beard Award for Outstanding Pastry Chef, & former executive pastry chef, the French Laundry
"The race to simplify bread baking is over. Who won? The home cook… An even more startling idea… is the thought that sweet enriched breads could be made successfully with shortcuts the same way that the crusty loaves could be…"
"I don't think I've ever met cookbook authors work as hard to connect with their audience… I remember being stunned by the volume of questions that I got… after writing about their first book. I passed every question along to Jeff and Zoe, and every one was answered"
"… it's turned out perfectly each time. I even let a batch of dough hang out in my fridge for a full two weeks… the bread that baked up from that older dough was wonderful, with a distinct sour taste that reminded me of the sourdough I occasionally buy from a local bakery."
"… even the failures had lovely, crunchy exteriors; beautiful, chewy interiors, full of air pockets, and good flavor."
"From all the fuss, you'd think that… Hertzberg and …François had invented sliced bread, or maybe bread itself. Their book …delivers what it promises, which is a great gift to home cooks who have the desire to bake but worry that they don't have the time or skill."
"Each loaf of bread I baked tasted better than the last, with a pleasant tang, a more nuanced wheaty flavor."
Boston Globe
"Artisan Bread in Five Minutes a Day has been life-changing… best of all, there's no labor involved… I could tell someone who didn't know that the perfect boule sitting on my counter is the product of a generations-old recipe from my French grandmother."

"… results from the oven are easy enough for an amateur to master… but delicious enough to meet the demands of a professional chef… breads that look and taste like they came straight from a boulangerie… will henceforth be on the menu…"
Warren Edwardes, GrapesTalk UK (London)
"…the result is a sturdy, crisp loaf with a delicious flavor. Incredible but true…"
Rianne Buis, de Verdieping Trouw, Amsterdam
"… a beautiful book… changed the way the world looked at making bread at home… barely took five minutes to make… fougasse, focaccia, ciabatta, baguette, and peasant loaves are all within arms reach…"
"You can refrigerate the dough for as long as two weeks, cut off a piece when the spirit moves you and have fresh-baked bread. "
Miami Herald
"Awesome, absolutely awesome! There's so much enthusiasm in the writing that it becomes completely infectious. The book makes you want to get in the kitchen and bake– I can't wait to have a fridge full of dough. It's home baked bread, demystified and made utterly approachable. Even a chef can do it… Bravo!"
Riad Nasr, executive chef, Balthazar Restaurant/NYC and author of The Balthazar Cookbook
"I'm an enthusiastic convert to the no-knead revolution led by Jeff Hertzberg and Zoë Francois. Terrific homemade bread no longer means hours devoted to kneading dough, letting it rise, punching it down, and letting it rise again…"
San Jose Mercury News
"If there is a Nobel Prize for food science, I have a nomination. Jeff Hertzberg and Zoë Francois… have made what may be the most significant advance in food preparation since someone whipped olive oil [into] mayonnaise. [They've] developed a… technique that is so easy, it takes away just about all the excuses home cooks had to not bake bread. And what bread!
Florida Today
"It looked like a loaf of artisan bread, and lo and behold, it certainly tasted like it… you get to enjoy, not only the sight of a crowd…, waiting for the bread to emerge, but the wafting aroma of a bread that your grandmother would have appreciated– but would never have paid $6 a loaf for.
"… the easy, streamlined method… if your family includes teens… who get home before you do, you can teach them how to shape the loaves… they may like the bread so much, they'll do it willingly."
"It feels a bit sinful for bread baking to be so easy."
Baltimore Sun
"If holiday gift-givers are aiming to buy one new cookbook title for the bakers in their lives, they should look no further than the remarkable Artisan Bread in Five Minutes a Day… Hertzberg and Francois should have called their burst of genius "Breadmaking for Dummies — that's how user-friendly it is… their master recipe is wildly flexible, generously adapting to a wide range of breads, pizzas, flatbreads and pastries."
"Hertzberg… and Francois… have come up with a quick, simple method that produces a crusty loaf as good, if not better than, most bakeries do. The instructions are brief and so clearly written the loaves practically assemble themselves… I've tried four of the recipes, and they were all winners. Finally, loafing around proves to be productive."
St. Paul Pioneer Press
"The interior of the loaf was so delicious and warm and moist, it was enough to make you cry… go buy the book, people. Anyone who figures out a way to make something this good this easy should be rewarded…"
"… stands above the crowd for its ease: Mix flour, any kind of yeast, salt, and water. Let it sit for about two hours, refrigerate for up to two weeks and cut off chunks of dough when ready to bake…"
"The two teamed up–chemist and alchemist… "[Hertzberg and François]…explain how to bake European-style breads in less time than a trip to the store… the bread has a lovely crackly crust and is dense and moist with a distinct light sourdough tang."
Mpls/St Paul Magazine
"Breads anyone would be happy to come home to… The concept is inspired. Spend about 20 minutes making a large batch of refrigerator-friendly, no-knead bread dough that, following a standard rise, can keep up to two weeks… Total active time each day you bake is about five minutes…"
"Hertzberg… and Francois have come up with recipes that even the most Neanderthal of bakers can pull off."
City Pages
"… the first edition of the cookbook sold out before Christmas… By some accounts, it's one of the fastest-selling cookbooks ever… I tried one recipe, and the very next day I was on the phone to the nearest bookstore, asking to reserve a copy for me."
"No weighing, no proofing, no poking, no punching, no kneading, no exacting rise times, no window-pane stage, no autolyse, no worrying whether the dough has doubled or tripled in volume… at home, I discovered that it really is that easy… we had hot, fresh, homemade bread on a weeknight."
"Their innovative approach to high-brow artisan baking appeals to my lazy-man sensibility. Zoë and Jeff offer you a bread basket that brims with chewy boules, crusty baguettes, crispy-thin pizzas, buttery naans, and rich-sweet brioches–all served with an ounce of science and a pound of creativity."
Raghavan Iyer, 660 Curries and Turmeric Trail
"…An intriguing concept– high-quality, fresh bread in less time than it takes to boil water…those looking for an innovative approach to making bread just might find it in these recipes…"
"Straightforward instructions… a fun, easy-to-follow collection."
"With this revised edition, Hertzberg and Francois continue to perfect their already easy and immensely popular bread-baking method. Essential…"
"Any dummy can make them...these easy, excellent loaves fool people into thinking I can cook."
"Already addicted to her desserts and generous spirit, if I can pick one person to teach me the craft of bread making, Zoë Francois it shall be. Together with Jeff Hertzberg, they give us a tome that shall inspire our learning experience and inspirit our homes and kitchens with the warmth of fresh baked breads. Artisan Bread in Five Minutes a Day will forever change your attitude towards and enjoyment of freshly baked breads."
Suvir Saran, chef/owner, Devi/NYC, and author, American Masala and Indian Home Cooking
Praise for Healthy Bread in Five Minutes a Day (2009) and The New Healthy Bread in Five Minutes a Day (2016)
"…Zoe Francois and Jeff Hertzberg have amazingly demystified the arcane and delightful world of artisan bread. Now, on the heels of time sensitivity (Hello… 5 minutes??? Really? Yes!), comes a baking book for the health-conscious, and it couldn't be more timely. Bottom line, I would crawl across a desert of broken glass to hop into their loaf pan…"
Andrew Zimmern, Bizarre Foods America
"…it's a vast improvement over the laborious process of making artisan breads using classic methods… in their new book, Hertzberg and Francois have gone one step further… baking breads that use less sugar, healthy grains, fruits and vegetables, and are friendly to those with allergies or food sensitivities…
Associated Press
"…you can make high-quality homemade bread. There's no need to knead or be held hostage by the clock waiting for the dough to rise… under their five-minutes-a-day method, you mix the dough in a large container and allow it to sit in the refrigerator, pulling off pieces to bake as needed over several days or weeks."
Chicago Tribune
"We tried some of the recipes; we love 'em… Honestly, this is the nicest, softest whole wheat sandwich bread I've ever made."
P.J. Hamel, KingArthurFlour.com

"Behold! We have found the holy grail of homemade bread… appealingly soft, barely sweet… Master the core method, and you're on your way to pizza dough, sweet rolls, boules, braids, and buns, all requiring minimal hands-on time."
Midwest Living Magazine (2016)
"This is the much-anticpated sequel to the wildly popular Artisan Bread in Five Minutes a Day… you'll be able to use the no-knead storage dough method with even healthier recipes… fabulous cookbooks… yummy but easy recipes!"
"… super simple, fast, and fail-proof… THE cookbook for your favorite bread baker or wanna-be…"
Huffington Post Cookbook Lovers Holiday Gift Guide (2016)
"The fast-bread duo has done it again…"
"Your friends and family will think you're a rock star. A local bachelor I know… loves the "oohs" and "ahs" he gets when he shows up to a dinner party with a fresh loaf in hand. Chick magnet? Perhaps. "
"…it actually, factually works… you cannot buy a better book for a Christmas gift. Buy both for yourself, test-drive the recipes, and then when you give both to your lucky recipient(s) you can offer pertinent tips... Soon you won't be buying bread, you'll be making it."
Rick Kleffel, KUSP-Central Coast (CA) Public Radio (podcast)

"A dry run with the whole grain version turned out well, just as crusty, fragrant, and simple— but even better because with the switch to healthy whole grains, I've stopped feeling guilty about that extra slice I sneak now and then."
Burlington Free-Press
"Healthy Bread in Five Minutes a Day… is a cookbook that just might change your life… Brilliant? I say yes! I sometimes read cookbooks like novels, and this book… is filled with good ideas about healthy bread baking…"
"Homemade doughnuts for breakfast. On a weekday morning… Those two little doughnuts may have been coated in sugar, but they were also packed with vitamins and fiber… if you're going to be eating fresh bread every day, your doctor will be glad to hear it's whole-grain."
"The drool-worthy recipes and photos for cherry tomato baguettes, red beet buns, and chocolate espresso cupcakes may inspire the most die-hard slice -and-bakers to try their hand at these fast homemade goodies."
"…unusual selections inspired from around the globe… resulting in tasty and healthy creations such as brown rice and prune bread and beet-red buns… the friendly tone, including headnotes and stories behind recipes, keep this from becoming a didactic diet book…"
"… there are still plenty of easy recipes here… and the method is still much simpler than most traditional techniques. No proofing, no kneading, no punching down required… if you want a simple and inexpensive way to eat more whole-grain foods, "Healthy Bread" offers a relatively simple way to make good-looking, great tasting breads at home. And there are some great rye breads too!"
"… half the point of baking one's own bread is to work more whole grains into your diet. Now I can have my preferred, whole grain breads fresh from the oven on a weeknight, and we're not just talking about wheat loaves… just about every whole grain available, such as buckwheat, quinoa, millet, spelt, and brown rice…"
"… the bread masters are back, showing that… making healthy bread using their no-knead method is simple… for all who discovered artisan bread through their first book and for the health-conscious bread-lovers everywhere, this book is a must-have."
Praise for Gluten-Free Artisan Bread in Five Minutes a Day (2014):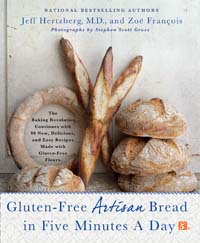 From New York Magazine's "Nine Best Gluten-Free Cookbooks": "… impressed with how many yeast doughs they mastered… process photos to help illustrate proper technique, making it a great option for beginners."
From Living Without's favorite books: "… quick artisan breads, no kneading, no proofing, not punching down… You'll be on your way to delicious bread in no time."
Living Free's Gluten Free & More Magazine
"For gluten-free bread that tastes like it came from a European bakery, it's worth the wait."
"…I baked a flatbread for a gluten-free friend–and no one suspected it was not its floury cousin… the book's recipes for blending your own gluten-free flours are easy and fail-safe."
From Huffington Post's "best cookbook gifts for the cooks and food lovers on your list"–the number one book in 2014: "Gluten-free? No worry… you can now make and enjoy pizzas and focaccia … flatbreads, soft pretzels and beignets, coffee cakes, brioches…
"Hertzberg and Francois offer foolproof recipes for (gluten-free) bread…"
"It was a sad day in [our] household when my husband… learned he had a gluten allergy… After a few practice loaves, we're turning out small boules and baguettes that are light and flavorful… a lovely loaf of bread."
"The recipes make you wonder why you use wheat when such fabulous bread can be made without it… We can personally vouch for the doughnuts. OMG.
"This method removes so many steps from the usual bread-baking process that homemade gluten-free bread every day is not only possible, it's easy."
"What if your home could be filled with the sweet aroma of a French bakery? And what if baking bread only took about 5 minutes of preparation time? To make matters more interesting, what if the bread was gluten-free?… Gluten-free bread in five minutes, yes you can."
"Some of you mentioned that this sounds too good to be true… I assure you it isn't. This friends, is the real deal… a total lifesaver, a real gem and it needs to be in your cookbook collection. Know someone gluten free? Give them this book and quickly become their hero."
"I've long been a lover of their approach… and this is no exception… fantastic… If you're gluten-free, you really don't have to live a life without great bread."
"… I am one happy gluten-free foodie! … I love this cookbook because it includes everything I ever dreamt about enjoying again and more! … recipes are so easy and I have to say that it was love at first bite."
"What if your home could be filled with the sweet aroma of a French bakery? And what if baking bread only took about 5 minutes of preparation time? To make matters more interesting, what if the bread was gluten-free?… Gluten-free bread in five minutes, yes you can."
"… a dream to someone who longs for homemade, freshly baked gluten-free goods… it's already changed my entire gluten-free baking game!"
"I made gluten-free bread and it didn't suck… It was beautiful!!!… Also it tasted very good. My gluten-free [Thanksgiving] table, for mostly non-gluten-free people, really enjoyed it. It was not grainy; it was moist and had that crunchy outer layer."
"… looks and sounds too good to be true, that is, until you try the recipes and see for yourselves: gluten-free bread works… up to their usual high standards… another wonderful bread book… no commercial gluten-free bread will come close to theirs."
Praise for Artisan Pizza and Flatbread in Five Minutes a Day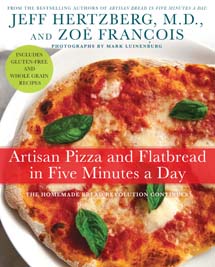 "… a wealth of information on how to prepare this world-famous dish in minutes… an outstanding book for working parents that are interested in serving healthier meals to their families during the week."
"… will get the baker on your list jumping with glee. Thin crust, thick crust, dipping breads and desserts–think good old pizza margherita, Turkish pita boats, and banana cream hand pies–all in the time it takes to heat up the oven.
"You want this book… endless variations in pizza crusts, sauces, and toppings, plus troubleshooting tips and instructions on tossing pies pizza parlor-style right in your own kitchen."
from the Editors of Mother Earth News
"It sounds too good to be true, but [Artisan Pizza and Flatbread in Five Minutes a Day]… has a technique to prep the dough that will make you wonder why you've been buying pizza dough."
"… [their first book]… banished the fear of kneading for a whole generation of cooks. Now, with their newest adventure… the duo takes on an even bigger task: that completely personal and often polarizing topic– crust… with a truckload of recipes that are exciting and intriguing to even the casual pizza maker. Basically, it's a reason to broaden your pizza boundaries and become the pizzaioli you've always dreamt of being."
"… it doesn't get any easier than this… thin-crust pizza? … Jeff and Zoe to the rescue, again! … no special skills needed, no fancy ingredients, no hard-to-find ingredients… Sicilian style? awesome–chewy, crunchy crust, full of big holes, and perfectly cooked toppings."
"… two years of waiting, but the result was worth it… The recipes are dead easy, so much so that it is easy to go beyond them, which makes the cookbook really fun… Jeff is the doctor, but he is also, and this is critical, "the guy," and he makes sure that the recipes will appeal to the other guys out there. He has a loose, sort-of dangerous feel when he talks, as if he might suggest something really off the wall. Zoe, the pastry chef, has more than a hint of science about her, a sense of quiet precision."

Rick Kleffel, KUSP-Central Coast (CA) Public Radio

"… must-own..."
"Now they've brought simplicity to pizza and flatbread. Give these recipes a try, and you'll never call Domino's or buy DiGiorno again."

"The tips and techniques section alone makes this book invaluable… you'll actually enjoy reading the directions, as the authors provide reasons for every move… it feels encouraging, not coddling, and soon you'll be making the delicious recipes…"
"Want to learn how to throw pizza dough? Hertzberg and Francois will show you how… Now that I've learned "the secret," there'll be fewer pizza boxes piling up in my house."

"Why not have pizza for every meal of the day? And if you can make it in five minutes, all the better… The book has recipe alternatives too, for people who want whole grain, spelt, or gluten-free doughs."
"… the Roasted Root Vegetable Pizza [is]… perhaps one of the best pizzas we've ever made at home… delivers on the promise of making high-end, homeade pizza possible on a weeknight… a wonderful cookbook with a wide array of dough, topping, and even a selection of dessert recipes.
"Best of 2011–Books for Cooking and Reading... allows me to prepare all kinds of pizzas, focaccia and flatbreads for my pizza- and foccacia-loving family with… ease, rapidity and perfection. Personally, I want to make – and eat – every single thing in this book! The only bread baking books you'll ever need."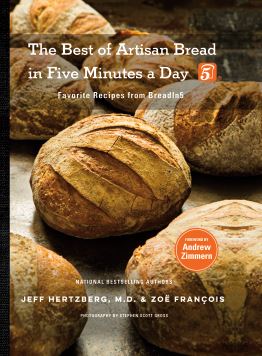 Praise for The Best of Artisan Bread in Five Minutes a Day (2021):
"(In) this definitive guide to bread making… veteran and novice bread bakers will find empowerment and inspiration.
Note: BreadIn5.com is reader supported. When you buy through links on the site, BreadIn5 LLC earns commissions.