Baking in Tuscany, without any of my equipment!
Jeff and I are always wanting to convey how simple and forgiving these recipes are, not to mention delicious. During my stay in Tuscany this summer I rented an apartment just outside of San Gimignano. The foundation of the house was built around 500AD, but thankfully the kitchen had been updated in this century. It seemed a must for me to bake bread during my week there. I went to the store and bought flour, salt and yeast. Got back to the apartment and realized I had none of the equipment I usually count on in my kitchen. There were no measuring cups or spoons, no pizza stone, no peel and the oven was in celsius, not fahrenheit. No matter, I still dumped everything in a bowl, mixed it up, hoped for the best and ended up with a gorgeous dough. Over the next few days I baked rolls in the house and pizzas in a wood fired oven outside my door.
Jeff and I are teaching in Edina, MN this weekend and we'd love to have you in class! See end of post for details…
The flour I found was "00" which is something we Americans rarely find in our grocery stores. It is the flour used to make those lovely pizzas I ate in Naples. (More to come on this beauty of an ingredient in our next book on pizzas and flatbreads.) I was thrilled to see entire shelves of it and bought several kinds. The only yeast I found in Italy was fresh (cake) yeast and the salt was fine sea salt.
There was no way of measuring the cake yeast so I just broke off what seemed to be about 2 tablespoons…but who knows how much it actually was. As we've always said the amount of yeast doesn't really matter, if you use less it just takes longer for the dough to rise. More yeast information here.
No way to measure the salt either. It was a fine sea salt so I started by using 1 heaping teaspoon, instead of 1 1/2 tablespoons of kosher salt. I figured I could always add more and the Tuscans are very used to unsalted bread anyway. You can make the bread without salt, but I find the flavor is flat. More salt information here.
The flour was the biggest issue when not able to measure. The "00" flour is unlike our unbleached all-purpose flour so I had to keep dumping flour in until it felt like the consistency of our "Master" recipe. Once you have made the recipe several times you will get to know what it should feel like. I started this process in a bowl…
but quickly realized I was going to have to add more and more flour until I had to transfer to a pot. It turned out to be the perfect vessel, because it had a lid and hopefully enough room to grow.
Checked the dough as it rose on the counter for 2 hours. It grew….
and grew until it hit the lid. Luckily it stopped there! I threw it in the refrigerator and headed off to Pisa with the boys.
When I returned the chilled dough had collapsed, just as it is meant to do. I have to admit I was relieved not to have to clean up an over flowing pot of dough, which I was prepared to do.
The next day I made rolls for breakfast. The dough was gorgeous and stretchy.
Using a serrated knife I took out a golf ball sized piece and
set it on a piece of aluminum foil dusted with semolina flour. I had no parchment and no peel, so I figured this might do the job instead. I repeated that to make 4 rolls.
Once I figured out the conversion, without the internet or the conversion table in HBin5, I set the oven to 240 degrees Celsius (450 degrees F) and allowed it to preheat with the very-durable-metal-tray from the microwave as my Baking Stone
.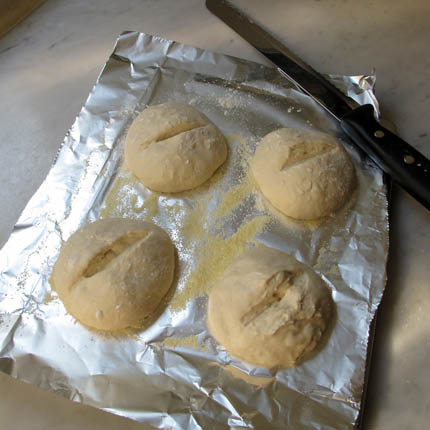 After 20 minutes of resting I lightly dusted the tops of the buns and slashed them.
Using the back side of a flimsy metal tray as my Pizza Peel
, I got the rolls into the oven. The aluminum foil was my insurance that they would slip right in.
added the water for steam, shut the door and crossed my fingers that the dough wouldn't be glued to the foil when they came out.
They came right off the foil and as a cooling rack I put the rolls in this wire fruit basket to cool before we ate.
Here is the view the rolls had as they sat.
Some lovely local olives, cheese, salami and olive oil were all we needed to make us happy. The next night we had a pizza party in front of the wood fired oven with the rest of the dough, stay tuned….
Join Jeff and me at Cooks of Crocus Hill this weekend (8/7) as we bake up a feast of breads from our first book Artisan Bread in Five Minutes a Day. We'd love to meet you! For more information call the Edina location 952-285-1903.
---
---