The new edition of Artisan Bread in Five Minutes a Day is now available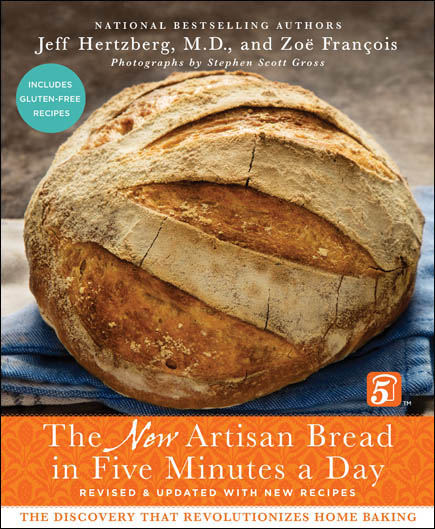 So excited about this NEW version of the first book, Artisan Bread in Five Minutes a Day. So, what's new? It's nearly 150 pages longer, with lots of new recipes, techniques, and WAY more photos (40 gorgeous color and 100 black-and-white instructional shots). There are over 30 brand-new recipes and fun variations, including Crock Pot Bread, Pull-apart Rolls, Pretzel Buns, Stuffed French Toast, gluten-free breads, and lots more.
All the old favorites are still there, and thanks to your suggestions, there are weight measures added to all the dough recipes in the book, both U.S. (pounds/ounces) and metric (grams). The Tips and Techniques section's expanded, and includes instructions for adjusting salt and yeast to your taste.
As always, you're pre-mixing dough that can be stored in your refrigerator for up to two weeks, so active time is still only five minutes a day. There'll be much more to talk about in October when the book hits the stores, but we just had to give you a sneak peek at the beautiful new cover.

Two years in the making, this sixth-anniversary edition of the first book–The New Artisan Bread In Five Minutes a Day–is available from online sellers. Thanks for all the feedback you've given here on the website–it's shaped the new book. Cheers!
---
---