Master Recipe with Fresh Flour (Baker's Field Fresh Flour Giveaway)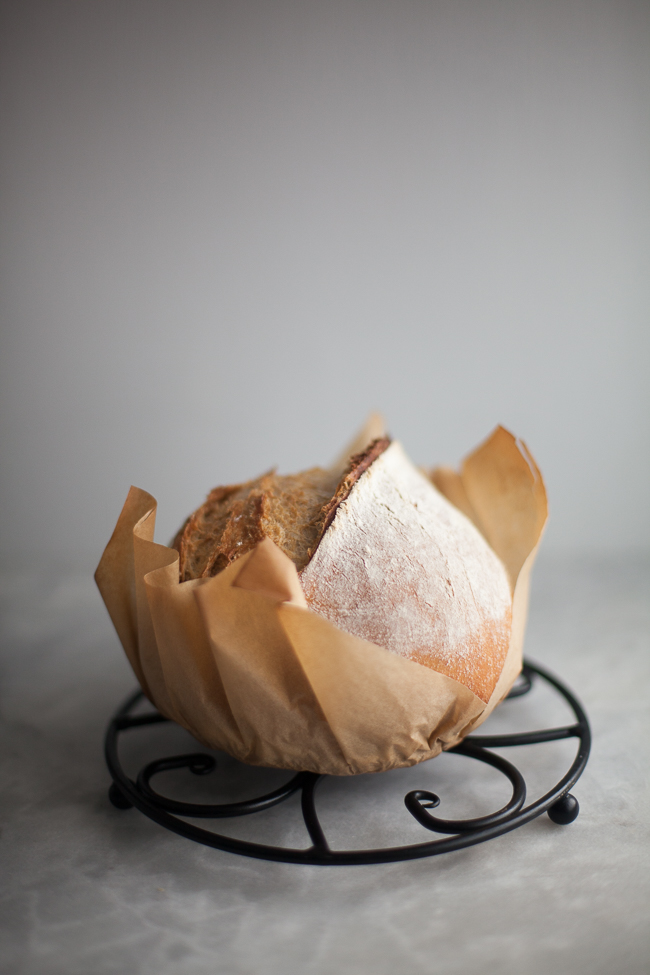 If you are under the impression that flour has no taste, it may just because you haven't tried fresh flour. I know it is an odd concept that flour would be "fresh," since we're used to buying bags that have an exceptionally long expiration date. But, when you make a loaf of bread with flour that was just milled it is so much sweeter and more flavorful. Milling grains at home has been on the rise for a few years and many of our readers already do, so they know of what I speak, but for the rest of us (me included), this is a new discovery. I love bread, obviously, and love it made with all kinds of flour, but this is a real treat and one I am so excited to share with you.
I went to an event at Baker's Field Flour and Bread here in Minneapolis and was completely blown away by what I heard and ate. I met the farmers (Penner and Peterson Farms) who grew this wheat, right here in Minnesota and they could not be more passionate about their crops and the bread that results from their work in the fields.
Baker's Field Flour & Bread is returning stone-milling to the Mill City (Minneapolis was built on the grain industry), because our region grows an incredible variety of grains, so it just makes sense to mill those grains into flour in our hometown.
As a world class baker, Steve, the owner of the mill, knows the importance of good flour. And the local farmers know the importance of good wheat. By connecting the bakers' demand for quality flours with the farmers' desire to grow breeds of grains with unique flavors, Baker's Field Flour & Bread is producing delicious flour. By stone-milling those local whole grains into FRESH flour, they are an integral part of the bread revival happening across America.
I was so excited that I asked Steve to partner with us on a giveaway, so that I can introduce more people to this incredible flavor. He will send 4pounds of flour to FIVE lucky winners. Due to the fact that this flour will be milled and shipped fresh, the giveaway is only open to people in the USA. Details of how to enter at the end of this post…*
First the recipe:
New Artisan Bread in Five
Master recipe with Fresh Baker's Field Flour and Bread BREAD Flour.
Typically our Master recipe from The New Artisan Bread in Five is made with All-purpose flour, but because this Fresh flour contains more bran and germ than the flours we are used to using, we need the extra gluten strength of a bread flour to get the same results. Otherwise we made no changes. Below is an abbreviated version of our recipe, for more details click here.
3 cups lukewarm water
1 tablespoon yeast
1 tablespoon kosher salt
2 pounds (907 grams) Baker's Field Flour and Bread FRESH "FOREFRONT" BREAD FLOUR (To purchase their flour click here)
Mix the water, yeast, salt and flour together in a 6-Quart Food-Storage Container with Lid
using a Danish Dough Whisk
, spoon or stand mixer with the paddle attachment.
Let the dough rise (with the lid open just a hair, to allow gas to escape) for about 2 hours. You've just made about 4 pounds of dough (enough for four 1-pound loaves), so you can make a loaf right away, but will be easier to handle after it has been refrigerated for a few hours or overnight. (It can be stored for up to 14 days and you can bake as you wish during that time.)
Take out a 1-pound piece of dough (about 1/4 of the dough)
Let it rest, loosely covered with plastic on a piece of parchment paper that is dusted with flour, for about 2 hours.
Use a Serrated Bread Knife
or baker's Bread Lame
to slash the dough.
Preheat a Dutch Oven to 450-500°F. (If your bread doesn't seem to be getting a nice color, use the higher temperature.)
Carefully put the bread into the preheated Dutch Oven
, using the parchment paper as a sling to lower it in.
Bake covered for 20 minutes.
Uncover the pot and continue baking for about 15 more minutes.
Until it is a deep brown caramel color and nicely set.
Carefully remove from the pot, using a spatula. The parchment become brittle when baking, so you can't lift it out by that alone.
Allow to cool completely before slicing or it may seem gummy.
Enjoy with butter!
*To enter to win a bag of Baker's Field Flour and Bread FRESH BREAD FLOUR please follow BOTH @Breadin5 and @bakersfieldflourandbread on Instagram, then tag two friends on @breadin5 and we'll select FIVE winners there.
All of our regular contest rules apply.
---
---