Chocolate Bread… Yes, chocolate!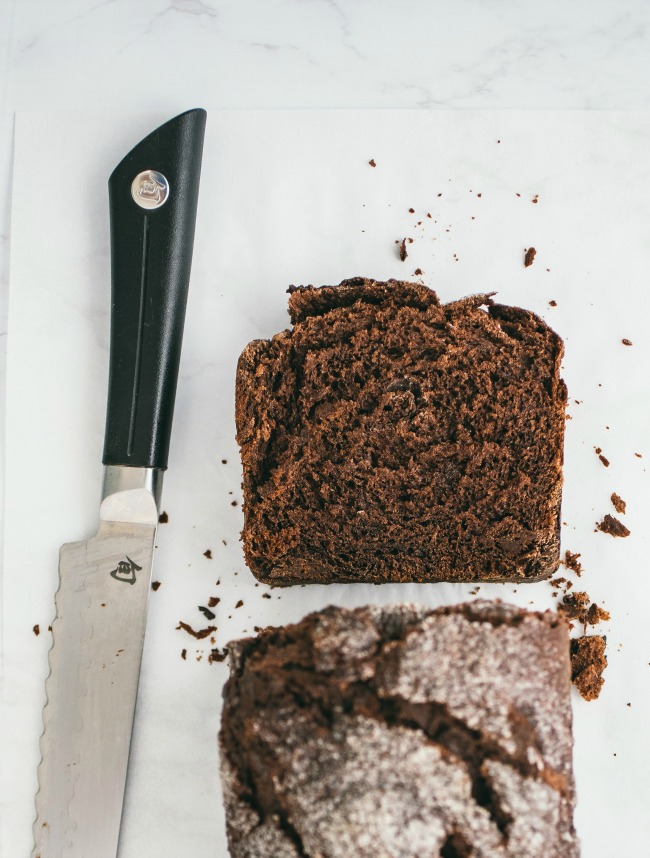 As you all know by now, at BreadIn5 we take our sweets very seriously and chocolate is an essential food group. So we wanted to share one of the great pleasures of The New Artisan Bread in Five: Chocolate Bread. It has an intense chocolate flavor without being too sweet. This bread is equally as good with a sweet cherry jam as it is with a sharp cheddar; it all just depends on your mood. There will rarely be leftovers (but just in case there are we've also got a recipe for Chocolate Cherry Bread Pudding, page 362 of The New Artisan Bread in Five Minutes a Day, that is out of this world!)
The chocolate dough is just a list of ingredients that gets dumped in a bucket; this is no different from any other recipe in the book, just a bit more on the list. This dough is unlike any other in the book as it has no stretch to it, due to all the chocolate.
Chocolate Bread from The New Artisan Bread in Five Minutes a Day, (Chocolate Chocolate-Chip Bread, on page 332).
2 1/2 cups lukewarm water
3/4 cup vegetable oil
1 tablespoon granulated yeast
1 tablespoon Kosher salt
1 cup granulated sugar
5 1/2 cups unbleached all-purpose flour
3/4 cup unsweetened cocoa powder – (natural or Dutch processed will work)
1 1/2 cups bittersweet or semisweet chocolate chips
Butter for greasing the pan
Sugar for greasing the pan and sprinkling on top of the loaf
To make the dough:
Dump the water, vegetable oil, yeast, salt, and sugar in the bucket and give a half-hearted stir. Dump in the flour, cocoa powder, and chocolate chips. Mix the dough together until there are no lumps of dry flour. Cover the bucket with a not airtight lid and allow to rest for about 2 hours on the counter.
You can use the dough immediately after rising and it is quite luxurious, but for this demo I wanted to show you how to deal with the chilled dough. So I stuck the dough in the refrigerator for 12 hours.
Grease your Loaf Pan
(8 x 4-inch, or a 8 x 4 x 4-inch Pullman pan) and then sprinkle it with sugar. This extra step of sugaring is not essential, but it helps the loaf pop out of the pan. I prefer it to flour for chocolate breads because you don't end up with the chalky look on the outside of your loaf.
Once the dough is chilled, reach in the bucket to grab the dough. You will be met with a very stiff dough that has no stretch, due to all the chocolate in the dough, not because your dough is too dry. Shape the dough into a round, and let it rest for a few minutes. Flatten the dough into a rectangle.
(A reader left a comment about forming two balls to create a loaf bread, they found it easier to work with. I thought for this dough it would also be a great idea, because you are just pressing it into shape instead of stretching it into a smooth ball. If you would like to try this method, take the 2 pounds of the dough from the bucket, divide it into two equal pieces and press them into smooth balls, then place them next to each other in the prepared pan. Thank you TS for the suggestion, I think it worked beautifully!)
Place the dough into the prepared pan, cover loosely with plastic wrap and allow to rest for 1 hour and 45 minutes (up to 2 hours and 30 minutes if your kitchen is particularly cool).
Adjust an oven rack to the middle position and preheat your oven to 350F.
The dough will rise a bit, but not a tremendous amount (this is true of all our dough). Sprinkle with sugar and bake in the center of the oven for 45-50 minutes, or when the bread registers 190-200F.
Remove from oven and take the bread out of the pan to cool completely.
Enjoy with preserves, marmalade or a slice of sharp cheddar!
Note: BreadIn5.com is reader supported. When you buy through links on the site, BreadIn5 LLC earns commissions.
---
---