Soft Pretzels – (How-to Video on Shaping the Dough)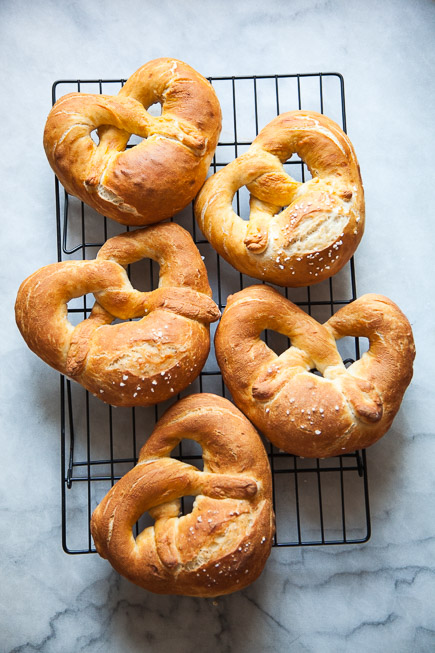 Part of the essence of the perfect New York pretzel is the way they look. Philadelphia has a pretzel culture too, but you'd never confuse it with its northern cousin, due to the shape. Philly has figure-8 knots and New York has well… pretzel shape. Admittedly, it's nostalgia that makes me partial to the New York version. And you really should serve these homemade soft pretzels with mustard to complete the experience, grainy preferred.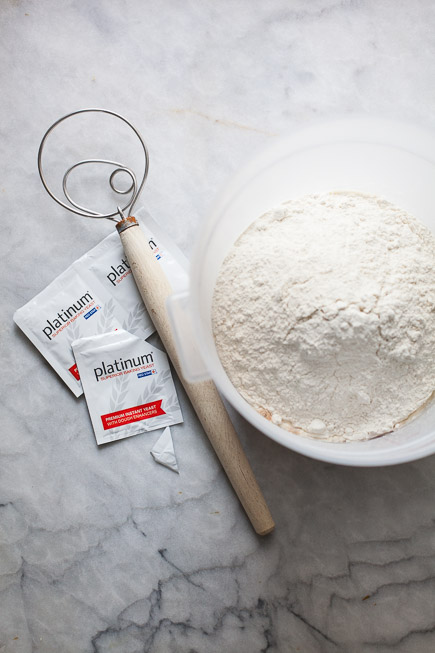 Homemade Soft Pretzels
Pretzel Dough from The New Artisan Bread in Five Minutes a Day:
3 cups lukewarm water
1 tablespoon Platinum Yeast
1 1/2 tablespoons kosher salt
2 tablespoons Non-diastatic malt powder (or sugar)
6 1/2 cups (2 pounds) bread flour – (this will make a stronger dough and holds up to boiling the pretzels. BUT, I'm not going to boil these pretzels, so feel free to use all-purpose flour for this recipe. If you want to boil the pretzels, be sure to use the bread flour.)
For top of the Homemade Soft Pretzels:
2 cups water
2 tablespoons baking soda – (We didn't use lye, because it is a chemical that few people will have on hand and it is a bit risky to use. If you are committed to the authentic pretzel you really will want to find some lye and be very careful when using it, there are some pretty significant warnings on the label.)
1 tablespoon sugar
If you've used bread flour, you'll notice it is dryer than our master recipe (which uses all-purpose flour), and this is by design, so that the dough will hold up when dipped in the baking soda solution.
Because of the bread flour and the Platinum yeast, you'll see lots of air holes in the dough. Refrigerate and use the dough over the next 14 days.
When you are ready to make your pretzels:
Preheat the oven to 475°F (this is a touch hotter than we say in the book. I did this because my pretzels are bigger and I liked the color, crispness and interior with the hotter oven.)
I've made larger pretzels than we make in our book, but you can make them any size you like. These are about 6-ounces each. If you take 2-pounds out of the bucket (about half the dough) and divide it into 5 pieces, you'll come up with about the right amount of dough.
Form each piece into smooth balls. Cover them and let them rest for about 30 minutes to relax. This will help in your shaping.
Here is a video that shows how to get the right shape. I made a simple pretzel and one with an extra twist:
After you shape your pretzel, place them on a baking sheet lined with parchment paper, cover them and let them rest for about 20 to 30 minutes.
While they are resting, mix the water, baking soda and sugar, stirring until the soda and sugar has dissolved completely. Brush the pretzels with the baking soda solution.
Sprinkle with pretzel salt or coarse salt. You can slash with a Lame or knife along the bottom or leave them as is, both are a fine look.
Bake with steam for about 20 to 30 minutes, or until nicely browned.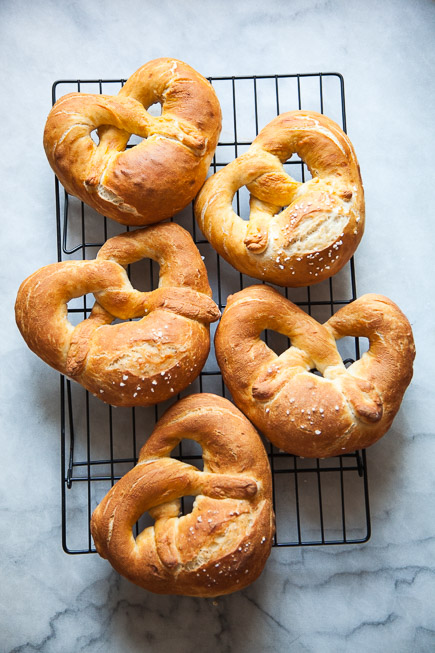 Let cool on a rack.
Serve with your favorite mustard or with nothing at all.
Red Star Yeast (Lesaffre Corp) is a sponsor of BreadIn5, LLC and its promotional activities, and supplied yeast for recipe testing.
Note: BreadIn5.com is reader supported. When you buy through links on the site, BreadIn5 LLC earns commissions.
---
---