Broa (Portuguese corn bread) with Caldeirada de Peixe (Portuguese fish stew)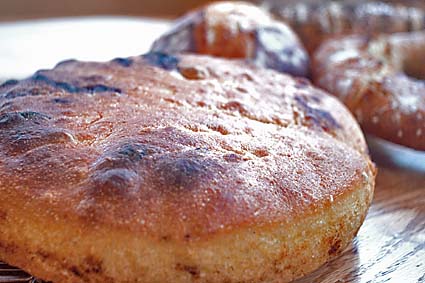 I may have made a resolution about not complaining about the weather this year, but too bad!  Greetings from Minnesota, where I'm freezing at my desk, so today's a soup and bread day.  In the book, we included a Portuguese Corn Bread (Broa) and an accompanying Portuguese Fish Stew (Caldeirada de Peixe) to go with it–it's a perfect combination.
The Broa dough is simply the Master Recipe, substituting 1 1/2 cups of cornmeal (yellow or white, stone-ground or regular) for 1 1/2 cups of unbleached all-purpose flour.  Bake as usual as a round loaf.  In the picture above I used a lightly greased and stove-top pre-heated black cast-iron skillet (my skillet doesn't come with a cover or I'd have tried that, see this about baking in covered cast-iron).  Amazon carries the Lodge brand (click here to view).   Here's the Caldierada de Peixe recipe:
Portuguese Fish Stew (Caldeirada de Peixe)
The distinguishing character of this soup comes from the orange zest and hot pepper, which makes it quite different from French or Italian versions. Cod is a typical Portuguese choice to include, but the dish works well with any combination of boneless white-fleshed, non-oily fish, and/or shellfish.
Makes 6 to 8 servings
1/4 cup olive oil
1 large onion, chopped
2 leeks, washed to remove interior soil and coarsely chopped
1 bulb fennel, white parts only, coarsely chopped
5 finely chopped garlic cloves
1 cup diced tomatoes, canned or fresh
1 red bell pepper, cored, seeded, and diced
1 bay leaf
Zest of 1 orange
1 quart fish stock or water, or an 8-ounce bottle of clam juice plus 3 cups water
2 cups dry white wine
Scant 1/4 teaspoon hot red pepper flakes
1 tablespoon salt
Freshly ground pepper to taste
3 pounds mixed white, non-oily boneless fish and shellfish, or just fish
1.  Heat the oil in a large stockpot, add the onions and leeks, and sauté in olive oil until softened. Add the fennel and garlic and sauté until aromatic.
2.  Add all the remaining ingredients except the fish and shellfish and bring to a boil. Cover, lower heat, and simmer for 20 minutes.
3.  While the stock is simmering, cut the fish into bite-size portions. Bring the stock back to a rapid boil, add the fish, bring back to a simmer, and cook for another minute or more, until the fish loses translucency.
4.  Add the shellfish (if using) and continue to boil until shells open, approximately 1 minute. Shake the pan occasionally to encourage clam and mussel shells to open. If using shrimp, turn off the heat as soon as all the shrimp lose their gray translucency; any longer and they quickly become tough and overcooked. Depending on your pot and burner, this will probably be about 2 to 3 minutes.
5.  Serve hot, with wedges of Broa.
Note: BreadIn5.com is reader supported–when you buy through links on the site, BreadIn5 LLC earns commissions.
---
---