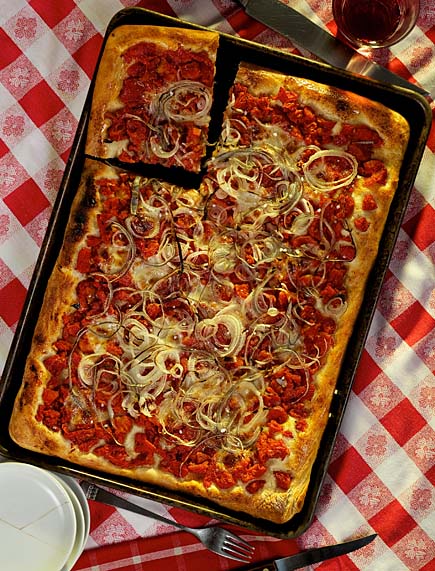 (photo Mark Luinenburg)  Growing up in New York in the 1960s and 70s, there were two options when you walked into a pizza place:  "regular" (thin-crust) baked right on the hearth, or "Sicilian" (thick-crusted), baked in a pan.  I'm fairly certain I didn't know where Sicily actually was, and my parents were partial to "regular," so that's what we got.  Eventually I started going by myself and tried the chewier, thicker stuff.  It's a hit with kids, and for many of our readers, a pan-built pizza is an easier trick than the traditional free-form pizza slid off a peel (see Zoe's post on that). 
But first, we have a winner… of the pizza baking giveaway package from October 25.  The winner, picked randomly from among nearly 800 entrants is:  Dave W, who favors a soppressata, peppadew, and onion creation.  Dave, just answer my e-mail and we'll ship out the package…
OK, here's how to make the perfect Sicilian crust.