Challah done two ways from the same dough (Jewish New Year's loaf AND a braided challah)
It's Jewish New Year (tonight) and the traditional loaf, a round, turban-shaped one (round=continuity of life) took a back seat in this photo– so I decided to do a challah extravaganza and go through both shapes, which are easy once you see how they're done.  Here's the turban from a little closer:
They're both made from the same dough but the New Year's  turban always has raisins or other sweet fruit (to symbolize a sweet new year)– we'll roll them into the dough so you don't have to mix up a special one. First, roll out some pre-mixed challah dough from page 296 of the book (purchase by clicking here).  You can even make it with brioche dough if you're looking for something richer, but the less rich dough is more traditional.  Roll a grapefruit-sized piece of dough as in Zoe's post on raisin bread, sprinkle a handful of raisins, roll it back up, and and you'll get something that looks like this:
Thin out one end by rolling and stretching at the end that's going to be thinned:
Starting with thick end in the middle, wind the thinner end around it and finally, tuck it underneath to seal:
Put the loaf on a cookie sheet prepared with shortening or parchment paper, or my favorite these days, a silicone pad, which can go straight into the oven with or without the support of a cookie sheet.  Brush the loaf with egg wash and sprinkle with sesame seeds:

Allow the loaf to rest for an hour and 20 minutes, then bake at 350 degrees F (175 degrees C) for about 30 minutes, until nicely browned (larger loaves will take more time).  Here's the finished turban-shaped loaf again, ready for eating with apples and honey for a sweet new year:
But if you want to make the traditional braided challah (without raisins), here's how to do it:  First form a grapefruit-sized ball and cut it into thirds with a knife or dough scraper.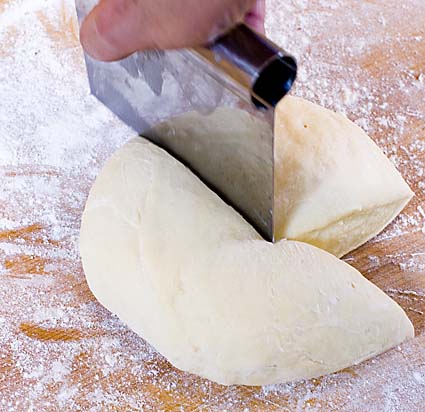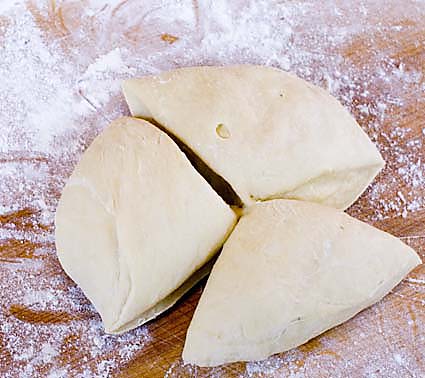 Gently roll and stretch each piece, dusting with flour so your hands don't stick to it, until it's about an inch thick.  You may need to walk away and let the dough relax for five minutes so it won't resist your efforts.  When you're done, lay them straight on a lightly floured work surface:
The key to a beatiful braid is to start from the middle, not from one of the ends.  Pull the strand farthest from you over the middle strand and lay it in the middle– that's never changes, you're always pulling outside strands into the middle, and you never move the middle strand: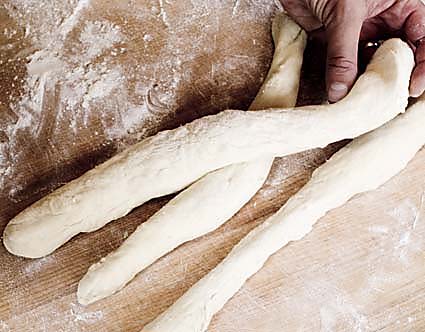 Now pull the closer strand over to the middle:
Keep going, alternating outer strands but always pulling it into the middle: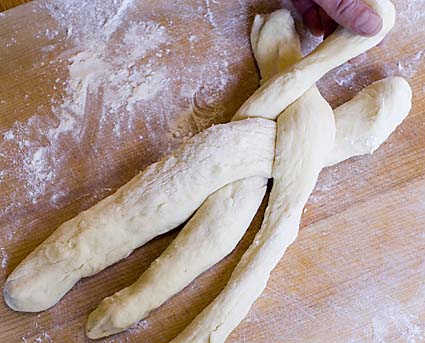 When you get to the end, pinch the strands together:
Now (and this is the fun part), flip it over so the loose strands fan away from you: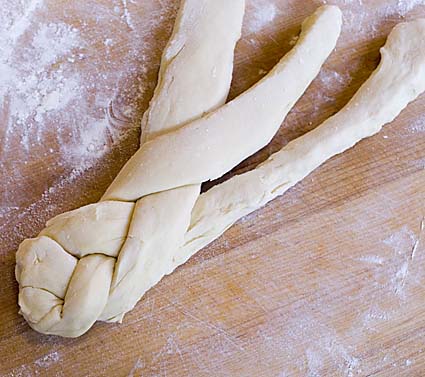 Start braiding again by pulling an outside strand to the middle, but this time start with the strand closer to you:
Don't worry if things look a little mis-shapen, you can nudge it back into shape at the end.  Braid to the end again, and pinch together, lay it on a cookie sheet prepared with shortening, parchment, or a silicone pad, and paint it with egg wash: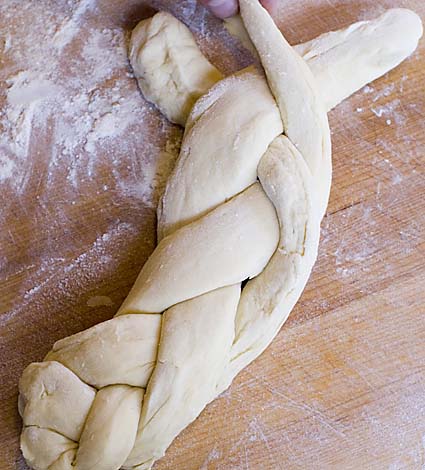 Using my fingers, I've gently nudged the loaf into a more symmetrical shape before painting the egg wash:
Now sprinkle with poppy seeds:
Allow the loaf to rest for an hour and 20 minutes, then bake for about 30 minutes at 350 degrees F (175 degrees C), and the colors create a beautiful contrast:
Follow us on Twitter.com!
---
---