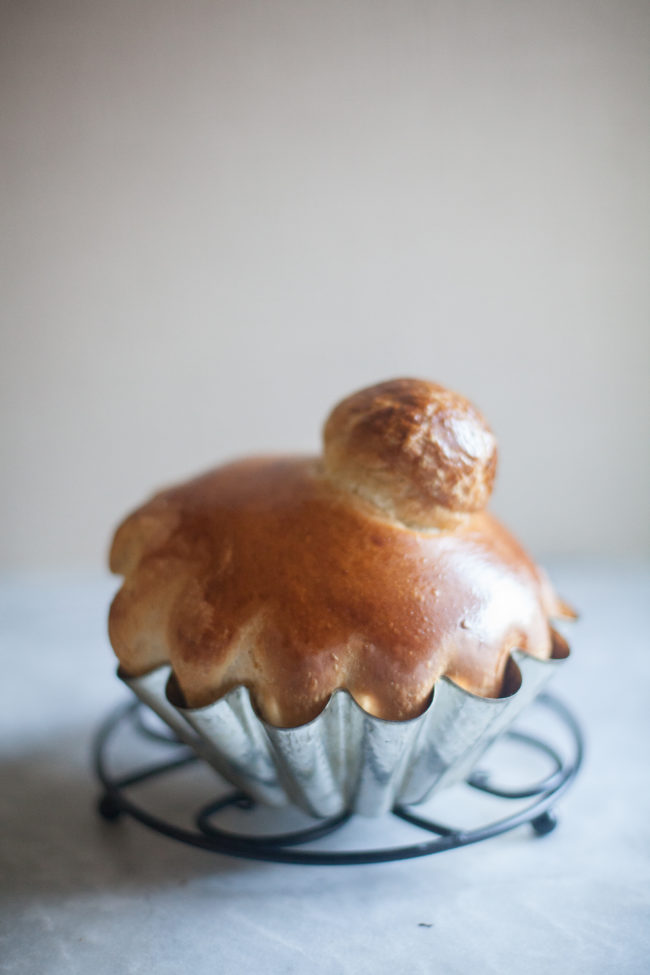 Here is a classic fall recipe with a twist. It is a lovely and quick dessert, especially if you have a bucket of brioche on hand. For those of you who do not already own The New Artisan Bread in Five Minutes a Day, here is the recipe and it can be used for all of these wonderful treats: caramel sticky buns, grilled fruit tart, fresh fruit muffins, Brioche à tête, apricot pastries and fabulous doughnuts! Actually the possibilities are endless, just use your imagination and let us know what treats you've come up with.
Brioche Dough (makes about 4 loaves)

1 1/2 cups (340g) lukewarm water
1 tablespoon Active Dry, or Quick-Rise yeast (1 packet)
1 tablespoon kosher salt
8 large eggs, lightly beaten, AT ROOM TEMPERATURE (this is important for faster rising)
1/2 cup (170g) honey
1 1/2 cups (340g) unsalted butter, melted
7 1/2 cups (1065g) unbleached all-purpose flour
Mix the yeast, salt, eggs honey and melted butter with the water in a 5-quart bowl, or lidded (not airtight) food container.
Mix in the flour, using a spoon until all of the flour is incorporated.
Cover (not airtight), and allow to sit at room temperature for about two hours. Note: Sometimes with brioche, with so much cold egg, if you don't use warm enough water, the initial rise can be very slow. Professionals would fix this by letting the eggs come to room temperature, which solves the problem. You can do that, or just make sure that your final mixture of egg/butter/water is nice and warm (but not hot, or you can kill the yeast).
The dough can be used as soon as it is chilled. This dough is way too sticky to use after the initial rise, but once it is chilled it is very easy to handle. It can be used to create the Tatin or any of these brioche recipes: caramel sticky buns, grilled fruit tart, Fresh Fruit Muffins, Brioche à tête, apricot pastries and fabulous doughnuts! The dough can be stored in the refrigerator for up to 5 days. After that you can freeze the dough.
Note: BreadIn5.com is reader supported. When you buy through links on the site, BreadIn5 LLC earns commissions.
---
---