Swedish Limpa Rye Bread, in a Cloche, on the Grill (and, announcing winners of free books)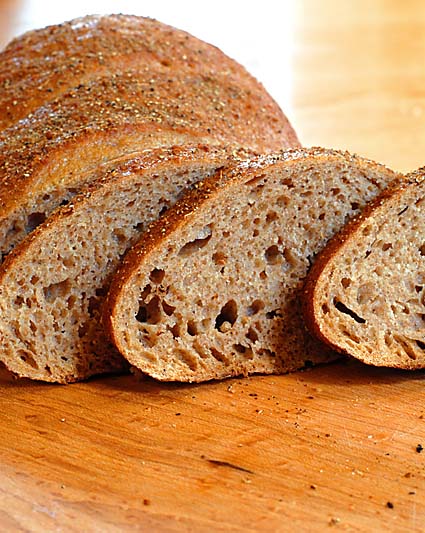 OK, it's finally 85 degrees in Minneapolis, so we really have to get outside and do everything on the gas grill.  Even Swedish Limpa Rye, which we'll get to in a second.  But first, the five winners of last week's drawing for free copies of Artisan Bread in Five Minutes a Day.  The winners are:  Brie, E Nassar, One Crafty Mumma, Jules, and Sheri M.  Please drop me an e-mail with your snail-mail address so we can send you a book.  As always, please use this website, not e-mail to submit bread questions. 
OK, here's how to do the Swedish Limpa Rye, in a Cloche, on the Grill:
Mix up a batch of Limpa dough from the book, using the basic recipe, but swap 1 cup of rye flour for 1 cup of unbleached all purpose.  To the liquid ingredients, add 1/2 cup honey, 1/2 teaspoon ground anise seed, 1 teaspoon ground cardamom, and 1 1/2 teaspoons orange zest (use a microplaner to get the zest but not the bitter white pitch).  Mix till a wet dough forms then allow to rest and rise for about 2 hours at room temperature.  Refrigerate loosely covered and use over the next seven days. 
On baking day, dust the surface of the dough with some flour and tear off a grapefruit-sized piece.  Quickly form a loaf and elongate it (see our videos).  Let it rest on parchment paper sitting on a pizza peel for at least 40 minutes, or as long as 90 minutes.  60 or more minutes will give you a more open hole structure. 
30 to 45 minutes before you loaf is fully rested, preheat your outdoor gas grill to about 375 degrees, with a covered baking cloche (clay cooker) sitting inside the covered grill, right on the grates.  I'd thought about doing this with a baking stone under the clay cloche, but that propped it too high and the grill lid wouldn't fully shut (which it must for temperature to be maintained).  It takes about 30 to 45 minutes, with some fiddling, to get the temperature you want.  A 20-minute preheat is too short to get the cloche up to temperature. 
Just before you're ready to bake, paint the surface with water (use a pastry brush) and sprinkle with cardamom-anise sugar (1/4 teaspoon, ground cardamom, 1/4 teaspoon ground anise seed, and 1 1/2 teaspoons sugar).  Then slash with a sharp bread knife, making cuts at least a 1/4-inch deep:
Put on baking mitts!  Open the grill lid, and then carefully remove the lid of the cloche.  Slide the loaf, parchment and all, into the bottom section of the cloche.  Replace the lid.  No steam added steam is needed in the grill. 
Bake for about 20 minutes, then remove the cloche cover to finish baking for another 10 minutes or so.  Result is as nice as anything I get in the oven indoors:
OK, truth-telling moment:  I way over-rested this loaf, and it spread sideways and flattened a bit too much for sandwich slices—it probably sat for 2 hours while I dealt with house problems, errands, and fiddling with the grill today.  The trade-off is that the hole structure is gorgeous (see the picture).  In order to get slices for sandwiches, just cut at an angle:
---
---