Pizza Margherita! (CONTEST IS CLOSED)
Today our new book is finally available and we couldn't be happier to welcome Artisan Pizza and Flatbread in Five Minutes a Day
into our happy family. We are so excited for you to get baking from it, so we're posting one of our favorite doughs from the book. I have to admit it took us a while to decide which one to share, since our favorite seems to change with our moods. This Olive Oil Dough is fantastic for a thin crust, a thick crust and so many of our worldly flatbreads. No matter the technique you decide to try, you'll love the results.
We like to make the classic Pizza Margherita, it's the ultimate in Italian toppings. In fact, the colors resemble the Italian flag and the pizza was named for the Italian queen, Margherita, because she fell in love with it. Nothing but tomato, mozzarella, fresh basil and a drizzle of olive oil. So pure and so tasty.
We want to invite you to visit us while we are on book tour. To find dates and cities please visit our Events page. Hope to meet you!
Pizza Margherita
Olive Oil Dough from Artisan Pizza and Flatbread in Five Minutes a Day:
3 1/4 cups lukewarm water
1/4 cup olive oil
1 tablespoon Yeast
1 to 1 1/2 tablespoons Kosher salt
2 tablespoons sugar
7 1/2 cups (scoop and sweep) unbleached all-purpose flour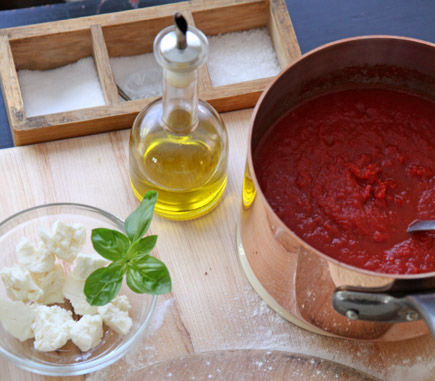 Toppings:
1/3 cup tomato (Sauce recipe p. 109 or drain diced tomato straight from the can)
3 ounces Fresh Mozzarella, cut into 1/2-inch chunks
Fresh Basil
Olive oil for drizzling over the top before baking
Pinch of salt
Flour, cornmeal or parchment for the pizza peel
To make the dough: Use our dump and stir method of mixing the dough in a 5-quart Container with Lid, using a Danish Dough Whisk or wooden spoon. Then cover the container, not airtight and let it rest for about 2 hours on the counter. The dough can then be used right away, but it is much easier to handle once it has been thoroughly chilled. The dough can be stored in the refrigerator for 2 weeks!
To make the pizza:
Preheat your oven to the highest setting, which will be 500 to 550°F, with a pizza stone in the bottom 1/3 of the oven. Depending on the thickness of your stone this can take between 20 and 40 minutes.
Pull out an 8-ounce piece of dough from your bucket and quickly form it into a ball, no more than 30 seconds of work. Let it sit on the counter while you gather your toppings.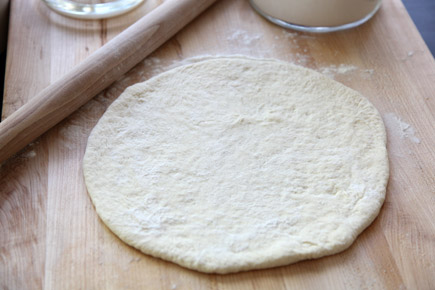 Roll the ball out into a 1/8-inch-thick round. If the ball is resisting just let it sit for about 5 minutes and it will relax and allow you to work with it.
Sprinkle a Pizza Peel with flour. Spread the tomato over the dough.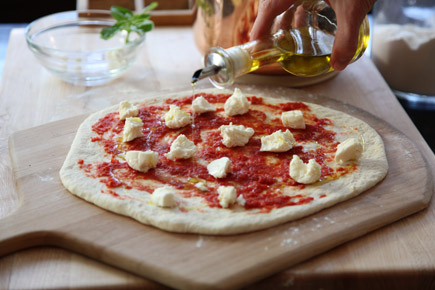 Place the chunks of cheese over the sauce and drizzle with the olive oil.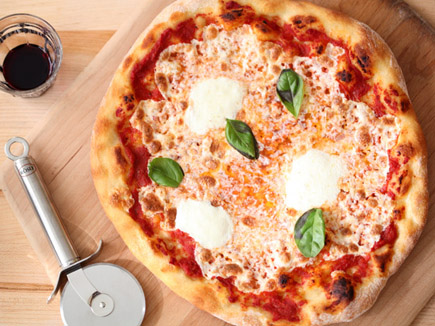 Check for doneness in about 8 to 10 minutes, turn the pizza around if it seems to be browning on one side more than the other. It may take up to 5 more minutes.
Let the pizza cool slightly, so the cheese can set a little before cutting with a Pizza Cutter. This is best done on a cooling rack if you want to keep a crisp bottom crust.
---
---