One of the most popular recipes from Artisan Bread in Five Minutes a Day is our version of naan. It is a non-traditional way of creating the classic Indian flatbread, and it is incredibly fast and tasty. In Artisan Pizza and Flatbread in Five Minutes a Day we decided to one-up ourselves and create a stuffed naan, made from a dough that has a slight tang from the addition of yogurt. This aromatic flatbread is filled with cilantro and onions, then baked until golden on a hot stone. When it comes from the oven we slather it in ghee and serve it hot. You'll want to make several, because they go fast and they are as good hot as they are cold.Stuffed Naan:
1/2 pound Naan dough (page 88) or Master recipe from Artisan Pizza and Flatbread in Five Minutes a Day

Stuffing:
3 tablespoons finely chopped onions
3 tablespoons finely chopped cilantro
Salt to taste
Melted ghee or butter to brush on top of baked naan
To make the stuffed naan: Preheat the oven to 550°F or as high as your oven will go, with a Baking Stone on the middle rack.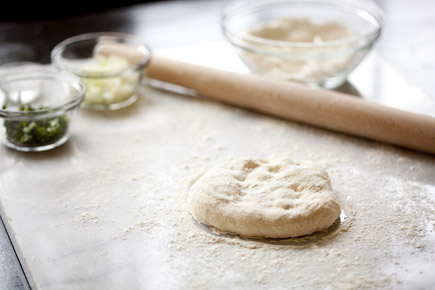 On a well floured surface,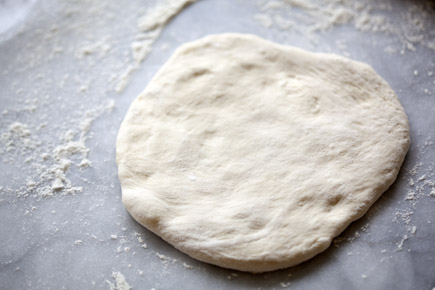 roll the dough to a 1/4-inch thick circle.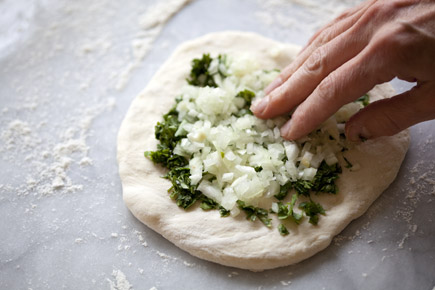 Place the onions, cilantro and salt on the dough, but leave a bit of the edge clear of the filling.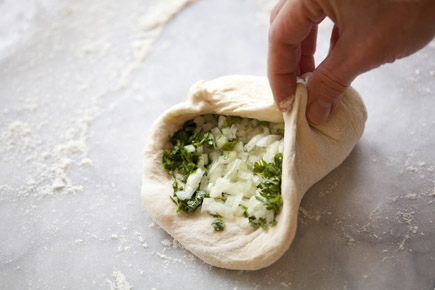 Pinch the edges together,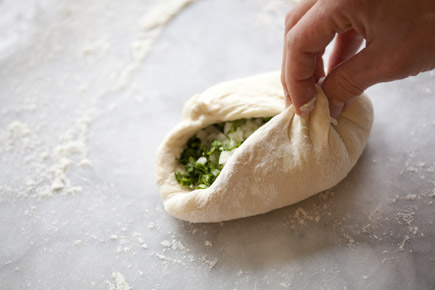 all the way around the circle,
to form a pouch.
Flip the pouch so the seam side is down on a well floured surface. Flour the top and roll the pouch into an 1/8-inch thick oval. Check for sticking as you go, and add more flour if you need.
The onions may break through the dough as you get it very thin, but that is just fine.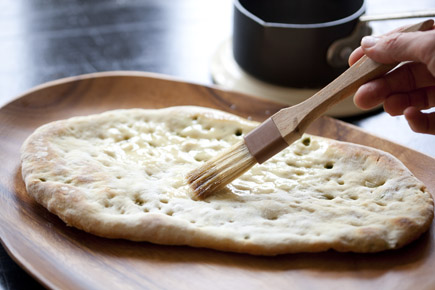 Bake the stuffed naan on the preheated stone for about 10 minutes or until the edges are golden brown. Remove from the oven and immediately brush with the melted ghee or butter.
Serve warm and just tear pieces off and dip it into your curry, soups and stews. Try our other stuffed naan variations, which you will find on page 224 of Artisan Pizza and Flatbread in Five Minutes a Day.
---
---