Onion Poppy Seed Twist Bread
Onions and poppy seeds have to be the most aromatic and delicious combination of flavors. They have been featured on Jewish breads from Bialys, Pletzels and Bagels for centuries. This onion poppy seed twist bread is a new twist (sorry, couldn't resist the bad pun) on the classics. I started with whole wheat bread, spread the savory filling on the dough, rolled it up and then cut the log in two before twisting them together, so you can see the filling peek out. The result is beautiful, but the best part of this loaf if the aroma as it bakes.
Onion Poppy Seed Twist Bread
1 1/2 pounds dough – (I made the Light Whole Wheat Bread using Platinum Yeast from Red Star Yeast from The New Artisan Bread in Five Minutes a Day, but the Whole Wheat Challah from Healthy Bread in Five Minutes a Day or any other 5 minute dough you happen to have in the refrigerator will do the trick too.)
1 small onion, very finely chopped (use a food processor if you can't get it chopped finely by hand)
2 tablespoons olive oil
1/4 cup poppy seeds
Salt and pepper to taste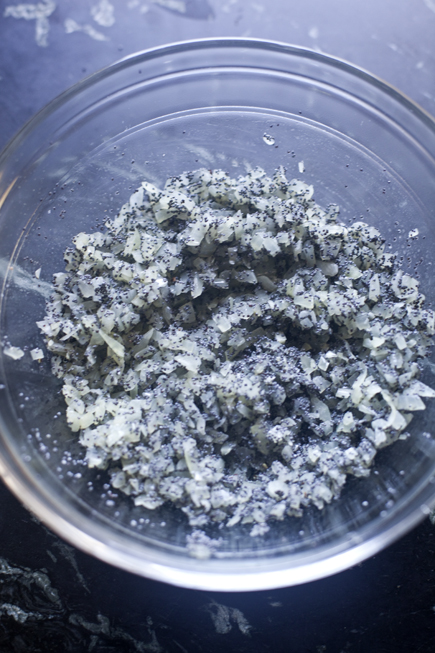 Over medium heat, cook the chopped onions in the olive oil in a sauté pan. In a small bowl combine the sautéed onions, poppy seeds, salt and pepper. Allow to cool.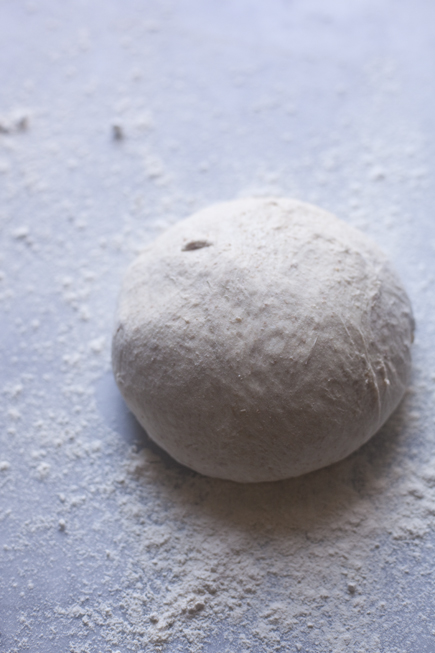 Pull out 1 1/2 pounds of dough and form it into a ball.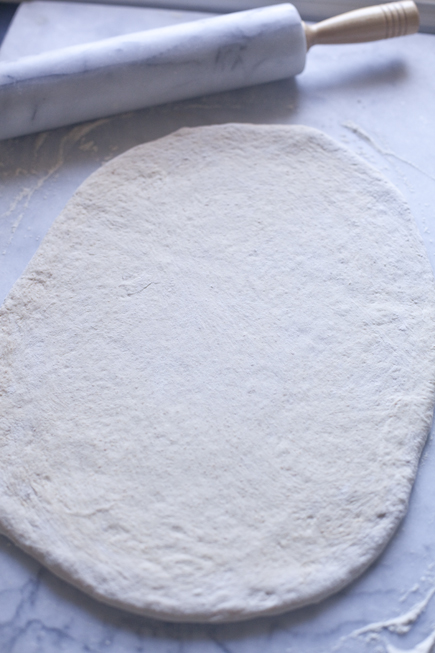 Roll out the ball to a 1/4-inch thick rectangle.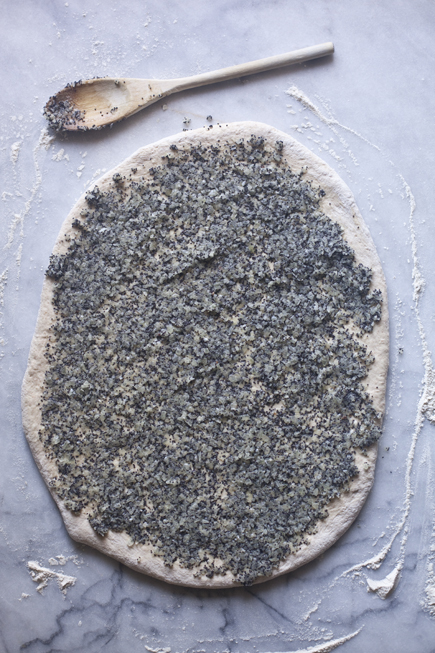 Spread the cooled onion filling over the dough.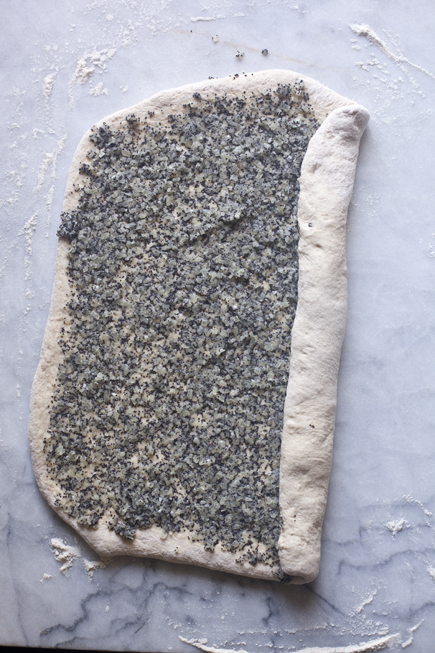 Roll the dough into a log.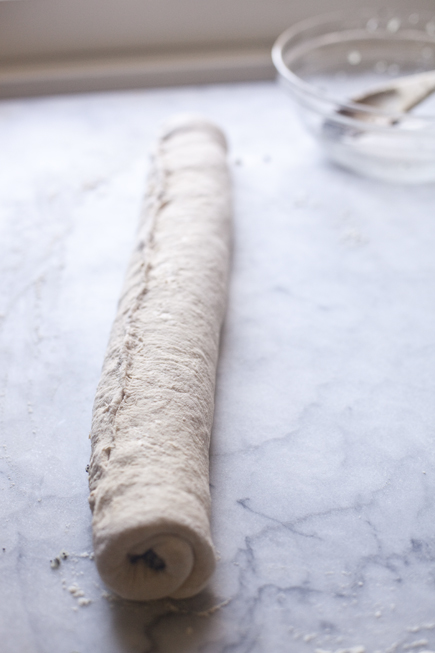 Pinch the seam shut.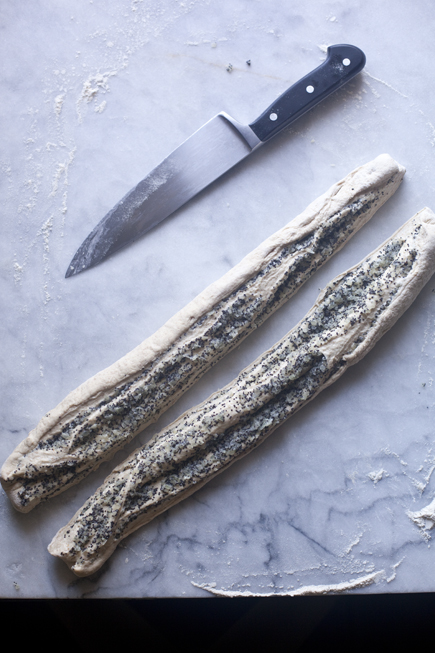 Cut the log in half.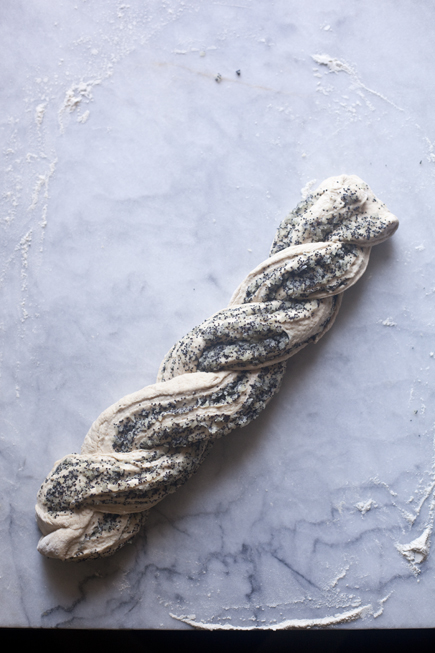 Twist the two pieces together to form your twist bread.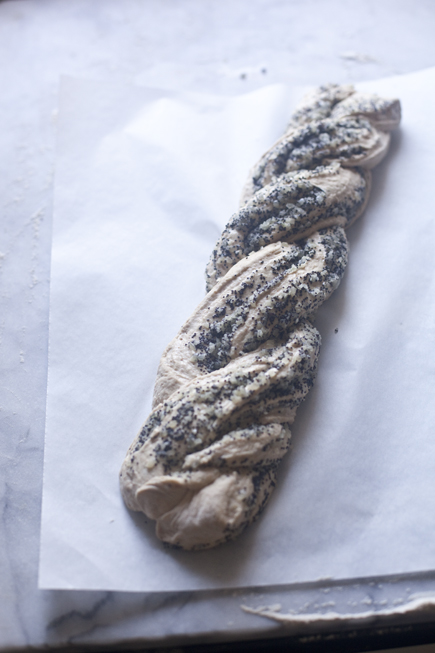 Let the dough rest on a piece of parchment, loosely covered with plastic for 1 hour.
Preheat the oven to 450°F (if you use Challah dough, reduce temperature to 375°F) with a baking stone (Cast Iron or steel work as well) in the center of the oven for at least 30 minutes (may take longer if you have a thick stone). Place a metal roasting pan at the bottom of the oven to catch water to create steam.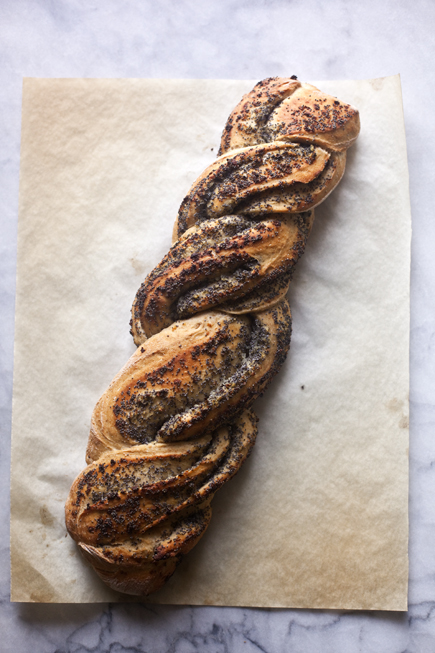 Slide the loaf onto the preheated stone, add a cup of hot water to the roasting pan and bake the loaf for about 35 to 40 minutes or until caramel brown.
---
---