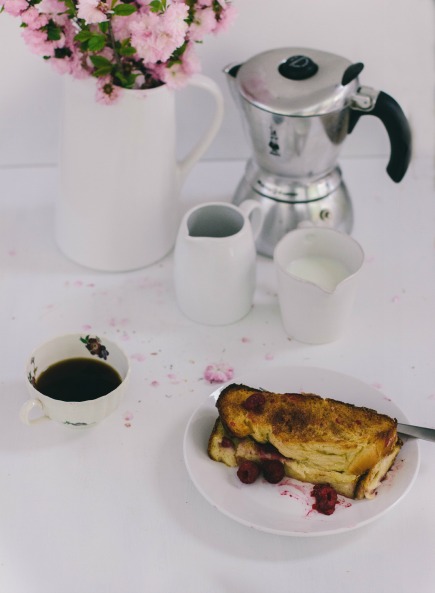 My mom informed me today that I was in charge of planning Mother's Day this coming Sunday. Now that I have two children of my own, I thought that this duty could be passed along to someone else, perhaps someone planning my Mother's Day. Apparently it doesn't work like that. She vaguely mentioned something about being Queen Mother and I'll just have to wait my turn, so Mother's Day breakfast is on. Good thing I like her a lot, and also like baking bread.
I've found brunch to be ideal for that Sunday morning celebration, but eating out is usually a busy affair in these parts. Baked French toast is now my answer to the "what are we going to serve?" question. It is put together in the evening, where the milk and eggs soak into the layers of challah overnight. The next morning it is baked, served warm, and gone within minutes. It also makes me look like I worked much harder than I did.
Baked French Toast
I followed the Smitten Kitchen's recipe for Boozy French Toast, making only the slightest changes. I cut my Challah into slices earlier in the day, and let them sit on a wire rack for a few hours to help them dry out a bit before assembling the French toast. I found this helped the bottom layer not be too soggy. I added 1 teaspoon vanilla to the liquid mixture, and scattered 1 cup of raspberries in-between the layers of French toast before baking.
I found my Challah crust got a little too dark and crispy, but pulling it out of the oven early meant that the bottom layer of French toast was slightly under baked. To remedy that, I covered the French toast with foil and baked it for 20 minutes at 400 degrees. I then removed the foil, and finished baking for another 8-10 minutes until the French toast was puffed and golden.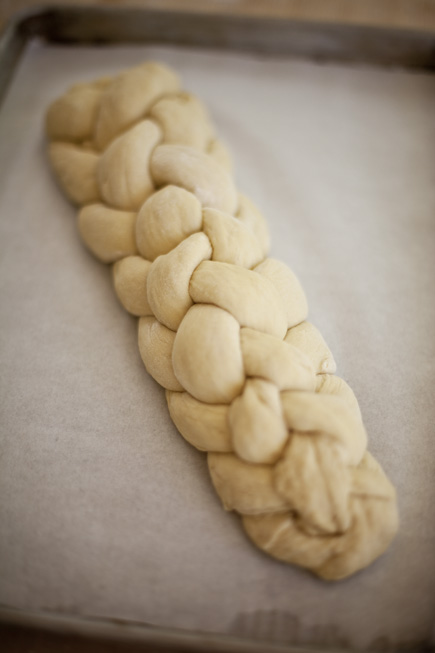 You can follow the instructions for Six-Strand Braided Challah, or Three-Strand Braided Challah. Bake the bread as directed. When cool, cut the bread into about 1-inch pieces.
Layer the bottom of a 9 x 13 pan with the challah. Scatter with raspberries, and then top with another layer of bread. Pour the liquid mixture over the top of the bread, cover with plastic wrap, and refrigerate overnight.
Bake the French toast the next morning! Your mom will be so happy you did.
---
---