Baked Spelt English Muffins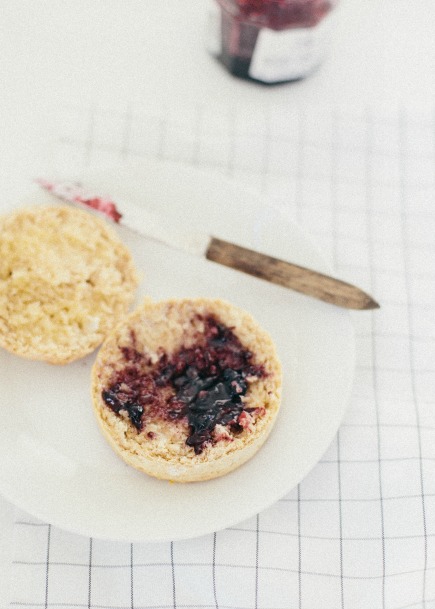 I've become addicted to adding spelt flour to my Bread in 5 dough (see blood orange doughnuts and stove top pizza), and decided to try it in yet another application: English muffins. My family is a big fan of warm bread first thing in the morning, so this seemed like a perfect application. Not only does the spelt add extra (delicious) flavor, but it has many health benefits, including increasing circulation and helping with digestion. I've been adding it to our bread and many of our baked goods as we slowly try to decrease the amount of white flour we are consuming. It worked perfectly again here. The muffins were delicious right out of the oven, and they also toasted up nicely the following day.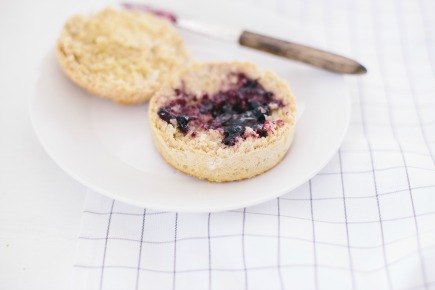 Baked Spelt English Muffins
If you would like to follow the more traditional method of making English muffins on the stove top, see this post.
Spelt Dough
You can use just about any of the dough in New Artisan or Healthy Bread to come up with your own flavored English muffins. If you do this with a different dough you will need to alter the rest time (more time for whole grain breads) and baking temperature (follow the temperature for the dough you pick).
3 cups lukewarm water
1 tablespoon Platinum Yeast
1 1/2 tablespoons kosher salt
1 tablespoon sugar
4 cups all-purpose flour
2 1/2 cups spelt flour
In a 5 or 6 quart bowl or lidded Food Storage Container, pour in the water and add the yeast, salt, and sugar (because we are mixing in the flour so quickly it doesn't matter that the salt and yeast are thrown in together). Whisk the flours together in a separate bowl, and then pour all the flour all at once and stir with a long handled wooden spoon or a Danish Dough Whisk. Stir it until all of the flour is incorporated into the dough.
Put the lid on the container, but do not snap it shut. You want the gases from the yeast to escape. Allow the dough to sit at room temperature for about 2 hours to rise. The dough can be used right after the initial 2 hour rise, but it is much easier to handle when it is chilled.
Using a set of English muffin molds works best, however, if you don't have them you can still make the muffins free form (I recommend that you buy two sets so you have eight of them total).
Grease the molds with oil or butter and set them on a cookie sheet lined with parchment paper. Sprinkle the inside of the mold with a light layer of cornmeal.
If you have a kitchen scale weigh out 3 1/2-ounce balls of dough (about the size of a small plum); flatten them and place them in the mold.
Loosely cover with wrap if your kitchen is very dry or drafty.
Preheat oven to 425°, with or without a baking stone. (adjust the temperature if you are using a different dough, follow the temperature in the book for that dough.)
Allow to rest until the dough reaches the top of the mold, about 30-45 minutes.
Bake for about 20 minutes. Do not use steam or you'll end up with a crisp crust, which is not traditional for English muffins.
Unmold the muffins and serve warm. When you bake them only one side is deeply browned and lightly coated with cornmeal. They will also be slightly rounded.
Split the muffins with a fork to get that craggy crumb that is so perfect for holding lots of butter and jam.
Don't forget to check out our Craftsy Artisan Bread in Five Minutes class! Learn the secrets to making fresh, artisan-style breads in no time, from classic baguettes to braided loaves and even hearty sandwich breads.
———————————–
Lesaffre Yeast Corp. (Red Star) provided yeast samples for recipe testing, and sponsors BreadIn5's website and other promotional activities.
---
---