Chocolate Chip Cookies from The Vanilla Bean Baking Book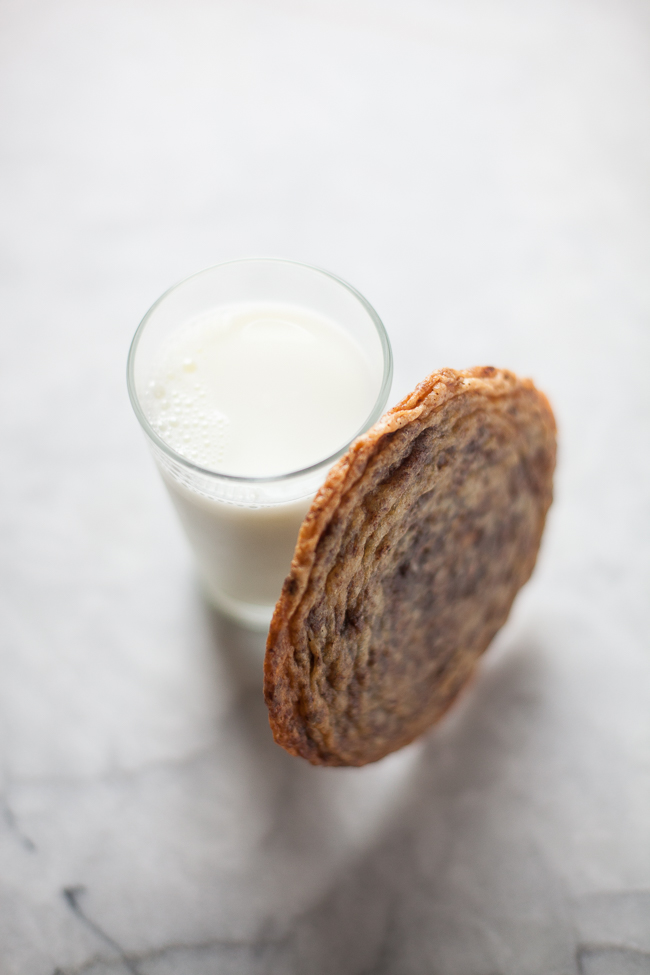 These cookies were just featured in the New York Times! We're so thrilled for Sarah and it just confirms what we already know about them, they are AWESOME!
You are on the right site, we are just taking a short break from baking bread to bring you one of our absolute favorite recipes from Sarah's new book, The Vanilla Bean Baking Book
. You all know Sarah's gorgeous work here on Breadin5, but you may not be as familiar with her baking website. Sarah has been working with us on the Breadin5 website and has been instrumental in our cookbook photoshoots as a food stylist. During our last marathon photo session she brought us cakes, cookies, scones and even pie she was testing for her own cookbook. When she brought in these chocolate chip cookies we took a moment out of the shoot to declare them the best cookies any of us had ever had. I do not say that lightly, considering I had a cookie company in college, have baked no fewer than 500 chocolate chip cookie recipes and have consumed even more. These are the best and now you have the recipe.
We are thrilled for Sarah and are so proud of her and this brilliant book! She and her publisher have graciously offered a copy of her book to a lucky winner of our GIVEAWAY. Just leave a note in our comments and we will select someone at random. It will make a great addition to your cookbooks or a lovely gift for someone on your list. All our normal contest rules apply. This contest is over.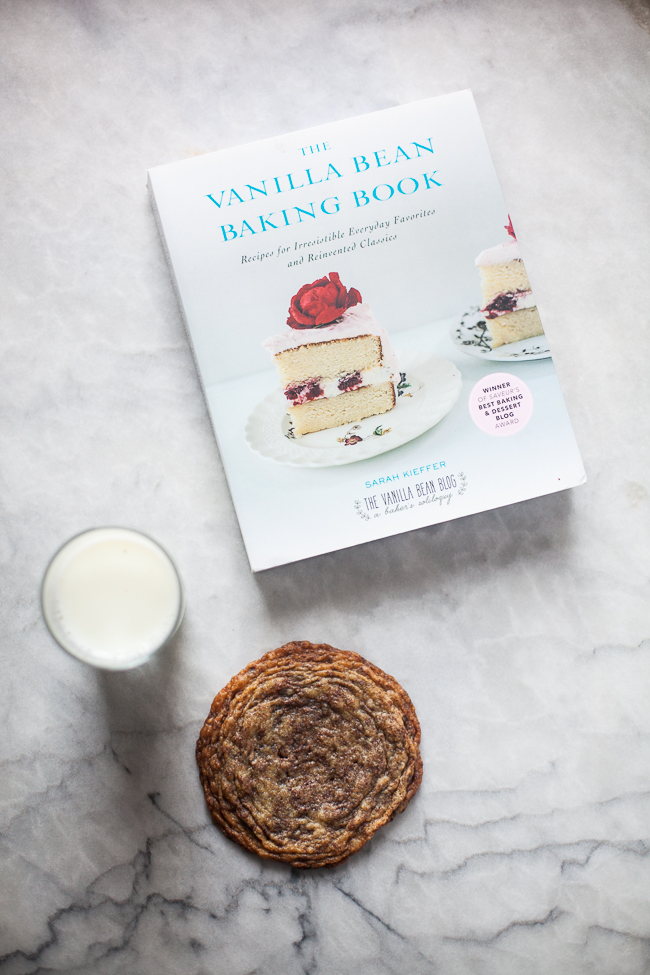 CHOCOLATE CHIP COOKIES from The Vanilla Bean Baking Book
makes 10 cookies
2 cups (284 g) all-purpose flour
½ teaspoon baking soda
¾ teaspoon salt
½ pound (2 sticks; 227 g) unsalted butter, room temperature
1½ cups (297 g) granulated sugar
¼ cup (50 g) packed brown sugar
1 large egg
1½ teaspoons pure vanilla extract
2 tablespoons water
6 ounces (170 g) bittersweet chocolate, chopped into bite-size pieces averaging ½ inch with some smaller and some larger
To bake the cookies:
Adjust an oven rack to the middle position. Preheat the oven to 350°F. Line 3 Baking Sheets
with aluminum foil, dull side up. (I used parchment paper, because I was desperate to make these and was out of foil. I found the results were excellent, but I would suggest doing it on foil, as Sarah suggests.) This helps create the crinkles in the cookies.
In a small bowl, whisk the flour, baking soda, and salt.
In the bowl of a stand mixer fitted with a Beater Blade
, beat the butter on medium until creamy. Add the granulated and brown sugars and beat on medium until light and fluffy, 2 to 3 minutes. Add the egg, vanilla, and water and mix on low to combine. Add the flour mixture and mix on low until combined. Add the chocolate and mix on low into the batter.
Scoop
the dough into 3½-ounce (100g) balls (a heaping ⅓ cup each). Place 4 balls an equal distance apart on a prepared pan and transfer to the freezer for 15 minutes before baking. After you put the first baking sheet in the oven, put the second one in the freezer.
This step is essential for getting the crinkles on the edge.
Place the chilled baking sheet in the oven and bake 10 minutes, until the cookies are puffed slightly in the center. Lift the side of the baking sheet up about 4 inches and gently let it drop down against the oven rack, so the edges of the cookies set and the inside falls back down (this will feel wrong, but trust me). After the cookies puff up again in 2 minutes, repeat lifting and dropping the pan. Repeat a few more times to create ridges around the edge of the cookie. Bake 16 to 18 minutes total, until the cookies have spread out and the edges are golden brown but the centers are much lighter and not fully cooked.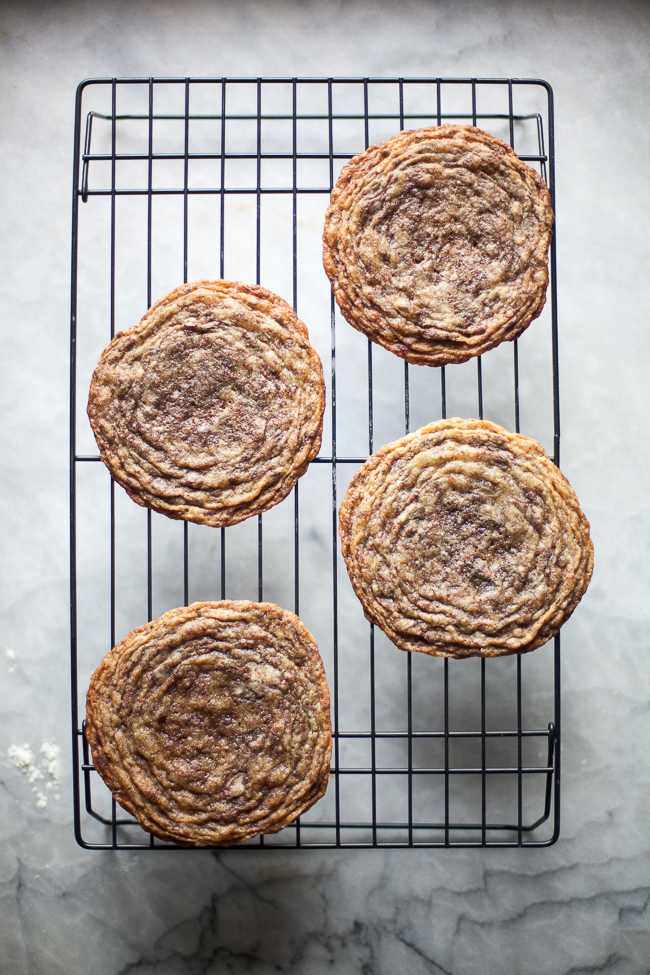 Transfer the baking sheet to a wire rack; let cool completely before removing the cookies from the pan.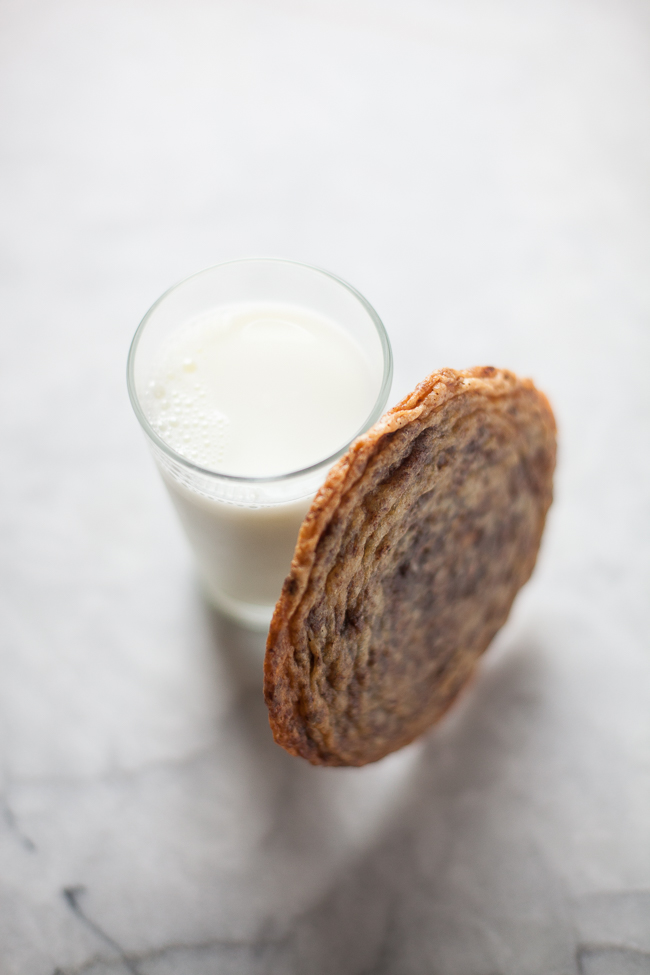 NOTES: These cookies are rather large, but to get the edges to spread out and crinkle, they need to be on the big side. If you want to make the cookies smaller, you won't get as many ridges on the outer layer, and your center won't be quite as gooey. They will still be delicious, but not quite what I intended for you.
If you skip freezing the cookies, they will spread too much on the pan and will not form the crinkly outer layer.
I've made several recipes from Sarah's book and they are now staples in my kitchen. It is a great book for both beginners and more advanced bakers. You'll want to start with these cookies, but then quickly make her chocolate cake. I am known for my chocolate cake and I now use Sarah's.
---
---