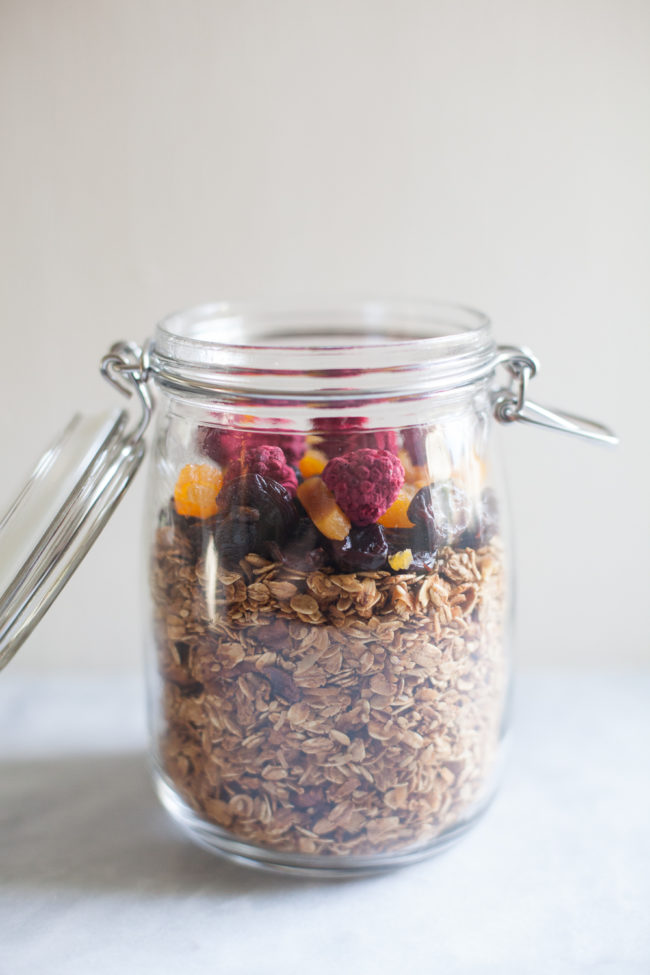 This is one of my favorite recipes in The New Artisan Bread in Five Minutes a Day and it isn't a bread at all. There is really nothing that smells as good as this granola when it is baking. It tastes incredible and makes a fabulous breakfast, snack or gift. It is one of those recipes you will end up baking over and over again.
I developed the recipe for the book to use in the "Aunt Melissa's Granola Bread" on page 114. My Aunt lived with my father and me on a commune in the Northeast Kingdom of Vermont. She baked this granola at least once a week in massive batches to feed the many people who lived with us. It was so popular she ended up selling it to the local co-ops and then beyond. Our commune became all about granola production and I still to this day, over 45 years later, remember the smell of it baking.
My aunt passed away many years ago and the actual recipe with her. This one is very close and brings back all of the wonderful memories of that time and of her. I hope you enjoy it as much as my family does!
Aunt Melissa's Granola (this is how it appears in the book, but I usually double the amount):
1/3 cup honey (if you are using a honey that has crystallized, just melt it for a few seconds)
1/4 cup maple syrup
1 to 2 tablespoons molasses (optional)
1/3 cup canola oil
2 tablespoons water
1/2 teaspoon pure vanilla extract
1/4 teaspoon ground cinnamon
1/4 teaspoon salt
4 cups rolled oats
1/4 cup sesame seeds (you can also use flax, poppy, chia, or any of your choice)
1/2 cup raw sunflower seeds (pumpkin seeds are also lovley)
3/4 cup chopped nuts of your choice
3/4 cup shredded unsweetened coconut (I've used sweetened in a pinch and it is quite good, but makes a much sweeter granola)
1/2 cup raisins (I usually end up doubling the amount)
1/2 cup dried cherries, chopped dried apricots and/or dried cranberries (use any combination of dried fruit that you enjoy and as much of it as you like!)
Preheat oven to 350° and line 2 rimmed baking sheets with parchment or a silpat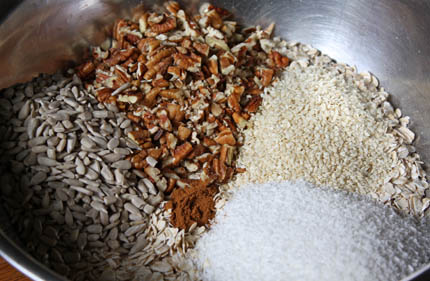 Combine the honey, maple syrup, oil, water and vanilla, set aside.
Toss together all of the dry ingredients. (leaving the raisins and dried fruit out until after the granola is baked)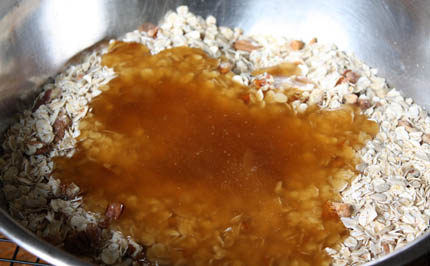 Add the honey mixture and toss with a spoon until the oats are well covered.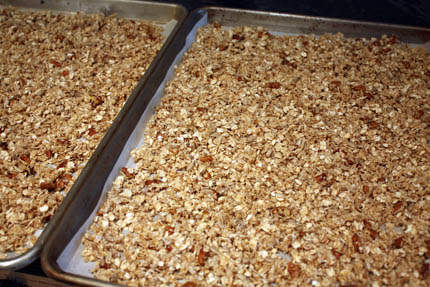 Spread the granola over two rimmed baking sheets in a thin layer.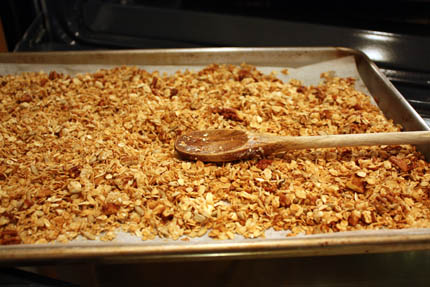 Bake for 25-30 minutes. After 10 minutes toss the granola with a spoon and rotate the trays from top to bottom so they both bake evenly. keep a close eye on it as it starts to turn brown so it doesn't over bake. It will be a deep golden brown when it is done.
Allow the granola to cool on cooling rack and then put in a large bowl and add the dried fruit.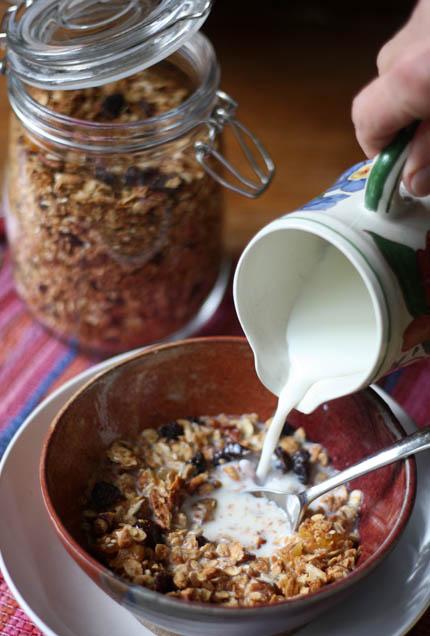 Eat as a breakfast cereal, give as gifts in glass jars and make it into our "Aunt Melissa's Granola Bread" on page 114 of The New Artisan Bread in Five Minutes a Day
. Enjoy!
---
---