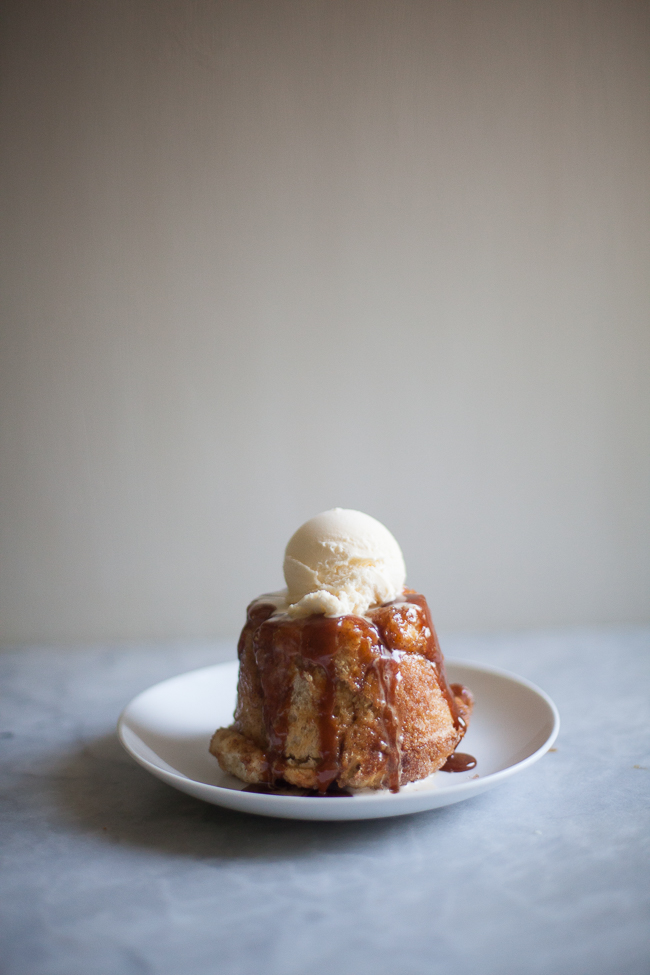 It has been hovering around 100°F here in Minnesota for the past few days. This is what I consider August weather and I'm not accustomed to giving up my oven quite so early in the season, but alas, it is just too hot to turn it on. However, it didn't stop me from making Monkey Bread. I just threw the pan of cinnamon sugar coated brioche in my crock pot and let it slowly "bake" until I had perfect Monkey Bread. We've been baking Five Minute Bread in a crock pot for years, thanks to a request from one of our readers. We were super skeptical at first, but were happily proven wrong and have been doing it ever since. It's a brilliant way to avoid turning on the oven in the heat of summer, but it is equally useful at the holidays when the oven is in constant use and you still need to bake those holiday buns.
The caramel, sticky goodness of Monkey Bread is perfect for the crock pot, because it doesn't require a crisp crust and is all the better for having a soft, fluffy texture. I used our classic recipe, but you don't have to let it rise first, just put the pan in the crock pot, turn it on and let it go. Depending on your slow cooker, it can take anywhere from an hour to 2 hours. just depends on the power of your machine and size of the pan.
Crock-Pot Monkey Bread (one recipe, two ways to bake)
1 pound brioche, challah or any other enriched dough from The New Artisan Bread in Five Minutes a Day.
1 stick (4 ounces) unsalted butter, melted
1 cup sugar
1 1/2 tablespoons cinnamon
1/8 teaspoon salt
You can watch a video of me making this Monkey Bread on our @breadin5 instagram account.
Butter an 8-inch cake pan (see picture below) or three 16-ounce ramekins (I used Charlotte Molds, but any heat proof ramekin will do)
Sprinkle the surface of your dough with flour and take out a 1 pound (grapefruit size) piece.
Divide the dough into about 32 pieces, as even in size as possible, but perfection is not needed here.
Roll the dough into small balls. If the dough is sticking to your hands, coat your palms with a small amount of flour.
Combine the sugar, salt, and cinnamon in a bowl. Drop the dough balls into the melted butter, then the bowl of cinnamon sugar and roll them around to coat them evenly.
Place the balls in the prepared pan. Place the pan/s in the Crock-Pot, cover and turn it to high.
Leave the crock pot covered until the dough is cooked through and springs back when touched. Unmold the Monkey bread as soon as you take it out or the caramel will harden and make it harder to get out of the pan.
Add ice cream and enjoy!
---
---