Ham and Cheese Brioche Sandwiches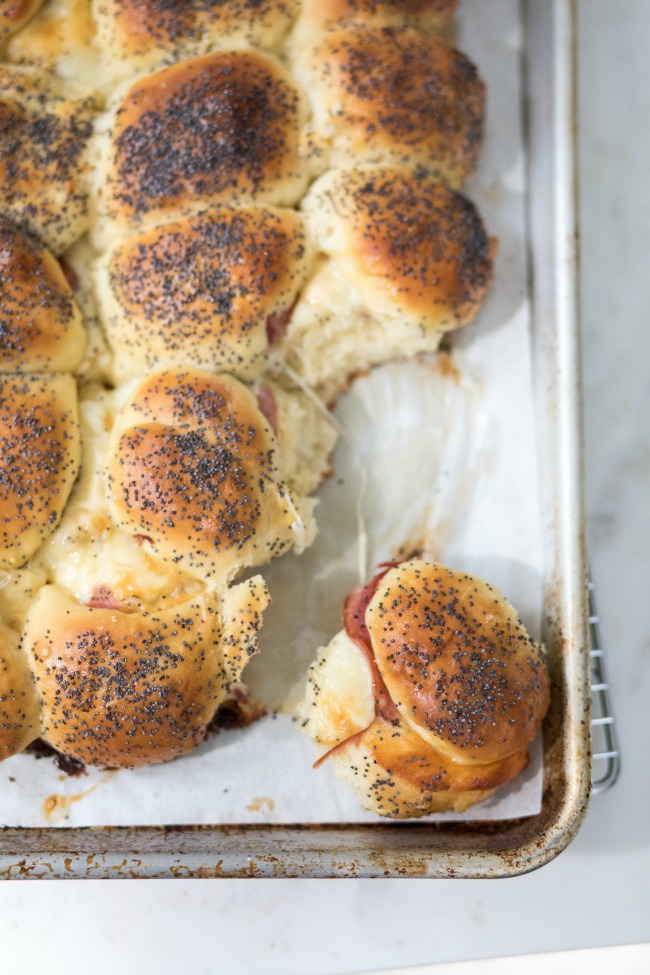 Tiny baked buns filled with ham, cheese, mustard, mayo, honey and covered in poppyseeds – what's not to love? I came across the idea for these ham and cheese brioche sandwiches while paging through cookbooks, and immediately headed to the kitchen to make them. With all the ham, cheese, mayo, and butter, I wanted to keep the brioche buns on the lighter side, so I used our no-knead challah dough–it's basically a light brioche. Plus, my family swoons every time I make it. I wasn't wrong. These buns are delicious, and they are perfect for every occasion. Breakfast, lunch, dinner, snacks, baby showers, pool parties, even Father's Day.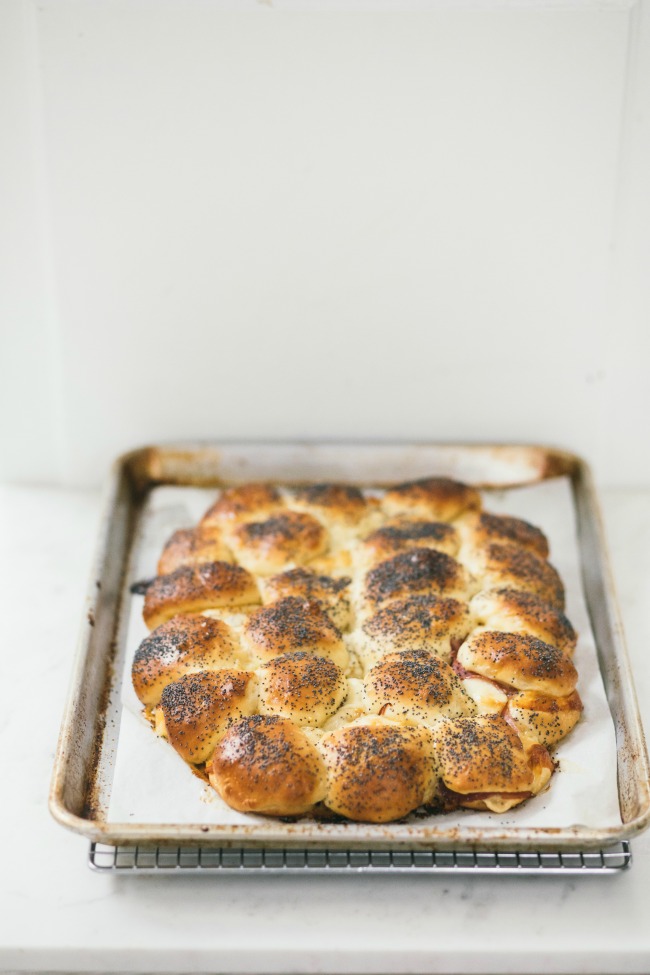 Ham and Cheese Brioche Sandwiches
This recipe is inspired from two places – Baking School cookbook for the ingenious method of the buns, and Pinterest for the filling. There is a lot of room to improvise here – smoked turkey and sharp cheddar is another lovely combination. This recipe can easily be cut in half. You can set these up the night before and hold them in the fridge until the next morning. Let them come to room temperature while the oven preheats (about 45 minutes to an hour) and then bake as directed.
For the buns
2 pounds challah dough from The New Artisan Bread in Five (page 296), or Healthy Bread in Five (page 324)
Mayo (or sriracha mayo), about 1/3 cup
3 tablespoons Dijon mustard
1 tablespoon honey
8 ounces Provolone cheese, cut into small pieces (see below photo)
10 ounces deli sliced ham, cut into small pieces (see below photo)
Egg wash (1 egg, 1 tablespoon water, and a pinch of salt whisked together)
Poppyseeds (about 3 tablespoons)
Pouring sauce
1/4 cup unsalted butter, melted
1 tablespoon honey
1 teaspoon Dijon mustard
Line a rimmed baking sheet with parchment paper.
Using your chilled dough, divide the dough into 1.5 ounce (40g) pieces (they will be quite small). Gently roll each piece into a ball – they don't have to be perfect.
Slice each ball in half, using a very sharp knife.
Place the bottoms of the dough onto your prepared baking sheet.
Cover each bottom with a smear of mayo, and then top with the ham.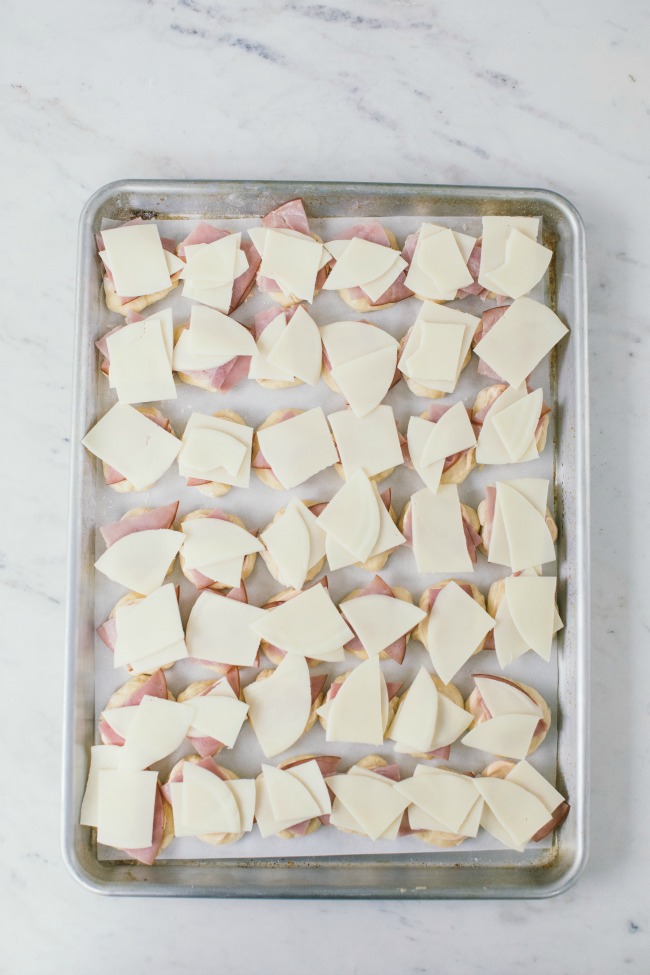 Then top with Provolone cheese.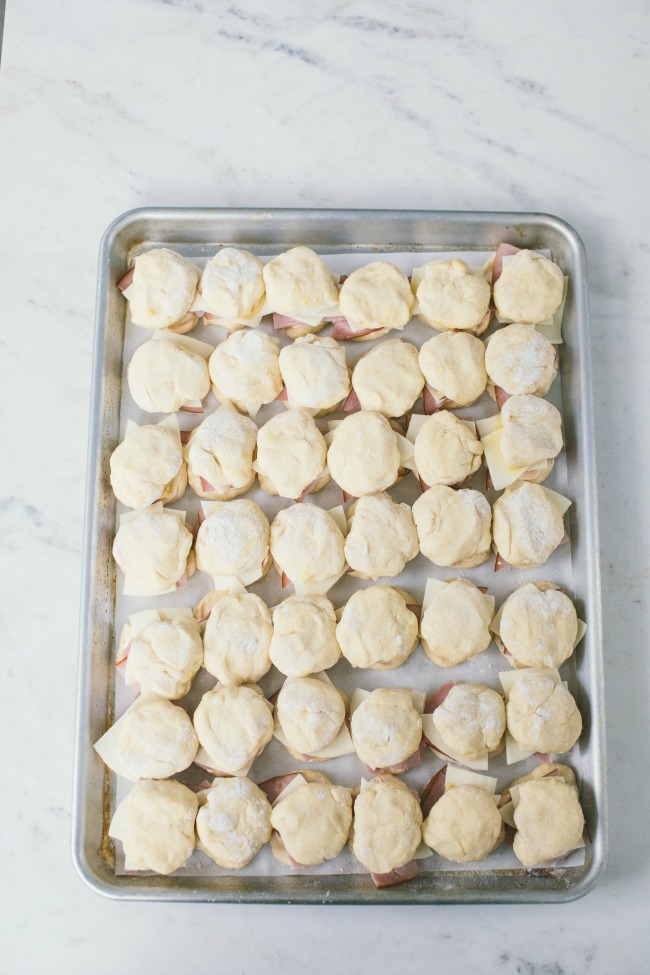 Mix the 3 tablespoons mustard and 1 tablespoon honey together, and coat the bottoms of the tops with the mixture. Place the tops on (mustard side down) and press down gently.
Loosely cover the sandwiches with plastic wrap, and let them rise for about 45 minutes at room temperature (not too much longer, as you have meat rising with the dough).
Preheat your oven to 350F.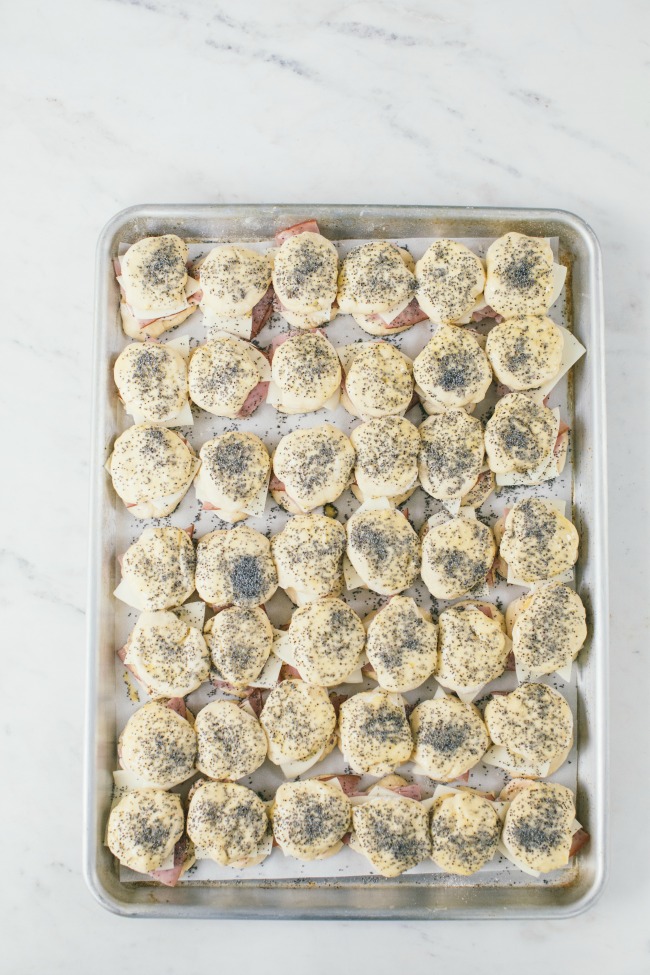 Brush the tops of the brioche sandwiches with egg wash, and then generously sprinkle with poppyseeds.
Let the buns bake for 5-7 minutes. While they are baking, combine the the melted butter, honey, and mustard together.
Pour the butter mixture over the partially baked buns (remember, the pan is hot!) and then continue baking for 13-15 minutes, until the buns are golden brown.
Let cool about 15 minutes and then serve.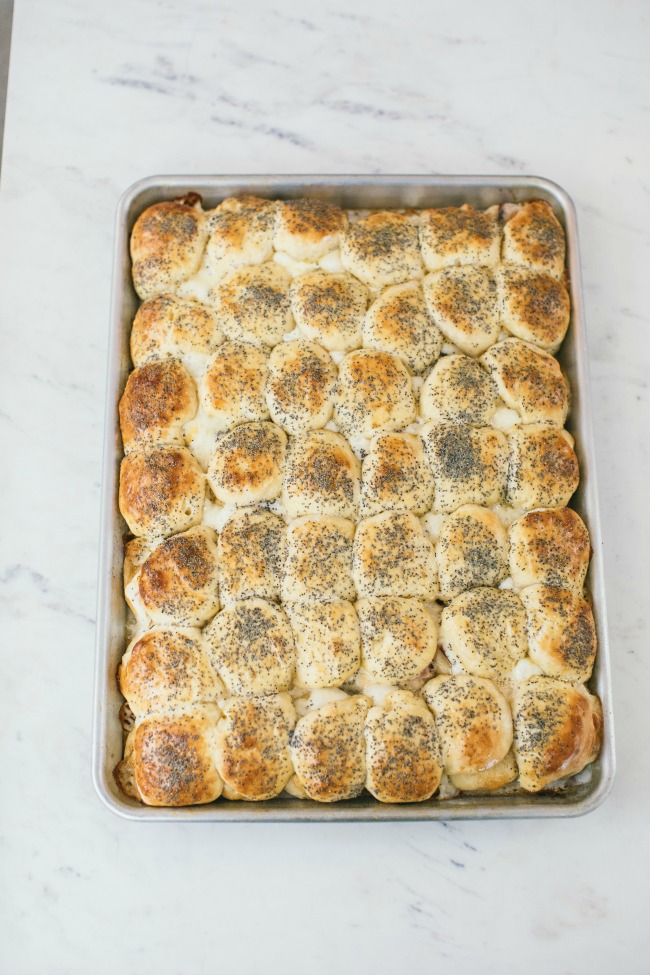 Serve warm, and enjoy!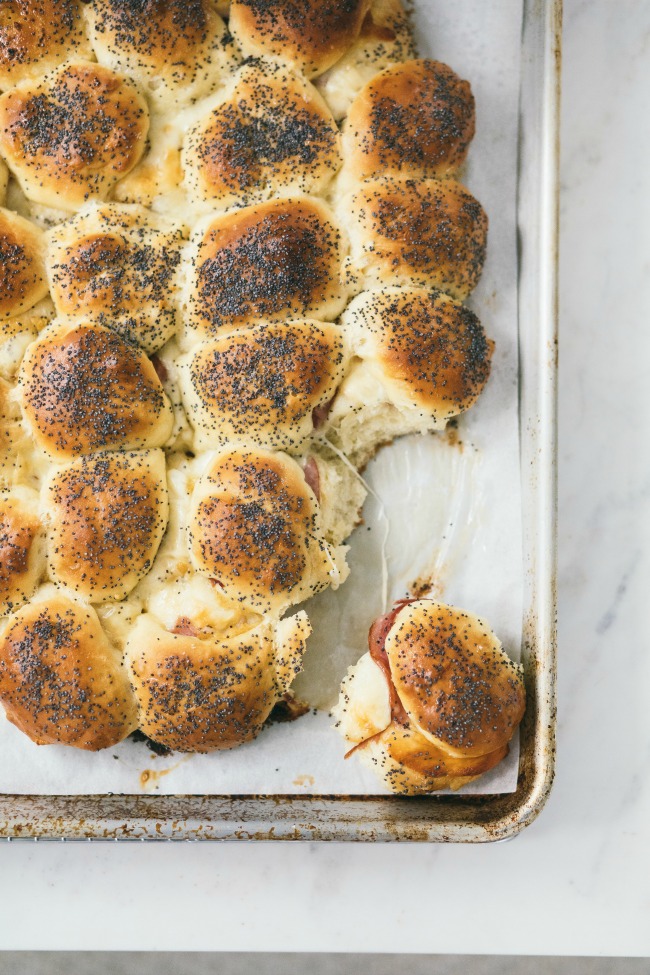 ---
---