Fruit Pizza on the Grill (baked with the stone)
As many of you now know my house is not air conditioned and it is creeping up into the 80s and 90s every day. So the idea of turning on my oven to bake a pizza is less than a thrilling one. To the grill I go, which we all know by now is not only "man's" work. I love to grill and with this heat I've been doing a lot of it.
My son had a sleep over last night and they wanted pizza for dinner. I pulled out my bucket of dough, rolled it out and they loaded them up with toppings. Instead of baking the pizza directly on the grates, I preheated the grill with my pizza stone to 500° and slid the pizza directly onto the stone. I love the bottom crust on these pizzas, it is always nice and crisp. The topping takes a few more minutes to bubble, but it will eventually.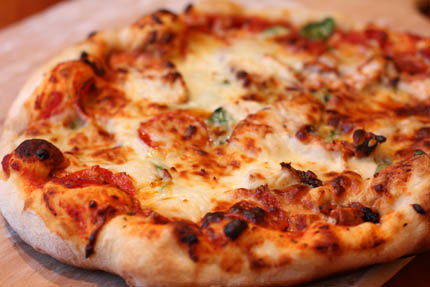 For dessert I took a suggestion from Anna who wrote to us of a Greek dessert called Loukoumades, a non-enriched dough that is fried like a beignet and then soaked in a syrup to sweeten and flavor the dough. Okay, so my version is a bit different, but I used most of the same elements and the outcome was outstanding. I rolled out a piece of the master dough into a pizza, brushed a lavender simple syrup over the entire surface, then I topped it with lots of ripe fruit and baked it on the hot stone in the grill.
I lowered the temperature to 400° so that the dough wouldn't bake quite as quickly, I wanted the fruit to have time to soften and create a syrup with its juices.
The crust puffed up and became golden brown around the edges. As soon as the juices started to bubble I took the fruit pizza off.
I sprinkled some crushed pistacios over the top and drizzled a little bit more of the lavender simple syrup. A sprinkle of powdered sugar and it was delicious. An entire meal on the grill and my kitchen is still cool!
Note: BreadIn5.com is reader supported. When you buy through links on the site, BreadIn5 LLC earns commissions.
---
---