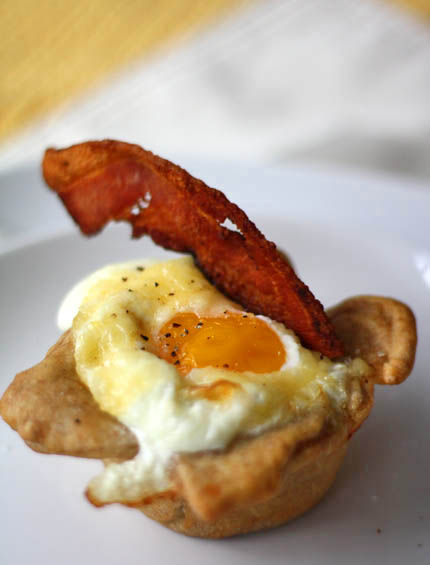 It is the quintessential breakfast combination; bacon, eggs and toast. But I had no bread to make toast (seems hard to believe, but true). In a desperate race to get my kids to school on time I decided to bake the eggs right into the dough. Not only was it fast, but my kids may never settle for regular eggs and toast again. I threw a bit of Emmenthaler cheese and bacon into the mix and 15 minutes later breakfast was ready!
Jeff and I finished up the manuscript for book #2 yesterday. We are thrilled to be done with this first phase of the book. Now we look forward to months of testing recipes, editing copy, testing recipe and editing more copy! First we will CELEBRATE! 🙂
Makes 6 Eggs in Toast:
1 pound dough  – I used light whole wheat, but the master or even brioche would work.
6 large eggs
3 ounces of grated cheese
1 tablespoon melted butter
salt and pepper to taste
Bacon
*(I made one for myself and added chopped avocado and tomato after it came out of the oven. It was so good I ate the whole thing before taking a picture!)
Preheat your oven to 375° and grease a muffin pan
Roll out your dough into a 1/8″ thick rectangle. Cut the dough into 6 squares. Trim off any excess dough to (which can be thrown back into the bucket of dough).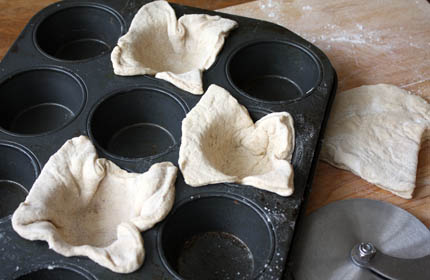 Place the dough squares into the cups of a muffin tin and make sure they are pressed all the way to the bottom. left every other cup empty so that the dough would have plenty of room.
Place some of the cheese at the bottom of the dough and then crack the egg over it.
Add a little bit more cheese to the egg and bake for about 15-18 minutes, depending on how well you want to cook the yolks. After they come out of the oven brush the toast with the melted butter.
Remove from the pan, add salt and pepper and serve with bacon. Add coffee and it is perfection!
---
---