Great Crust without the Steam!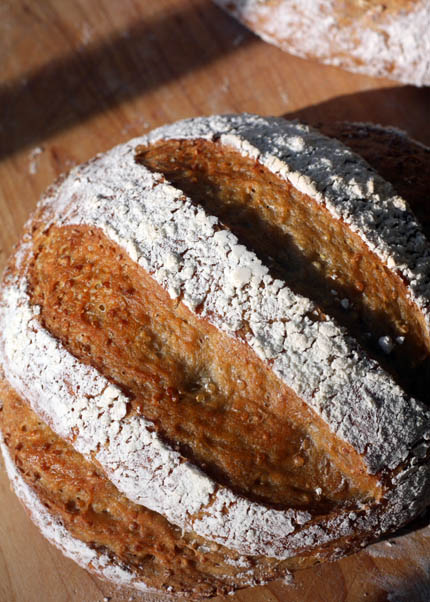 For what ever reason some ovens just don't trap steam very well. This is true of professional equipment, but some home ovens behave this was as well. The reason to care…if you don't trap steam in the oven for the first 10 minutes of baking you will end up with a dull, lackluster crust, even if you use a good baking stone (which is essential for great free-form loaves).
There are a couple different ways to achieve this, including the tried and true misting bottle. You use a food grade spray bottle and mist the bread every minute for the first 10 minutes. This requires you to stick close to the oven and open the door repeatedly to spray. A bit more work than I'm generally willing to do, but it will give you a nice result. Here is a much easier way: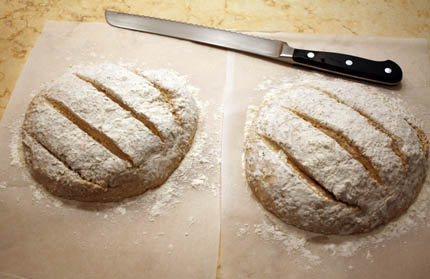 Start by forming two 1-pound peasant dough loaves, letting them rest, dusting them with flour and slashing them with a serrated bread knife. Both exactly the same!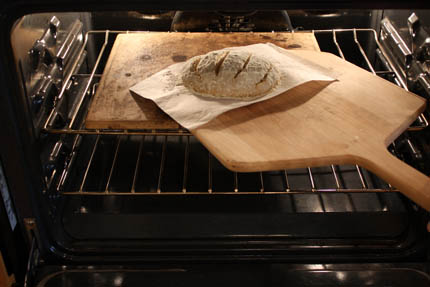 In this experiment, a double wall oven was used… so one loaf was slid off the pizza peel into the bottom oven with NO steam, just a preheated baking stone.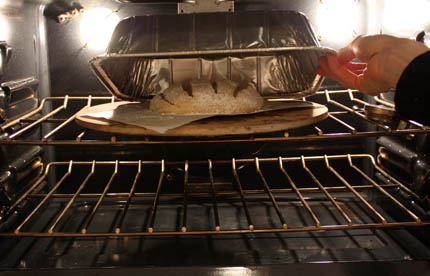 Into the top oven went the other loaf on another preheated stone; then an inverted disposable lasagna pan went over it. Make sure the pan has at least double the height of the unbaked loaf, so that the bread will have plenty of room for oven spring. You can do this same technique with a metal bowl or the lid to a chaffing dish, as log as they are tall enough and oven-safe. The pan should also fit on the baking stone, so that it really traps the steam from the bread.
There is no reason to add water, the moisture of the dough will do that for you! This is the same premise behind baking bread in a Dutch oven or a Cloche, but cheaper and less fuss.
After about 10-15 minutes carefully remove the inverted pan from the oven.
You can see the reflection of the light off of the doughs shiny surface. If you have baked on parchment paper you will remove that as well. Continue baking to allow the bread to color nicely.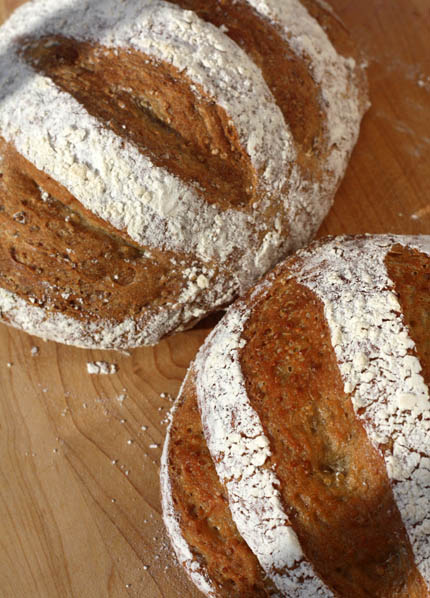 The top loaf was baked without steam and it is dull and doesn't have a nice color to it. The bottom loaf was baked under the inverted lasagna pan and has a great shine and the caramel color that we want. Just that simple!
---
---